Football
Jonathan Tannenwald, Philly.com
Army and Navy came to Philadelphia for a luncheon and Q&A session as they prepare to square off for the 114th time on Saturday, December 14 at Lincoln Financial Field.
Philly.com's Jonathan Tannenwald, the Inquirer's Joe Juliano & the Daily News' John Smallwood look ahead to the game.
Jonathan Tannenwald, Philly.com
Eagles fans have a lot of reasons to be frustrated about their team in the wake of Sunday's blowout loss to the Broncos. The offense stinks, the defense stinks, the special teams unit stinks… you name it, someone's complaining about it.
But I think I might have a tiny little ray of hope to offer from my corner of the local sports landscape. Because if the Eagles keep playing this badly, there could be a big reward. And if you head to the Linc on Saturday, you'll see that reward in person.
(I thought about writing "if they keep imitiating the 76ers," but I won't go that far.)
Jonathan Tannenwald, Philly.com
BRISTOL, Conn. - Every year, ESPN invites a bunch of media types to its headquarters so that they can talk to other media types about things in the media.
Part of the event was dedicated to NFL coverage, another part to college football coverage, and the rest to showing off the big new digital studio facility that the network is building.
(You can probably guess where the money for that comes from.)
Jonathan Tannenwald, Philly.com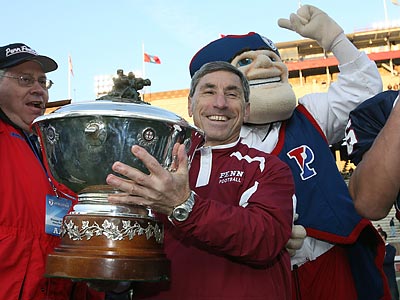 Penn's football team has been picked first in the Ivy League preseason poll, which was released Tuesday morning.
The Quakers are going for their third consecutive outright conference title, and their fourth in five years. The former feat has only been accomplished once (Penn from 1984-86), and the latter has never happened.
It helps to have quarterback Billy Ragone back for another season, as well as running backs Brandon Colavita and Lyle Marsh.
Jonathan Tannenwald, Philly.com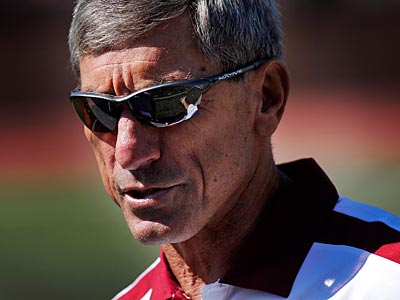 The Penn football team announced its 2013 football schedule today. As with last season, there will three games against scholarship programs - and that includes the Patriot League this year. The incoming freshman class is the first in the conference's history that has access to merit-based aid.
Of more importance, though, is that the annual Penn-Villanova game will take place on the Main Line this time. It will be on September 28.
A week before that, Penn will open its season against Lafayette. There's also a trip to William & Mary on October 12. It comes seven days after the Quakers' first Ivy League contest, at home against Dartmouth.
Jonathan Tannenwald, Philly.com
One of my Philly.com colleagues, Anna Strong, is a devout Notre Dame fan who lucked into a chance to attend the BCS title game in person. She is a senior at Penn and a product of Episcopal Academy, and her family has deep ties to the Fighting Irish.
Before she left for south Florida, I asked Anna if she'd be interested in writing a first-person account of her trip. She was happy to do so.
Here's her account. It was quite a whirlwind trip, as she left Philadelphia on the morning of the game and came back here the next day. And even though Notre Dame lost badly to Alabama, I would think this trip is one we'd all take in a heartbeat if we got the chance.
Jonathan Tannenwald, Philly.com
The echoes have been awakened as Notre Dame prepares to face Alabama in the BCS title game. CineSport's Tara Petrolino and The Inquirer's Joe Juliano preview the matchup of traditional college football powers.
Jonathan Tannenwald, Philly.com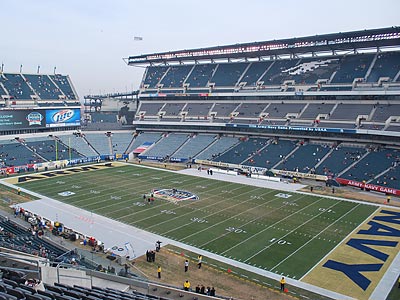 Time: 3:00 p.m. EST
Venue: Lincoln Financial Field, Philadelphia, Pa.
TV/Radio: CBS (Verne Lundquist, Gary Danielson and Tracy Wolfson)/WPEN 950-AM/Sirius Satellite Radio
It is one of the signature rivalries in college sports and one of the signature days on the Philadelphia sports calendar. From the pregame march-on to the postgame singing of both schools' alma maters, Army-Navy is a tremendous spectacle.
Throughout the day, we'll have live coverage of the game and everything around it right here on the blog.