Football
Jonathan Tannenwald, Philly.com
The Penn football team announced its 2013 football schedule today. As with last season, there will three games against scholarship programs - and that includes the Patriot League this year. The incoming freshman class is the first in the conference's history that has access to merit-based aid.
Of more importance, though, is that the annual Penn-Villanova game will take place on the Main Line this time. It will be on September 28.
A week before that, Penn will open its season against Lafayette. There's also a trip to William & Mary on October 12. It comes seven days after the Quakers' first Ivy League contest, at home against Dartmouth.
Jonathan Tannenwald, Philly.com
One of my Philly.com colleagues, Anna Strong, is a devout Notre Dame fan who lucked into a chance to attend the BCS title game in person. She is a senior at Penn and a product of Episcopal Academy, and her family has deep ties to the Fighting Irish.
Before she left for south Florida, I asked Anna if she'd be interested in writing a first-person account of her trip. She was happy to do so.
Here's her account. It was quite a whirlwind trip, as she left Philadelphia on the morning of the game and came back here the next day. And even though Notre Dame lost badly to Alabama, I would think this trip is one we'd all take in a heartbeat if we got the chance.
Jonathan Tannenwald, Philly.com
The echoes have been awakened as Notre Dame prepares to face Alabama in the BCS title game. CineSport's Tara Petrolino and The Inquirer's Joe Juliano preview the matchup of traditional college football powers.
Jonathan Tannenwald, Philly.com
Time: 3:00 p.m. EST
Venue: Lincoln Financial Field, Philadelphia, Pa.
TV/Radio: CBS (Verne Lundquist, Gary Danielson and Tracy Wolfson)/WPEN 950-AM/Sirius Satellite Radio
It is one of the signature rivalries in college sports and one of the signature days on the Philadelphia sports calendar. From the pregame march-on to the postgame singing of both schools' alma maters, Army-Navy is a tremendous spectacle.
Throughout the day, we'll have live coverage of the game and everything around it right here on the blog.
Jonathan Tannenwald, Philly.com
What has Bill O'Brien proven in his first season as Penn State's head coach? Mike Kern of the Daily News offers his view on the Nittany Lions, another wild week of conference realignment and the upcoming BCS title game in a video chat with Cinesport's Noah Coslov.
Jonathan Tannenwald, Philly.com
Do fans want Notre Dame in the BCS title game? If the Irish win at USC this weekend, they might not have a choice. Mike Kern of the Daily News previews all of Saturday's big games in a video chat with CineSport's Noah Coslov.
Video: Can QB Collin Klein win the Heisman if he misses Saturday's game vs. TCU? Who has the advantage in Penn St. vs. Nebraska? CineSport's Noah Coslov & the Daily News' Mike Kern discuss.

Penn State vs. Ohio State is one of several big games this weekend. CineSport's Brian Clark and the Daily News' Mike Kern discuss this, Temple football and Notre Dame vs. Oklahoma.
Jonathan Tannenwald, Philly.com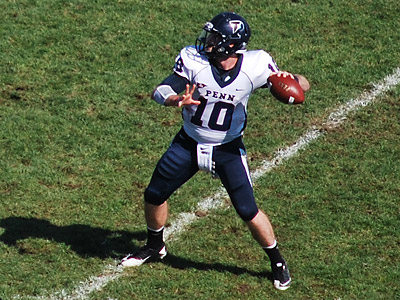 WEST HAVEN, Conn. - Penn quarterback Billy Ragone grew up just a few miles down the road from the Yale Bowl. So whenever he travels north to face the Bulldogs, he inevitably ends up being the center of attention.
That was the case again Saturday, but likely not for a reason Ragone would have wanted. The Cheshire, Conn., native threw an interception midway through the third quarter that turned the game decisively in Yale's favor, and led to a 27-13 Penn loss.
It is the first time Penn (2-4, 2-1 Ivy League) has lost to Yale since 2007. Every year since then, Penn had started Ivy League play 3-0, with wins over the Bulldogs (2-4, 1-2 Ivy) and perennial underachievers Dartmouth and Columbia.
Alabama & Florida rank atop the first BCS standings, but are these rankings meaningless? Is Florida a legit BCS title contender? The Daily News' Mike Kern discusses these issues in a chat with Justin Shackil of Cinesport.