Expatriates
Jonathan Tannenwald, Philly.com
We already knew that Temple will host Kent State on November 11, and that La Salle will host Quinnipiac on November 12.
We now know the tip times for those games - and that both games will be on national television.
That's right. Both games will be part of this year's college basketball tip-off marathon on the ESPN family of networks.
Jonathan Tannenwald, Philly.com
Not that we needed any more proof that Championship Week is one of the most fun weeks of the year, but Thursday gave us a big helping. You might even say a double-order's worth.
(Well, okay, only one of the events would have drawn a "Onions!" exclamation from Bill Raftery. But the other was even more surreal.)
Let's take matters in chronological order.
Jonathan Tannenwald, Philly.com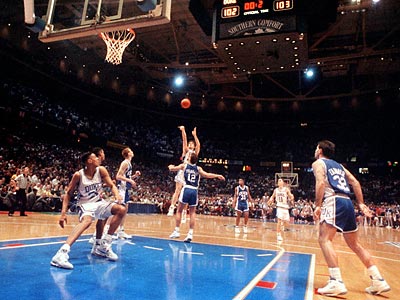 In honor of the upcoming 75th NCAA men's basketball championship, a panel of experts convened by the NCAA has selected the top players, moments and teams in tournament history.
You'll find all of the honorees below, with those featuring local ties in bold. If I missed any local connections, let me know and I'll highlight them.
And in case you're wondering how this was put together, here's the official explanation from the NCAA:
Jonathan Tannenwald, Philly.com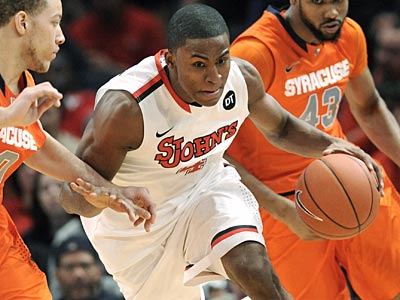 Three years ago, I took it upon myself to step over the line that divides college basketball from the pros, and wrote a post criticizing the 76ers' first-round selection in the 2009 NBA Draft.
"I was under the impression that the Sixers needed point guard help right now," I said at the time, and it was true. "If [the player the 76ers drafted] turns out to be as good as Deron Williams, that will be great... But if it was up to me, I would have chosen a more proven commodity."
And I concluded: "Perhaps [the player] will turn out to be a star, and he'll become the kind of leader the 76ers envision."
Jonathan Tannenwald, Philly.com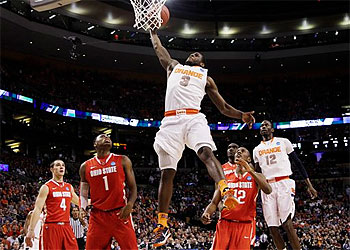 Fresh off helping Syracuse reach the Elite Eight, Philadelphia native Dion Waiters announced Monday night that he will leave the program, hire an agent and head for the NBA.
Waiters posted this farewell message to Orange fans on Twitter:
I just want to thank everybody who supported me my two years at Syracuse I appreciate the love y'all showed towards me I will miss y'all.
Jonathan Tannenwald, Philly.com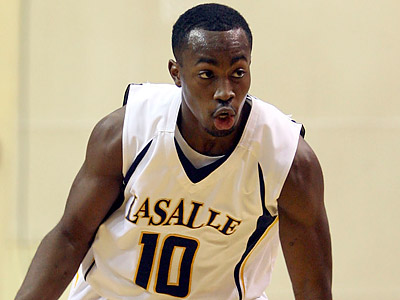 Former La Salle star Rodney Green has signed a contract with Israeli Premier League team Galil Gilboa.
Israel's league is one of the better ones in Europe, and Galil Gilboa won last season's championship. So Green will get to play in the Euroleague (akin to soccer's Champions League) this coming season. That's pretty good.
Galil Gilboa is based in the city of Gan Ner, in the northeastern part of Israel. The team's roster has a few other Americans on it. The most prominent ones former Gonzaga guard Jeremy Pargo, former Illinois guard Brian Randle and former Boston Celtics guard Tony Gaffney, who played college basketball at UMass.
Jonathan Tannenwald, Philly.com
We already know about Temple, Villanova and even Lehigh. But Philadelphia's influence on the NCAA Tournament goes way beyond that.
I've compiled a catalog of every player and head coach with ties to the Philadelphia area, as well as a list of all the teams in the NCAA Tournament that played against a City Six team at some point this season.
If there's anyone I missed, please post a comment or email me and I'll be glad to email their name. For now, though, here's everything I could find.
Jonathan Tannenwald, Philly.com
I'm sure most of you have heard this by now, but just in case you haven't, Temple and Drexel will be a part of ESPN's 24-hour college basketball marathon on Nov. 17.
It will be the Dragons' second straight appearance on what has become college basketball's unofficial Opening Day. They will travel to Niagara for an 8 a.m. tipoff, while Temple will visit Georgetown at 4 p.m.
Yes, that means Fran Dunphy and John Thompson III will meet for the first time since JT III left Princeton. I'm hoping to be in Washington for the game and I suspect I'll be writing quite a bit about that storyline.