Drexel
Jonathan Tannenwald, Philly.com
I was in soccer mode for most of the day, so I wasn't able to get to this until early in the evening. Wednesday's games were not a factor in the voting, but all of Tuesday's games were.
1. Villanova, 26 points (12 first-place votes)
- "I am dropping Villanova because of where they placed Tannenwald on press row at the Pavilion for the BU game. He was sitting all the way in the corner." (Todd Falkenberg)
Thanks, though I honestly didn't mind. I'm usually at the other end of the floor, so this was a nice change of perspective.
Jonathan Tannenwald, Philly.com
It's news enough these days that Penn won a basketball game, in this case beating Lafayette 74-65 at the Palestra. And while the Leopards did not present much of a test to Penn's offense, especially in the paint, there were still two things worth noting last night.
The first is that the Quakers summoned enough defensive resolve to battle back from an eight-point deficit. It wasn't a huge deficit, and it wasn't a huge amount of defense either, but it was enough to make a difference. Let's see if Penn can do that for something closer to 40 minutes as the season goes on.
The second is that it Zack Rosen and Miles Cartwright can play together on the floor. Both players are nominally point guards, but they are also versatile enough that they can create space and opportunities for themselves off the ball. Playing both at the same time also gives Jerome Allen an element of surprise, as either player can bring the ball up the floor and set up plays.



| Team | Record | Conf. | Big 5 | | | | | |
| --- | --- | --- | --- | --- | --- | --- | --- | --- |
| Drexel | 2-0 | 0-0 | 1-0 | 126 (152) | 10 (t75) | 77 (120) | 158 (117) | 233 (143) |
| La Salle | 3-1 | 0-0 | 0-0 | 151 (149) | 137 (t75) | 130 (146) | 176 (204) | 232 (197) |
| Penn | 1-2 | 0-0 | 0-0 | 229 (196) | 112 (t75) | 240 (234) | 284 (154) | 204 (124) |
| St. Joseph's | 1-2 | 0-0 | 0-0 | 168 (177) | 168 (t315) | 207 (166) | 214 (195) | 129 (191) |
| Temple | 2-0 | 0-0 | 0-0 | 33 (30) | 128 (t1) | 34 (23) | 32 (25) | 237 (275) |
| Villanova | 4-0 | 0-0 | 0-0 | 7 (22) | 109 (t57) | 27 (15) | 64 (72) | 261 (177) |
Jonathan Tannenwald, Philly.com
We could talk about any number of storylines from Drexel's 77-56 blowout win over Penn at the Palestra last night.

We could talk about Drexel's remarkable offensive efficiency (at least by the standards they've set in recent years), averaging 1.18 points per possession on 56 percent shooting from the field.

We could talk about Penn's similarly drastic offensive woes, highlighted by the seven-plus minute stretch at the start of the second half without a field goal scored. That was the decisive period of the game, no question - and it is not a good sign that it was the second straight Quakers game in which their offense fell silent for a long period.

If you don't mind, though, I would like to focus on another aspect of what we saw. On a typically cold November Saturday night, a bipartisan crowd of 6,879 fans turned up the heat inside the Palestra and gave the occasion a terrific atmosphere despite the lopsided score.

I understand, and sympathize with, Dragons coach Brusier Flint's desire to get more home games for his team. It is a problem faced by mid-major basketball programs across the country, and Flint's cause is a perfectly noble one.

But let's be absolutely clear: a night like this could not happen at the DAC. It is a great venue for Drexel basketball, and a great venue for its size no matter the program. A city game deserves a grander stage, though - especially when that stage is all of a five-minute walk from the visiting team's campus.

It should be noted that the Drexel students seemed to contradict themselves during the second half. Early in the end of the second half, they unveiled a rollout that said, "SUCH A SHAME WE CAN'T BEAT YOU AGAIN NEXT YEAR SINCE YOU ONLY AGREE TO LOSE IN YOUR OWN BUILDING." By the end of the game, they were chanting "This is our house!"
I have a hunch that if the Dragons are to win in the Palestra, then it can't really be that hard to convince the people who matter to keep the game there.

This night was about more than just the DAC Pack, though. In addition to the wall of gold in the east stands, there was a sea of red and blue in the west stands the likes of which I haven't seen in years. For as much work as Penn has to do on the court, we all know that the program has work to do off it as well.

If the students really are coming back now, that is a good sign. We'll see if it remains the case on Tuesday, when the Quakers host Lafayette. That will be a bigger test, as it is on a weeknight and not long before the Thanksgiving break begins.

At the end of last night's game, we were treated to another fun moment: the Drexel students threw streamers to celebrate their win. Granted, it was partly to fire a barb at the Penn students, who have given the old tradition new life. Drexel's streamers were accompanied by a rollout stating, "HEY PENN, WE'LL TAKE CARE OF THE STREAMERS TONIGHT." They certainly did.

In light of that, it is worth posing this question: wouldn't it be great if we could have that after every city game? Streamers have a special place in Philadelphia basketball lore, and it means something that a new generation of fans has been able to have the experience for themselves.

I am under no pretense that I might be able to influence the people who actually matter, but I do think it is a discussion worth having. Now that Penn and Drexel have shown that throwing streamers after the final buzzer does not run afoul of NCAA rules, do you want to see the new tradition spread across the city? I hope you'll share your thoughts in the comments.
---
In the audio player below, you'll hear from players and coaches at Drexel and Penn. Before we get there, though, we must nost the tremendous performance by La Salle center Aaric Murray yesterday. In the Explorers' 79-74 win over Morgan State, Murray finished one blocked shot short of a triple-double in blocks, rebounds and points. Here was his final line:



Jonathan Tannenwald, Philly.com
Time: 7:00 p.m. EST
Venue: The Palestra, Philadelphia, Pa.
TV/Radio: None/WXPN 88.5-FM
I said all day this game would be broadcast on the Comcast Network. I was wrong, and didn't find out until a few minutes before tip-off. Apologies.
Jonathan Tannenwald, Philly.com
It did not take long for the voting to become a head-to-head contest for the top spot between Villanova and Temple. All of the No. 1 votes cast this week went to the Wildcats or the Owls, and they were spread out pretty evenly.
One quick note before we get to the rankings: I'll be at the Pavilion tonight to liveblog the Preseason NIT doubleheader featuring Villanova in the nightcap. The Wildcats will be facing Boston University, an interesting matchup of Jay Wright and his former assistant Patrick Chambers.
The first game will pit Marist, which Villanova beat yesterday, against George Washington, which lost to Boston U. The Red Foxes will be playing Penn later in the season, and the Colonials will face the usual slate of local Atlantic 10 teams. So there will be plenty to discuss from both games.
Jonathan Tannenwald, Philly.com
Although the college basketball season officially started on Tuesday, tonight is the unofficial opening night for the game in the region. Five of the City Six teams are in action, and of the Schuylkill 16:
City Six Games
Seton Hall at Temple, 7:00 p.m. (no TV or radio)
Columbia at La Salle, 7:00 p.m. (WHAT 1340-AM)
Western Kentucky at Saint Joseph's, 7:30 p.m. (no TV or radio)
Bucknell at Villanova, 8:00 p.m. (ESPN3.com/WPEN 950-AM)
Drexel at Loyola (Md.), 8:00 p.m. (no TV or radio)
Jonathan Tannenwald, Philly.com
The 2010-11 college basketball season has officially arrived. The very first game is Rhode Island at Pittsburgh in the Coaches vs. Cancer Classic, tonight at 7 p.m. on ESPNU.

In honor of the occasion, I've put together a couple of items for us to talk about. The first is this season's schedule of unofficial Saturday doubleheaders involving City Six teams. We all know how lucky we are to have so many Division I programs in our region, and even more so that we can jump around from one to the other very easily.

So here's the schedule. You'll notice a couple of interesting combinations, and I'll have more to say about them below.
November 20
1a. Morgan State at La Salle, Tom Gola Arena, 3:00 p.m.
1b. Norfolk State at Saint Joseph's, Hagan Arena, 4:00 p.m.
2. Drexel at Penn, The Palestra, 7:00 p.m.
| Team | Record | Conf. | Big 5 | | | | | |
| --- | --- | --- | --- | --- | --- | --- | --- | --- |
| Drexel | 0-0 | 0-0 | 0-0 | 154 | n/a | n/a | n/a | n/a |
| La Salle | 0-0 | 0-0 | 0-0 | 155 | n/a | n/a | n/a | n/a |
| Penn | 0-0 | 0-0 | 0-0 | 211 | n/a | n/a | n/a | n/a |
| St. Joseph's | 0-0 | 0-0 | 0-0 | 152 | n/a | n/a | n/a | n/a |
| Temple | 0-0 | 0-0 | 0-0 | 34 | n/a | n/a | n/a | n/a |
| Villanova | 0-0 | 0-0 | 0-0 | 23 | n/a | n/a | n/a | n/a |
Jonathan Tannenwald, Philly.com
Because today is the first of November, and that means something around here.

- Kyle Whelliston, on midmajority.com this morning

Yes, it really is November. I'm not sure I can believe it myself, but it's true. The leaves have turned, the wind is brisk, and the time has come for us to reconvene after a summer spent our separate ways.

Eleven days from now, the new college basketball season will tip off in Philadelphia. Five of the City Six schools play their season openers on November 12: Temple vs. Seton Hall, Villanova vs. Bucknell, Saint Joseph's vs. Western Kentucky, La Salle vs. Columbia and Drexel at Loyola (Maryland). One night later, Penn will christen the Palestra's 83rd season of operation against Davidson.
Although I can't promise you an essay every day until then, we will have a few preseason festivities on here. Chief among them is the return of the Schuylkill 16. There will be a preseason ranking this year, to be published right before opening night.
That means it's time to put out the annual call for participation. If you're interested in voting this year, email me and I'll add you to the listserv.

I'd also like to bring back a feature that we skipped over last year: the Readership Survey. Part of the reason why we didn't have one last season is that the 2008-09 season ballot didn't go very well.

In this blog's first season, 2006-07, we had 138 votes, but that was because the blog was still new. In 2007-08, we had 2,357 votes, which was great. But in 2008-09, we only had 485 votes. Let's do better than that this year, okay?

Feel free to vote as many times as you want. Unlike tomorrow's election, stuffing the ballot box is totally encouraged with this poll.

In addition, the Big Dance is back. In the right rail, you'll see a newly-designed widget that will bring you all the latest college basketball updates and commentary from across Twitter. You can join the conversation by hashtagging a tweet with #bigdance, or by sending a tweet to @pretzel_logic.

The offseason went by remarkably quickly. I know I didn't post as much on here as I did in previous summers, and I thank all of you for your understanding as I branched out into covering soccer. I know that many of you are fans of the sport as well, and I saw quite a few familiar faces at PPL Park over the summer.
Jonathan Tannenwald, Philly.com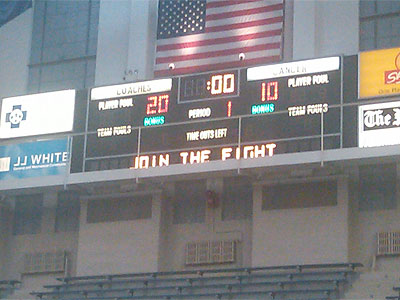 I mentioned over the weekend how cool the first Thursday and Friday of the NCAA Tournament are, and how wild the Selection Show is. But the morning after Selection Sunday has held special significance for me ever since I first started attending the Philadelphia Coaches vs. Cancer March Madness Tip-Off Breakfast.
I don't remember what the first year was that I attended; I just know that I feel like I've gone every year for a while now. And though I know it's poor form to complain about my working hours, I think you can understand when I say it's not always easy to get to the Palestra by 7:30 a.m. after staying up late to coordinate Philly.com's NCAA Tournament presentation.
But I wouldn't miss the event for anything. It symbolizes better than anything else we have how wonderfully tight-knit the Philadelphia college basketball community is.



Jonathan Tannenwald, Philly.com
Over the last few days, there's been a rather amusing spat going on between Temple and Villanova fans in the comments here and on Philly Hoops Insider. The question, of course, is which team is better; the answers have been just as predictable.
From what I can tell, the Villanova fans' argument generally centers around their higher ranking and in the polls and the quality of Big East teams compared to the Atlantic 10.
The Temple fans' argument generally centers around the fact that Temple beat Villanova this season, and is topped off with their insistence that the media in Philadelphia disrespect the Owls by not giving them as much coverage as Villanova gets when playing a team that is also ranked in the top 10 in the nation.