Atlantic 10 Tournament
Jonathan Tannenwald, Philly.com
UPDATE - La Salle has been eliminated from the Atlantic 10 Tournament, falling to Butler 69-58.
Matchup: No. 5 Butler vs. No. 4 La Salle, Atlantic 10 Tournament Quarterfinals
Time: 2:30 p.m. EDT
Venue: Barclays Center, Brooklyn, N.Y.
TV: The Comcast Network (Brad Johansen and John Griffin)/WNTP 990-AM
The conventional wisdom tells us that La Salle will seal a place in the NCAA Tournament with a win over Butler. Which means the Explorers are 40 minutes of basketball away from their first ticket to the Big Dance in 21 years.
Jonathan Tannenwald, Philly.com
Atlantic 10 Tournament First Round: No. 10 Saint Joseph's vs. No. 7 Xavier
Time: 6:30 p.m. EDT
Venue: Barclays Center, Brooklyn, N.Y.
TV/Radio: NBC Sports Network (Mike Corey, Dave Kaplan and Brooke Weisbrod)/WIP 610‐AM (Matt Martucci and Joe Lunardi)
Big East Tournament Quarterfinals: No. 7 Villanova vs. No. 2 Louisville
Jonathan Tannenwald, Philly.com
Not that we needed any more proof that Championship Week is one of the most fun weeks of the year, but Thursday gave us a big helping. You might even say a double-order's worth.
(Well, okay, only one of the events would have drawn a "Onions!" exclamation from Bill Raftery. But the other was even more surreal.)
Let's take matters in chronological order.
Jonathan Tannenwald, Philly.com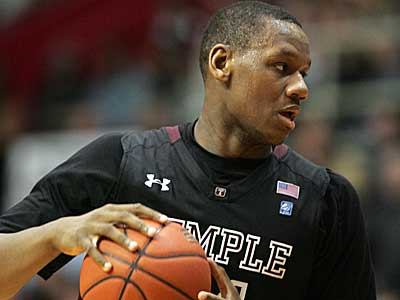 NEW YORK - Welcome to another crazy day on the college basketball landscape.
During the afternoon and early evening, many eyes in the Northeast will be trained on Atlantic City, as the quarterfinals of the Atlantic 10 Tournament are played at Boardwalk Hall.
Then, once the sun goes down, attention will turn to Madison Square Garden and the semifinals of the Big East Tournament.
Jonathan Tannenwald, Philly.com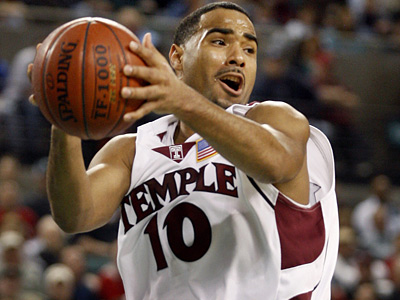 NOTE: I'm not at Boardwalk Hall. I'm doing this from home. But it's on TV, and since we're all watching, why not have a chat during the game? Let's do it.
Jonathan Tannenwald, Philly.com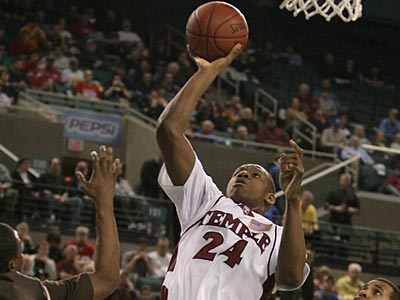 ATLANTIC CITY - Temple will face Rhode Island in the semifinals of the Atlantic 10 Tournament after the Owls beat St. Bonaventure, 69-51, and the Rams routed Saint Louis, 63-47.
There's audio of the press conferences below, and video highlights in the player at right.
I liveblogged the first three games. I'm doing the fourth on Twitter, then heading back to Philly. I'm off tomorrow, but join me for a live chat during the Selection Show on Sunday starting just before 6 p.m.



Jonathan Tannenwald, Philly.com
ATLANTIC CITY - For the second time in as many seasons, I am writing a post in praise of Fran Dunphy.

But instead of doing so in my own words, I will use those of his players and assistant coaches, and then of the man himself.

Well, not quite yet. Because one of the most remarkable things to me is how quickly Dunphy and his staff have made the transition from coaching all those years at Penn without a conference tournament to winning two of their first three at Temple.

I asked Owls assistant coach Matt Langel - who played for Dunphy at Penn from 1996 to 2000 - what made the transition so easy for Dunphy in particular.

The answer came in two rapid-fire parts: "Nothing" and "His whole life."

"He's a competitor; he never lets down," Langel added.

I asked Dave Duke, who has been at Dunphy's side longer than anyone else on his staff, the same question

"Every game's a playoff" in the Ivy League, Duke said. "You get down one game, two games, it's over... Every game, you've got to bring it every time in the Ivy. All of a sudden, there's three or four [games] left to go and you're done."

And I asked Shawn Trice, who played for Dunphy from 1991 to 1995.

"Your approach every game is just to win it," Trice said. "This is a different element, but you still want to go out and win games. That's what Coach [Dunphy] has done a great job of - manufacturing wins over his tenure here at Temple, and we're just trying to support him as much as possible. He gets all the credit, and these guys going out here every day and listening and believing in the plan, and executing it. That's what it comes down to."

I also asked Trice whether it's different going to the NCAA Tournament as a coach instead of as a player, which he did three times in his Penn career.

"The thrill is the same - the excitement of these types of events, celebrating a championship," he said. "Your preparation is the difference, though. You're trying to prepare the guys to mentally and physically be ready for the competition. As a coach, it's tough because you want guys that play the way you think that they should play - the way that you played."

In the postgame press conference, Dionte Christmas was asked what he remembered from his sophomore season, Dunphy's first on North Broad Street, when the Owls went 12-18.

"Even though we struggled, we stuck together as a team," the senior sharpshooter said. "We never gave up on coach Dunph... we never gave up on him, we never gave up on the coaching staff."

Sergio Olmos was asked what the differences are between playing for Dunphy and playing for John Chaney.

"It's totally different," he said. "Coach Chaney and coach Dunphy have completely different philosophies [and] styles of playing basketball. But I think it was a pretty easy transition. They definitely made it easy for us and that year, we struggled a little bit, but I think we worked hard and it did get us somewhere - we've won two championships now."

I asked Ryan Brooks for his view of how the bond between coaches and players has grown so quickly and easily.

(For the record, I did so before Dunphy called Brooks "the best clutch shooter that I think I've coached in my 20 years of coaching," as well as "a winner in every sense of the word" and "the lowest-maintenance guy I might have ever coached.")

"I think everybody has bought into what the coaching staff wants to accomplish," Brooks said. "Coach Dunphy gets on us every day, he pushes us to our potential, he wants to get the best out of us, and we've accepted that. We've come together as a team and just bought into everything that the coaches and even ourselves wanted to accomplish, and I think that's shown over these last couple years."

When Dunphy's turn came, I asked him what it meant to hear his players say the words transcribed above.

"What did they say, Jon - was it complimentary? Was it glowing terms?" he deadpanned.

His real answer was long, and deep, and from where I stood, quite profound. I give it to you in full:

They're a good group of guys. This [Olmos, Christmas and Brooks] is three tremendous kids, and they work real hard. I've said it so many times now: it's a privilege to play college basketball. It's absolutely a privilege to play college basketball at Temple.

But it's not easy. It's a lot of work involved in it, and you've got to work your butt off. All the stuff that has to be done, they do it. And I do get on them quite hard, and vociferously, to be honest with you. But that's the way it is, and buy into it, and hopefully good things will happen.

But they're a great group of guys, and they took good care of me over the last couple of years. My three years at Temple have been great, my 17 years at Penn were fabulous; all of those teams, all of those kids took good care of me and I'm grateful for the relationships that I will have [with these players].

Now, with those two guys [Olmos and Christmas, both seniors], it will be much different next year. This kid [Brooks, a junior] is going to have hell to pay again next year. But after it's over, then we'll hug and we'll become great friends. But during the course of it, before that happens, I'm too demanding to be a great friend to you. It's not the way this works.

I care about you and I love you and I will take good care of you and have your back, but you're going to have to pay a price. And they all buy in, which is great for them and great for me.

Fran Dunphy has now been to 11 NCAA Tournaments in his 20 seasons as a head coach, including seven trips in this decade.
There were questions about him when he was hired to succeed John Chaney. There cannot be any more now.

Join me tomorrow night at 5:45 p.m. for live coverage of the 2009 NCAA Tournament Selection Show. Temple and Villanova will be there, and I hope you will be too.



Jonathan Tannenwald, Philly.com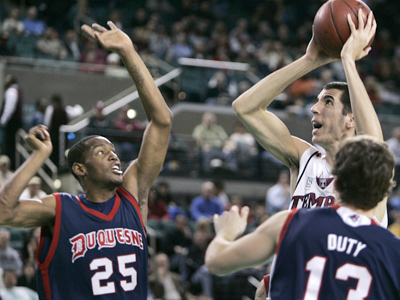 ATLANTIC CITY - Last year on this night, Temple returned to national prominence.

Last night on this floor, Temple took down the Atlantic 10's dominant program.

Now it is the Owls' turn to enter the history books.

The last program that won back-to-back A-10 titles was John Chaney's Owls squad of 2000 and 2001. There have been many games played and miles traveled since then, both literally and figuratively, but now Chaney's final recruiting class has a chance to equal one of the legend's finest.

Duquesne is no slouch, to be sure. Aaron Jackson and Melquan Bolding have been outstanding all week, and the Dukes have plenty of history weighing down their shoulders as well.

But as a friend of mine told me a few minutes ago, the game is there for the taking if Temple wants it.

It's time to find out whether they do.