Archive: October, 2012
Jonathan Tannenwald, Philly.com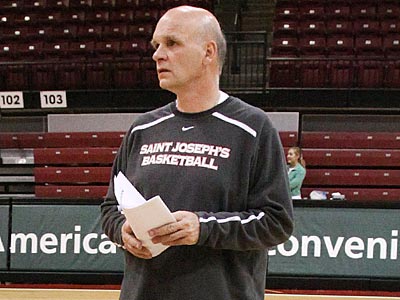 After a few tumultuous years for Phil Martelli, the spotlight is now officially shining on Hawk Hill again.
Saint Joseph's has been picked to finish first in the Atlantic 10 this season, according to the preseason poll of coaches and media. The results were released Thursday morning during the conference's Media Day at the new Barclays Center in Brooklyn.
Temple was picked to finish fourth, and La Salle was picked to finish seventh.
Video: Can the Nittany Lions upset #24 Northwestern on Saturday? Mike Kern previews the matchup and discusses Geno Smith's huge game against Baylor.
Jonathan Tannenwald, Philly.com
UPDATE: The Big 5 schedule at the bottom of the post has been corrected. Apologies for the initial error.
The Atlantic 10 announced Tuesday morning that it has signed an extensive set of television broadcast deals with ESPN, CBS and NBC. They will all start in the 2013-14 season and run through the 2020-2021 season.
Among the highlights is the fact that the men's and women's conference tournaments will be broadcast nationally from the quarterfinals on, instead of the semifinals. But there won't be any more games on over-the-air network television as has been the case in recent years with CBS.