Archive: January, 2010
Jonathan Tannenwald, Philly.com
There's a ton of stuff in the papers today. I would recommend reading Dick Jerardi's column about Lionel Simmons first, especially if you weren't in town during La Salle's glory days.
There's also some breaking news this afternoon from Philly Hoops Insider: Penn's basketball team has landed 6-8, 225-pound Archbishop Wood center Fran Dougherty. He'll play the power foward in college. More importantly, the Big 5 will add another name to the list of Frans who've played in the City Series.
Now for this week's rankings. Is it possible that St. Joe's can't fall any farther despite their struggles?
Jonathan Tannenwald, Philly.com
I've been working on a project over the last few days, so I haven't had time to dig too deep. But it's definitely worth noting that the only teams in the Schuylkill 16 with wins over Top 50 RPI teams are Temple and Villanova.

The Patriot League could produce a local champion, but other than that, it's hard to see any of these teams making the NCAA Tournament.

I've shuffled the deck a bit in the national teamsheet table. If there's one you want to see, let me know and I'll put it in next week's edition.

Any stats here you find interesting?
City Six rankings table
| Team | Record | Conf. | Big 5 | | | | | |
| --- | --- | --- | --- | --- | --- | --- | --- | --- |
| Drexel | 9-10 | 4-3 | 1-2 | 165 (162) | 117 (118) | 150 (152) | 175 (189) | 78 (117) |
| La Salle | 9-8 | 2-2 | 0-1 | 131 (140) | 102 (115) | 123 (129) | 134 (143) | 42 (72) |
| Penn | 1-11 | 0-0 | 0-2 | 317 (321) | 305 (320) | 330 (331) | 317 (324) | 69 (121) |
| St. Joseph's | 6-11 | 1-3 | 0-1 | 194 (201) | 167 (138) | 193 (186) | 180 (172) | 21 (24) |
| Temple | 15-3 | 3-0 | 2-0 | 27 (27) | 11 (4) | 18 (15) | 27 (48) | 20 (23) |
| Villanova | 16-1 | 5-0 | 3-1 | 19 (28) | 5 (10) | 6 (9) | 11 (27) | 44 (151) |
Schuylkill 16 NCAA Tournament teamsheets

Selected other teams


Jonathan Tannenwald, Philly.com
Villanova 82, Georgetown 77: Box score | Enhanced box score | Photos
Local stories: Bob Ford | Sam Donnellon | Joe Juliano | Mike Kern | Jon Solomon
National stories: Liz Clarke | Dana O'Neil | Dick Weiss | Jim O'Connell | Luke Winn
You might find Dick Jerardi's column about Temple just a bit controversial too.
I wasn't even two years old yet when Villanova beat Georgetown in the 1985 national championship game. But I've been under the impression for a long time that whenever the Wildcats and Hoyas get together, it's supposed to be a big deal.

That famous night 25 years ago is certainly a factor, but there's a lot more to it than just one game. Both schools are Catholic, though one is Jesuit and one is Augustinian. Both schools are relative neighbors on the Amtrak corridor, and whenever they meet both schools have fans in each other's arenas. And both are longtime members of the Big East, with Georgetown a charter member and Villanova joining a year later.

These days, there are 16 teams instead of 8, and it seems like almost every conference basketball game is a big deal. Which has its upsides, especially if you're ESPN. But even though all games are supposedly equal, aren't some more equal than others?

It's a big deal when Syracuse and Connecticut get together. It's a big deal when Syracuse and Villanova get together, and it's become a big deal when Villanova and Pittsburgh get together. There are also still flickers of light in what used to be an epic rivalry between Syracuse and Georgetown.

So what happened to Georgetown and Villanova? Their meeting in Washington will be on ESPN, but today's game wasn't nationally televised. Villanova-Louisville got a lot more hype even though the Cardinals aren't ranked.

After the Wildcats beat the Hoyas yesterday afternoon, I put the question to both coaches: Is Georgetown-Villanova still a special game, or is it the same as the rest of the Big East schedule?

Judge for yourself, but I think their answers were pretty clear. Here's what John Thompson III said:

Is it special? Yes, Every game is special. and the older you get as a person - as a player, they definitely realize it. There's such a finite number or games that you're going to be able to play.

And so every time you step on the court it's special. Because at some point that's going to come to an end. And so is Georgetown-Villanova special? Absolutely.

And here's what Jay Wright said:

What really comes to mind with Georgetown is that they're very tough for us to play because they play the exact opposite style. They like to keep the tempo down, they like that half-court, grind it out. We like to go up and down. So that's really what we look at.

And we really can judge ourselves by how we're playing against them, because you've got to be able to play in the half-court also. So if we're able to do that and execute against them and defend in the half-court, then we have a chance to be a pretty good team.

You can hear the full press conferences in the audio player below.

Maybe I'm the one who's wrong about this, and Georgetown-Villanova doesn't matter too much anymore. But I didn't get that the impression in the arena and on Twitter this afternoon.

What do you think?



Jonathan Tannenwald, Philly.com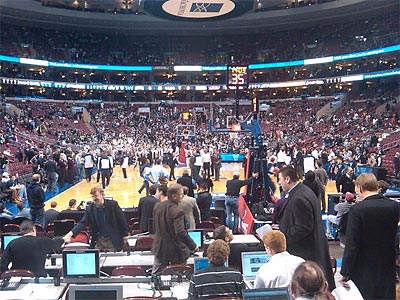 After leading by as many as 17 points during the first half, Villanova held off a furious Georgetown comeback during the second half and pulled out a 82-77 win at the Wachovia Center. Scottie Reynolds scored 27 points to help the Wildcats snap a five-game losing losing streak against their Big East rivals.
You didn't think it would be that easy, did you?
Jonathan Tannenwald, Philly.com
Box score | Enhanced box score | Bob Ford | Mike Kern | Keith Pompey
Audio is below. Video is in the player. I'm off to do soccer until Sunday, when hopefully I'll be at Georgetown-Villanova.
One thought from me before I call it a night. The announced attendance at the Palestra was 6,383, and the real thing looked reasonably close to that.



Jonathan Tannenwald, Philly.com
What is it that makes college basketball so enjoyable for all of us?

There are plenty of reasons. Many people have a strong attachment to their alma mater. Others root for schools near where they grew up or that a relative attended. The raucous atmosphere of a sold-out arena with a big student section is also a draw, as is the allure of a scrappy mid-major upsetting a BCS power in the NCAA Tournament.

I would submit to you that there is another major reason why we enjoy college basketball so much: the role of the pass. Maybe it's a Philadelphia thing because of this city's long history of great guards, though I suspect it spreads beyond just our region. For as much as we celebrate scoring, we also take a certain joy in watching a team that passes the ball well and sets up good shots as a result.

Take Fran Dunphy for example, and the motion offense for which he is renowned. Dunphy's system is predicated on great passing. You've seen the play countless times: the ball is passed around the perimeter from Juan Fernandez to Ryan Brooks or Luis Guzman, as the guards look for a good shot. If there isn't one, they feed the ball to Lavoy Allen, who kicks it back out to Craig Williams for an open three.

Another play: Villanova went to the Final Four last season as much because of a pass as because of a made basket. Scottie Reynolds made his dash down the floor because of Reggie Redding's inbounds pass and Dante Cunningham's dish to Reynolds as the hinge in the picket fence.

There are so many examples. We might not be Supreme Court Justices, but to paraphrase Potter Stewart, we know them when we see them.

The value of a pass varies from sport to sport. It certainly matters in hockey. There is some passing in baseball - the 6-4-3 double play comes to mind - but the game is built on other skills. Football has plenty of passing, but unlike in basketball, a football pass is a play in and of itself. And you can't win football games without running the ball as much as you throw it.

(Ahem.)

If there is any sport in which passing is as intrinsic to the game as it is in basketball, it is soccer. Throughout the ages, the best teams in soccer history have been those who win games by passing the ball well.

Think about the great players: Cruyff, Pele, Maradona, Zidane. Sure, they scored goals, but they also were exceptional passerse. Indeed, no position in the sport is more celebrated than the playmaking midfielder who sets up goals with a good pass.

Yes, strikers get the big salaries and endorsements these days. But that's in part because the number of great passers is declining, and the game has become more defensive in general.

Still, when we see a great pass, we know it. We rise when a through ball splits two defenders and sets up a clinical finish. Fans around the world chant "Olé" when their team strings a series of passes together. Remember Argentina's goal at the 2006 World Cup that was set up by 26 consecutive completed passes?

Think back also to the goal that sealed Barcelona's victory in last season's Champions League final. Lionel Messi's header was set up by an exquisite cross from the right flank by Xavi Hernandez. We remember the goal just as much as the pass.

So why do I bring all this up today? Because today, I'm passing my soccer coverage into a new era. Philly.com has launched a dedicated soccer blog that I'll be writing called The Goalkeeper. I've cross-posted this piece on it and on Soft Pretzel Logic as an introduction.
Rest assured that I'll still be writing about college sports on Soft Pretzel Logic. But as you've probably noticed, the soccer and college basketball coverage have started to step on each other a bit.

From tomorrow morning through Saturday, I'll be covering the National Soccer Coaches Association of America convention on the new blog. That will include live coverage of the Major League Soccer and Women's Professional Soccer drafts, as well as a range of video features and interviews with some of the big names who will be in town.

This is going to be a historic year not only for the sport in Philadelphia but for American soccer as a whole. I know that many of you have been waiting for a long time for it to arrive, and now it finally has. We're in this journey together, and I'm looking forward to being a part of it.
Jonathan Tannenwald, Philly.com
Not much stuff to say this morning. Read the stories in the papers, including Dick Jerardi's column. There's also this piece with more Jerome Allen quotes in the Daily Pennsylvanian.

I'll be back this evening from courtside at the Palestra for a live coverage of of Temple-Penn. It should be quite a scene. If you're going to be there, let me know and we can meet up before the game.

1. Villanova, 16 points (14 first-place votes)
- "By my account, the Wildcats could lose their next 10 games and still wouldn't fall lower than #2 in this poll." (Mario Machi)
- "Wright vs. Pitino: a sartorial showdown par excellence. Cards come up a couple buttons - and buckets - short this time." (Jeff Shafer)

2. Temple, 27 points (2 first-place votes)
- "Huge win up at URI. That'll shake up Kyle Whelliston's State of the Other 24." (Nick Catrambone)

Word on the street is he'll be in the house tonight.

- "These Owls are the truth. Every game it's someone different out of the big three going off." (Lord Chesterfield)

No, I don't know who that actually is. But it's funny.

3. Penn State, 61 points
- "Nits have the thinnest body of work of any Big Ten team not named Iowa. Might be dicey for the NIT selection committee to leave out the defending champs, but it's hard to make the case they should be in if the season ended today. And yet still in the top half of our poll..." (Jeff Shafer)

4. La Salle, 62 points
- "Penn State and Rutgers haven't won in their conference yet, but LaSalle has: Welcome back to the top 3 [on my ballot], Explorers!" (Brian Ewart)
5. Rutgers, 85 points
- "My wish for an 0-18 conference record is looking good. DePaul is the only game that worried me, but a mid-season coaching change for the Blue Demons eases my fears." (Nick Catrambone)

6. Drexel, 97 points

7. Princeton, 104 points
- "The Tigers have the next 3 weeks off. Why? Because I ranked them 3rd and they don't want to give up their stop." (Nick Catrambone)

8. Rider, 113 points
- "Remember a few weeks ago everyone was talking about them giving Siena a push for the MAAC Championship? You don't? I guess losing to Iona by 20 makes people forget stuff like that." (Nick Catrambone)

9. Saint Joseph's, 117 points
- "One of the keys to self improvement is to celebrate the little victories. So I hope they popped some bottles up there on Hawk Hill after the Fordham win. They are not the worst team in the A14!" (Nick Catrambone)

10. Lehigh, 135 points
- "Lehigh is coming off a six game winning streak, but it should be noted that all the teams they beat are in the bottom third of college basketball." (Max Wheeling)

11. Lafayette, 149 points

12. Monmouth, 168 points

13. Delaware, 171 points

14. Bucknell, 181 points
- "43 points in a loss against Dartmouth may be the most embarrassing thing any S16 team has done this year, including the Duke-Penn game." (Max Wheeling)
- "Very close to not having anyone average 10 pts/game. There's something to aim for!" (Nick Catrambone)

15. Delaware State, 202 points
- "I have a creeping suspicion that Penn would topple the mighty Hornets of Delaware State, but they haven't and they still only have 1 win." (Brian Ewart)

16. Penn, 216 points (13 last-place votes)
- "After watching the Nova/Louisville game, Glenn Miller has pledged to wear white suits in future losses to Villanova." (Dan Mozes)

I don't know anything, but I wouldn't be surprised if he ends up as an assistant at Connecticut sooner or later.

Write-ins

Kutztown
- "I've seen the light, Nick Catrambone. I'm voting in the Golden Bears at #15. But if they don't defeat fellow unbeaten East Stroudsburg on Wednesday night, they're back behind the Penn Quakers." (Mario Machi)

UMBC
- "Baltimore is closer to Philadelphia than Penn State, so for Penn's sake I'll let UMBC supplant Penn at the bottom spot." (Max Wheeling)

Neumann-Goretti High School
- "The Saints' lone loss this year is to Houston's Yates High School, which is ranked #3 in the nation by USA Today. If Yates was located in this area, I'd have it ranked #11 in this poll." (Mario Machi)
Jonathan Tannenwald, Philly.com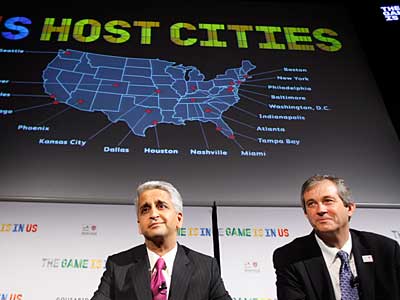 U.S. Soccer Federation president Sunil Gulati announced today that Philadelphia has made the final cut of 18 cities that will be submitted to FIFA for the U.S. bid to host either the 2018 or 2022 World Cup.
If the U.S. bid is accepted, there will be another round of cuts, probably to 12 venues.
"I'm very excited. We worked real hard at pulling it all together for Philadelphia, for the region, for economic development in the coming years," Philadelphia Union CEO Nick Sakiewicz said. "It's fantastic, I'm very excited for the fans here and for the community ... In a very short time, Philadelphia has become an international soccer city."
Jonathan Tannenwald, Philly.com
Philadelphia Union CEO Nick Sakiewicz held a conference call with reporters this afternoon ahead of Thursday's MLS SuperDraft at the Pennsylvania Convention Center. He offered a few interesting pieces of news and insight.

(What's that you say? The SuperDraft is only one of three days' worth of soccer events at the Convention Center? And you have a hunch I might be there blogging it all? I'm shocked that you'd think of that.)

The main highlight from Sakiewicz was an update on the Union's ticket sales. The word is that over half the stadium is sold out as of now.

"Basically both sidelines are gone, and the Sons of Ben section in the south end is 80 percent sold out," Sakiewicz said.

Most of the conversation centered around the Union's strategy for Thursday's draft, which is for college players.

The Union have the first pick, and speculation has centered around Oregon State forward Danny Mwanga.

I will be honest with you and tell you that I haven't been paying that much attention because of college basketball. But Mwanga is apparently the top forward avilable, and the Union are already pretty well-stocked defensively.

Sakiewicz admitted as much when asked about the roster so far by Kerith Gabriel of the Daily News.

"We do have some gaps in certain areas, and clearly there are some opportunities with offensive-minded players," Sakiewicz said. He added, thoguh, that he "wouldn't read into it that we won't pick any defensive players."

Sakewicz isn't allowed to say who the Union will take with the first pick, but he did say that "we certainly know who we're picking first."

Sakiewicz said he has been approached about trading that first pick, but hasn't seen anything worth dealing for.

"That offer has not come as of yet, but a lot happens in the next few days, so I I'll never discount anything," he said. "I think the tires started to get kicked just shortly after MLS Cup [in November]. The tires are flat they've been kicked so much."

Sakiewicz was also asked if the Union's draft strategy will be affected by the potential of a work stoppage when MLS' collective bargaining agreement with its players expires in February.

"We don't consider the negotiations of the CBA to imapct who we're going to pick and how we're going to pick them," he said. "One has nothing to do with the other."

Finally, I asked Sakiewicz about an issue that comes up every year at around this time: whether college soccer is a good way to develop the caliber of player that MLS clubs and the U.S. national team need to succeed at the top levels of the game.

Some people think it isn't, because most countries start developing players while they're in high school and don't take them off the field for academics at college age. Others think the college system has worked and still can, with Claudio Reyna and Charlie Davies as examples.

"Some [college programs] are terrific - their coaches and programs are doing an exceptional job of preparing young talent," Sakiewicz said. "Others aren't. There's different degrees of quality everywhere you go. The group of draftees that are in this class seem to have come from very good programs."

He continued: "But college is only one avenue that players can prepare themselves in. It's up to the individual to develop in whichever way he feels is best, whether it's in a college environment or a youth academy environment."
Jonathan Tannenwald, Philly.com
As Villanova gets ready to visit Louisville tonight, the Wildcats are looking pretty good in the computer rankings.

For the first time this season, 'Nova is ranked 10th in both the RPI and Sagarin index. Temple is flying high too, at No. 15 in Sagarin and a gaudy No. 3 in the RPI.

There are people who will tell you this is a big deal, and there are people who will tell you this is meaningless because it's only January.

The thing to remember about the RPI in particular, though, is that your team's rating doesn't matter. What matters are the ratings of the teams you play.

Kyle Whelliston posted an interview over the weekend with David Worlock, the NCAA's associate director for the Division I Men's Basketball Championship, in which the RPI is a main point of discussion.

(I'll let you digest the length of that title for a moment.)

As Whelliston notes and Worlock affirms, the RPI's most important use is in averaging the rankings of teams you've beaten and team's you've lost to. That's how the Selection Committee determines who gets seeded where and who gets at-large bids.

So the Temple and Villanova fans among you can celebrate all you want. But my guess is that Rhode Island and Marquette's fans are even happier.

Before we get to this week's stat compilations, let's lighten the mood a bit. Tonight's game at Freedom Hall will match two of the best dressers in college basketball. Which one's suits do you prefer?
City Six rankings table
| Team | Record | Conf. | Big 5 | | | | | |
| --- | --- | --- | --- | --- | --- | --- | --- | --- |
| Drexel | 8-9 | 3-2 | 1-2 | 162 (179) | 118 (141) | 152 (173) | 189 (193) | 117 (155) |
| La Salle | 8-7 | 1-1 | 0-1 | 140 (150) | 115 (118) | 129 (140) | 143 (162) | 72 (101) |
| Penn | 1-10 | 0-0 | 0-1 | 321 (332) | 320 (338) | 331 (342) | 324 (334) | 121 (70) |
| St. Joseph's | 5-9 | 1-1 | 0-1 | 201 (187) | 138 (128) | 186 (184) | 172 (156) | 24 (29) |
| Temple | 13-3 | 2-0 | 1-0 | 27 (21) | 3 (4) | 15 (18) | 26 (48) | 16 (23) |
| Villanova | 14-1 | 3-0 | 3-1 | 28 (31) | 10 (14) | 10 (9) | 20 (27) | 151 (187) |
Schuylkill 16 NCAA Tournament teamsheets

Selected other teams


Poll: Which coach is the better dresser?

(163 votes)