Archive: September, 2008
Karen Heller, Inquirer Staff Writer

Let us now praise a famous man, Paul Newman, who was more than a movie star in the pantheon of great movie stars. He was a sublime actor, an indelible cinematic character and a man of immense charity and purpose.

He died at the age of 82, leaving behind a legacy rarely rivaled in Hollywood history. Foremost, because he didn't live in Hollywood but in rural Connecticut and kept company with the same wife, the glorious Joanne Woodward, for many, many decades. He always said she was the more talented of the two, an uxurious stance that endeared him to multiple generations of women even more.

Newman treated his surreal good looks -- he was the Brad Pitt and George Clooney of his day -- as something to overcome rather than exploit. He preferred to play the outsider, the ne'er do well, rather than the hero and simple rake, though he had more pluck and charm than any actor in recent memory.
At a Republican National Convention that threatened to be overtaken by Hurricane Gustav and a surprise vice presidential pick, John McCain finally owned his convention.
In the build-up to his appearance, it didn't help that his own wife, Cindy, described her husband's running mate in Daniel Boone-like mythic proportions: "a reform-minded, hockey-mommin', basketball-shootin', moose-huntin', fly-fishin', pistol-packing mother of five."
McCain, a man who speaks better without a text and more passionately on the subject of others, was asked to tell his own heroic story, again. The stories of both parties' candidates are now so well-known that they have passed into legend. This may be the first presidential contest between two best-selling memoirists.
Karen Heller, Inquirer Staff Writer
Is anyone watching the Republican National Convention? It's been up against the second season premiere of

Gossip Girl

, a new version of

90210

, the latest installment of

Project Runway

.

Turns out, people are watching. (Actually, due to Monday's truncated schedule it was possible to watch Cindy McCain and Gossip Girl.)

Wednesday's speech by Alaska Gov. Sarah Palin speech generated 37.2 million viewers, according to Nielsen television research. That's 1.1 million viewers short of Barack Obama's acceptance speech, Greek columns and all, on the fourth day of the Democratic National Convention.
Karen Heller, Inquirer Staff Writer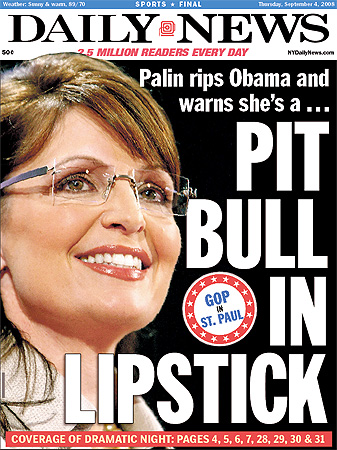 It was only a matter of time before the politicians, graced with considerable free media time, turned on the only group less popular than they are: the media.

On Wednesday, the Republicans turned it on with a vengeance, painting the media -- every single member of it as if our hearts all beat as one -- as the enemy, along with the elite and the East Coast establishment.

"And I've learned quickly, these past few days, that if you're not a member in good standing of the Washington elite, then some in the media consider a candidate unqualified for that reason alone," Alaska Gov. and presumptive Republican vice president nominee Sarah Palin said last night at the Xcel Energy Center.
Karen Heller, Inquirer Staff Writer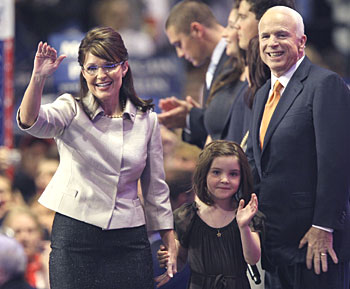 Life is a matter of expectation management. Alaska Gov. Sarah Palin entered the Xcel Energy Center Wednesday night with exceedingly low expectations from an electorate that had only been introduced to her as a September Surprise last Friday.

This was a gift. Palin surely exceeded most critics expectations with a speech, crafted by the John McCain brain trust, that was strong, concise and delivered expertly, if vague on future action. (His advisers had already crafted one, the Washington Post reported Wednesday, then had to scrap the entire speech after it was deemed "very masculine.")

Palin dimmed her former beauty-queen wattage by wearing a demure beige jacket with zip decolletage, a slim black pencil skirt and pumps. She made sure that, as the first female Republican vice presidential nominee - and the first woman to run for the position in 24 years - that no visual flash would detract from the substance of her speech.
Karen Heller, Inquirer Staff Writer
"For decades, the Washington sun has been rising in the East - Washington has been looking to the eastern elites, to the editorial pages of the Times and the Post, and to the broadcasters from the coast," Mitt Romney said Wednesday night at the Republican National Convention. "If America really wants change, it's time to look for the sun in the west, cause it's about to rise and shine from Arizona and Alaska!"
This would Mitt Romney, former governor of Massachusetts, as Eastern a state as they come, cum laude graduate of Harvard Law School and Harvard Business School.
He flung the "L word," that would be liberal as an invective.
He painted a picture of fear, of a nation besieged by liberal influences including, if you believe it, the Supreme Court.
What Washington is Mitt Romney talking about here?
"But let me ask you, what do you think Washington is right now, liberal or conservative? Is a Supreme Court liberal or conservative that awards Guantanamo terrorists with constitution rights? It's liberal! Is a government liberal or conservative that puts the interests of the teachers union ahead of the needs of our children? It's liberal!
"Is a Congress liberal or conservative that stops nuclear power plants and off-shore drilling, making us more and more dependent on Middle East tyrants? -- It's liberal!
"Is government spending - excluding inflation - liberal or conservative if it doubles since 1980? -- It's liberal!
"We need change all right, change from a liberal Washington to a conservative Washington! We have a prescription for every American who wants change in Washington, throw out the big government liberals and elect John McCain!"
This goes down as the wiftiest convention speech of recent memory, a staunch Republican painting George Bush's Washington and the John Roberts-Sam Alito-Antonin Scalia court as liberal.
Now, former presidential candidate and Arkansas Gov. Mike Huckbee is attacking the "elite," something the wealthy Romney is in no postition to do.
Karen Heller, Inquirer Staff Writer
"Give the woman a chance to at least have two or three weeks of answering questions before you say, 'Oh, she's not prepared to be president or vice president,' " former New York mayor and presidential candidate Rudy Giuliani told ABC's

Good Morning America

.

There are only eight weeks to go until the election. Giuliani says the party's presumptive vice presidential nominee, Alaska Gov. Sarah Palin, should be given a grace period.

Republicans have been branding Democrats and the press "sexist" for criticizing Palin.
Karen Heller, Inquirer Staff Writer
That's what Sarah Palin called the war in Iraq. Snippets of the Alaska governor's speeches are emerging on YouTube. She's scheduled to address the Republican National convention in St. Paul tonight.

In a speech to her Assembly of God church, Gov. Sarah Palin called the war in Iraq "a task that is from God...There is a plan and that's God's plans."

The talk shows Palin speaking without notes. In addition to having a habit of dropping her "g's" in speaking, the presumptive vice presidential nominee has a casual, anecdotal speaking style.