Archive: December, 2008
"URGENT -- One More Philadelphia Event" read the subject line on Tuesday's blast email from Comcast executive and Democratic bigwig David L. Cohen to the party's fundraising faithful.
"Just when you thought it was safe to open emails from me...I have one more request," Cohen wrote. He needs more money, as host of a fundraiser next Wednesday evening to help Sen. Hillary Rodham Clinton of New York -- President-elect Obama's choice to be Secretary of State -- retire the mountain of debt left from her failed presidential campaign.
Speed is essential. Mrs. Clinton cannot raise political money once she is confirmed as Secretary of State, and it probably would be unseemly as well during the official confirmation process. In papers filed last week with the federal election commission, she formally surrendered any hope of recovering the $13 million she loaned the campaign from her and former President Bill's personal accounts. But that leaves at least $6.4 million owed to campaign vendors including pollster and strategist Mark Penn, who's work proved so ....uh, brilliant....on her behalf.

Not to put too fine a point on it, but Obama, along with bailing out the American middle class, winning two wars, fixing health care, and solving global warming, is also expected to "save capitalism."

That's the word from Newsweek:

"While there has been much elation over Obama's election, there remains a deep pessimism across the country that is having adverse effects on the economy. People and corporations are still not doing much by way of buying, borrowing or lending —the heartbeats of modern capitalism. The political system has moved on to the automobile bailouts and the fiscal stimulus, but the original problem of trust in the financial system has still not been fixed. "Credit markets are still fundamentally broken," says David Swensen, chief investment officer of Yale University.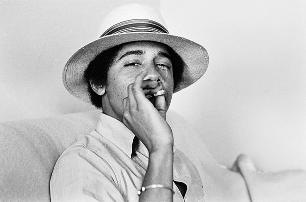 Here's a little gossip from the Swarthmore student newspaper web site. The liberal arts school rejected the president-elect:

The admissions office may have to keep mum, but senior Joel Mittleman '09 actually had the chance to personally confirm the rumor when Obama held an open town hall at Strath Haven High School during the Pennsylvania primaries. "I did ask Obama [whether it was true]," he says, "not during the actual question and answer, but as he was walking the line shaking hands afterwards." Mittleman recalls the Senator laughing in response, asking him where he heard the information, and then saying "Yes, it's true. It really broke my heart, actually."

Alum Anne Kolker '08, a former intern in the Senate office and Mittleman's original source of the rumor, further confirmed the story: "Yes, the first thing President-elect Obama said to me was "Ah, Swarthmore, great school. They rejected me." Thankfully, Kolker reports Obama held no grudge against her. Here's hoping admissions doesn't write off any other presidential hopefuls

Since Obama's deft handling of the MSM played a big role in his rise, the New York Time's put together a lengthy, lengthy piece on it for their Sunday magazine. Of course, given the web, Sunday can be everyday, so the NYT posted it today.

Here's an excerpt:

The campaign bragged that Obama never even visited with the editorial board of The Washington Post — a decision that would have been unheard of for any serious candidate in a previous presidential cycle. "You could go to Cedar Rapids and Waterloo and understand that people aren't reading The Washington Post," Gibbs told me last month in Chicago.

A key Obama constituency - Ivy League historians - is threatening rebellion over the tendency, in and out of the Obama organization, to compare the president-elect to Lincoln:

"Some scholars think the comparisons have gone a bit over the top hat.

Sean Wilentz, a scholar in American history at Princeton, said many presidents have sought to frame themselves in the historical legacies of illustrious predecessors, but he couldn't find any examples quite so brazen."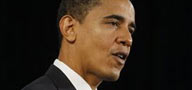 President-elect Barack Obama was unveiling his health care team and approach this morning at a news conference, but the stink of the scandal over Illiniois Gov. Rod Blagojevich (D.) permeated the thing, taking up three of the four questions.
The governor's arrest, and the release of wiretap transcripts in which Blago appears to be auctioning an appointment to Obama's soon-to-be-vacant Senate seat, were rare embarassments for a charmed politician, who has been acting almost as de facto president (without the nuclear codes and constitutional power, to be sure) during the transition.
Obama was slow to react to Blago and he moved to correct that yesterday. In a sense, the newser was a do-over, a chance to distance himself from the unfolding view on national television of a dirty Chicago political system. That's not me, was his message.
Sen. Arlen Specter (R., Pa.) went on the Senate floor and said he would apply the brakes to the confirmation process for President-elect Barack Obama's nominee for attorney general. As an official in the Clinton administration, Eric Holder had a role in the pardon of fugitive financier Marc Rich, who also was a huge Democratic fundraiser. Specter wants that episode examined closely. Politico has the story here.
Click here for Philly.com's politics page.

Economist James K. Galbraith makes the argument that traditional stimulus programs won't fix the economy. It's the economic equivalent of a candy bar versus a three-course meal, he contends.
He proposes to the Obama administration-elect a massive plan to re-finance millions of mortgages, a temporary (tho years long) cut in Social Security taxes to put more money in the pockets of workers and business. Extreme? Maybe. But are we approaching the next Great Depression. Wish we knew. Here's an excerpt:
What began as a housing collapse will not go away soon. Empty houses wreck home values for their neighbors. The ratings agencies are discredited, the investment banks are gone, and high finance is in debt deflation. Foreign investors won't soon trust the market for US private debt, even for blue chip corporations, so long as they remain saddled with toxic health care costs...