Archive: August, 2008
It didn't take long. Joe Biden is going home to Scranton on Monday.
To hear the way the Obama campaign talks about their vice presidential candidate, you'd thing he still lives there, rather than in Delaware. There's no question that one of the reasons Obama picked him was to help in Northeastern Pennsylvania, where Obama got clobbered in the primary by Hillary Rodham Clinton. So he's going home. Don't know what he'll do there; details to come.
In looking at Pennsylvania, the Northeast is one of the swing areas, along with the Philadelphia suburbs and the area around (but not including) Pittsburgh.
Alaska Gov. Sarah Palin made a solid and mistake-free debut as John McCain's choice for a running mate. She talked a lot about her record in local and state government, and about her family. She cast herself as a maverick and a reformer, very much like McCain. She heaped praised on the man who picked her.
And in case there was any doubt about why she was picked, she made a direct appeal to Democratic women, saluting Geraldine Ferraro, the first woman to run for vice president, and Hillary Rodham Clinton, "who showed such determination and grace in her presidential campaign." The crowd booed. She repeated Clinton's phrase about having placed 18 million cracks in the glass ceiling by getting 18 million votes in the Democratic primaries and added: "We can shatter that glass ceiling once and for all."
McCain, of course, introduced her and praised her executive experience, her fighting spirit, her record of reform and integrity. He said she was "exactly who this country needs." But he did not say the kind of thing that presidential candidates usually say at such a moment -- that his prime consideration was to pick someone fully qualified to be president. He'll certainly be asked to make such a statement as time goes on, and he probably will do so. On Day One, though, with Palin's credentials for the job an obvious question, he didn't say the words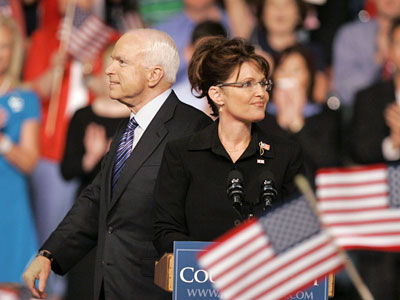 Talk about rolling the dice. In picking Sarah Palin to be his would-be veep, John McCain is making a breathtaking gamble.
The political calculation is obvious. The intent is to appeal to women, including those who are disgruntled that Hillary Rodham Clinton is not on the Democratic ticket, either in the first or second slot; polls taken before the Democratic convention showed that Obama had nailed down the support of little more than half of Clinton primary voters. The idea is to shake up the race, to cause those voters and others to take a second look at the Republican ticket. Palin also had solid conservative credentials -- anti-abortion, pro-gun -- that should make the conservative base happy. She's an attractive figure and a polished communicator.
But to my mind, the best case the Republicans had going against Barack Obama was the allegation that he is not ready to be president, not after less than four years in the U.S. Senate. Picking Palin, who has been governor of a low-population state for only 20 months, undercuts that argument big-time. How she'll do in her debate with Joe Biden is another question.
The Republican attack equating Sen. Barack Obama with troubled songbird Britney Spears and gazillionaire airhead Paris Hilton has seemed kind of silly, though the party's strategists did hit on a certain truth when they came up with the "biggest celebrity in the world" line.
Having covered Obama's presidential campaign over the months, I have sometimes noticed that there have always been hints of cultish adulation among some of his followers, and he has a penchant for snickering at his own lines and for motiviational-speaker-on-steriods gimmickry. "Yes we can!" The topper? Declaring himself a "citizen of the world" before 250,000 in Berlin over the summer.
Now, it's easy to quibble with any politician, and that's what Obama is - a very gifted one. And really, there's nothing wrong with him being great at his job, inspiring people, and getting so many millions interested in politics.
I have to admit it; I was a bit skeptical upon arrival at Invesco Field on Thursday afternoon for Barack Obama's big night. The stage really did look like a Greek temple. It didn't seem like the stands would ever fill up. And the event started off like a rock concert with a few political speeches thrown in.

Then it started to get dark. The empty seats disappeared. Suddenly, about 80,000 people, or however many it was, were in place, having stood in security lines for hours just to hear a political speech. (A political writer can't help but like it when people are that interested in politics.) The big columns on either end of the stage now appeared to be nothing more than slightly overdone frames of giant video screens. Then, the star of the show arrived.

It was not Obama's most stirring effort, and it was not intended to be. He was trying to talk nuts and bolts, not political philosophy, to show that he is a politician of substance, not just a guy who can deliver a great speech. Whether he succeeded is for the voters to decide. But as political stagecraft goes, this was something special. And it didn't rain. It's hard to imagine what would have happened if it had.
Hey, Barack Obama can throw a punch. Make it 21 punches - one for each of the times he referred by name to Republican John McCain during his speech Thursday accepting the Democratic nomination for president.

Nervous Democrats were worried their candidate was going to turn out to be Obamabi, and they wanted to see him take on McCain and the Republicans with a forceful critique, to make his call for "change" seem more muscular.

Taking on what polls show is McCain's biggest strength, national security, Obama said that his GOP opponent was wrong on every foreign policy question of the day - in believing, for instance, that Iraq was an important offensive to launch in the war on Islamic terror, and not understanding the significance of Afghanistan.
Actually, he bought air time to broadcast a commercial congratulating Obama. Here's the text of McCain's advertisement:
"Senator Obama, this is truly a good day for America.
Too often the achievements of our opponents go unnoticed. So I wanted to stop and say, congratulations.

How perfect that your nomination would come on this historic day. Tomorrow, we'll be back at it.
But tonight Senator, job well done.

I'm John McCain and I approved this message."
And here is the advance
text
of Obama's speech.
Click here to go to the front of the blog.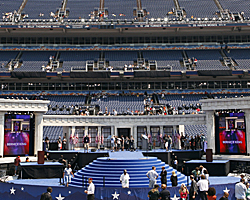 We have arrived at Invesco Field at Mile High. And quite a sight it is.
The set, presumably, was meant to look like a monumental, Washington-style federal government building. And it does in the middle, where all the American flags are. But on either end, there are these two larger structures, each with two grand columns. Which gives the thing a feel of a Greek temple, as some Republicans and others have said.
What matters, of course, is not how it looks now, in the middle of the afternoon, but how it looks at 8 p.m. local time, when Obama will take the stage and we'll be under the lights. And if the speech is a success, the set presumably won't make much of a difference.