On Sunday, an estimated 500,000 people massed before the Lincoln Memorial to for the "We Are One" celebration, a mellow if frigid happening with performances by Bono, Beyonce, Springsteen et. al. President-elect Barack Obama, in his remarks, noted the power of so many people of all races coming together, and the happiness of the moment.
Then he added a bummer note, which he has been doing increasingly lately in an attempt to make the soaring expectations surrounding his presidency a little more realistic.
It was hard to miss the number "44" on one of the two Amtrak diesel engines pulling Barack Obama's train to Washington Saturday, a nod to the place he will assume on the roster of presidents. But a railroad executive pointed out to me something I missed: The other engine was #120 - as in January 20, the date of Obama's swearing-in.
It's an amazing example of the kind of detailed planning that went into the whole trip, which went off without a visible hitch.
Click here for Philly.com's politics page.


AP reports from Washington that crowds are assembling to watch the morning inaugural events, which are TV broadcasters:

Amid heavy anticipation of Barack Obama's swearing-in as president, crowds are forming on streets and near the
National Mall to watch network and local television anchors talk up the story of the young new year.

People gathered on the streets in frigid weather near the Mall and in Lafayette Park across Pennsylvania Ave. from the White House, partially eclipsed by the large reviewing stand Obama and Vice President-elect Joe Biden will use to watch the inaugural parade Tuesday.
A crowd of several thousand, including children up in trees, thronging Riverfront Park behind the Wilmington train station to welcome president-elect Barack Obama and Vice President-elect Joe Biden.
"This is no ordinary train ride," Biden said. "This is a new beginning for our country."
Obama praised Biden's wife, Jill, for "putting up with Joe all these years," then turned serious.
Vice President-elect Joe Biden met the train on the Wilmington platform a little after 12:30 p.m. Biden walked up and opened the back door of the blue Pullman on the end of the train. He closed the door and grinned. "They're not ready yet," he said, referring to the Obamas.
"This is my second home, this station," Biden said. He has commuted for more than three decades via train to his job in the Senate. Moments later, the president-elect and Michelle Obama emerged from the train. "Happy birthday, kid," Biden told Michelle, who is 45 today, giving her a hug.
Click here for Philly.com's politics page.

At every station, people throng behind police tape. They hold up signs, wave, hoist their children up for a better view as the train carrying President-Elect Barack Obama goes by.
At Claymont, Del., a little after noon, the trian slowed down, and several hundred supporters cheered and waved sign. "Hail to the chief," one said. Another read, "Halleluja - We Did it!"
Obama and Michelle stood on the platform of their car, waving. The president-elect pulled the whistle at least th ree times.
Obama's "Love Train" started rolling out of 30th Street station about 11:39 a.m., headed to Wilmington for the first whistle stop where Vice President-elect Joe Biden will be picked up. The train is 10 cars long, about the length of 2.5 football fields, we are told.
Fourty-one ordinary Americans Obama met along the campaign trail are aboard as his guests; they hail from 15 different states.
Obama is riding in a Georgia 300 car built by Pullman Standard in 1939 as a lounge car for the Southern Railway. It's been refurbished and has a kitchen, two living room areas, and a small bedroom. It has hosted George H.W. Bush and Bill Clinton.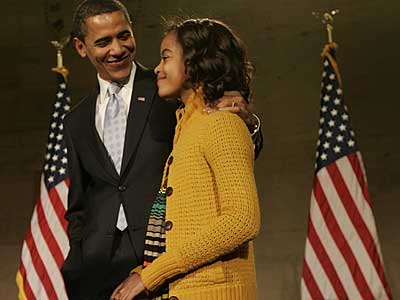 Inquirer staff writer Jonathan Tamari reports:
Brad Bauer was in the middle of a morning work out at the Sheraton Center City when a familiar face stepped onto another treadmill: President-elect Barack Obama.
"He was very cordial and said good morning, and then he went to town," said Bauer, a Glaxo SmithKline employee in Philadelphia for sales training. "He's in very good shape. I was very impressed.