Archive: August, 2011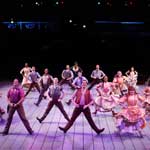 Oklahoma! Arena Stage, 1101 6th St. ,Washington, D.C. Through Oct.2. Tickets $61-106 Information: 202-488-3300 or www.arenastage.org
Oklahoma!
By Toby Zinman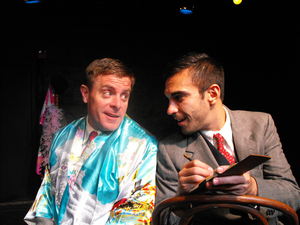 By Howard Shapiro
INQUIRER STAFF WRITER
Is acting a form of entrapment? If you're in the audience and you buy into a play, the answer is clearly, yes: You've been fooled, and a willing participant.
Is entrapment a form of acting? That's a tougher question, posed by Tom Jacobson's play The Twentieth-Century Way, which uses an incident in Long Beach, Calif., almost a hundred years ago to explore the question.
I was not entirely entrapped by the play that opened Wednesday night at Walking Fish Theatre in Kensington, although Karen Case Cook's stark production became more impressive by degrees as it unfolded. But Jacobson's play, which tries to do too much and takes about 10 minutes too long to do it, is provocative. While I was watching it, I found it sometimes silly and other times compelling — not an unquestionable success or an outright failure. Yet after I left the theater, I mulled over its themes and what it challenged us to consider, and I began to appreciate it.