Archive: February, 2012
By Howard Shapiro
INQUIRER STAFF WRITER
Night after night, Agatha Christie's murder mystery The Mousetrap repeats itself in England — after almost 25,000 performances, the world's longest-running play. But Wednesday night, the Walnut Street Theatre's current production of the play had a new surprise ending when Dan Hodge, one of its actors, proposed to his unsuspecting girlfriend at the curtain call.
"It is February 29th, leap year — in fact, leap day. And I'm going to take a leap," Hodge told the audience and a startled Krista Apple, after she was called to the stage from the audience of about 1,100 people. On his knees, Hodge then said: "Leap year comes around every four years. But a girl like you is once in a lifetime."
By Merilyn Jackson
FOR THE INQUIRER
The philosopher Ludwig Wittgenstein said, "Philosophy ought really to be written only as a form of poetry." I am never happier than when I can read choreography as poetry, as I — and, I think, the audience — did over the weekend with choreographer John Jasperse's Fort Blossom Revisited 2000/2012.
This fuller version of the original 2000 work premiered Friday at the Hepburn Teaching Theater, Bryn Mawr College's black-box theater. The college was the leading funder of the reconstructed and expanded 60-minute work.
By Nancy G. Heller
For The Inquirer
This was not just another Asian-fusion dance concert. In recent years there's been a vogue for combining Indian classical dance with western techniques -- Bharatanatyam and ballet, Kuchipudi and modern dance, Kathak and tap — with varying degrees of success. In her one-woman show, Friday and Saturday at the Painted Bride, Sheetal Gandhi used Indian heel-stamps and turns, alongside western-style isolations and floorwork, to create an eloquent, inventive, virtuosic dance-theater piece that kept the opening-night audience transfixed.
Gandhi has an unbelievably varied resume. She has toured with Cirque du Soleil, performed with the National Dance Ensemble of Ghana, and acted on Broadway; she's a percussionist with a university degree in psychology and dance. She also wrote, directed, and choreographed Bahu-Beti-Biwi (Daughter-in-Law, Daughter, Wife), which she has presented at venues from Israel to Hawaii.
By Howard Shapiro
INQUIRER STAFF WRITER
Once you're gone, so are your rights to the way you're portrayed. The sleazy Roy Cohn isn't around to contest the character Tony Kushner assigns him in Angels in America (or my one-word characterization) and none of the Scottsboro Boys, from the recent musical about a horrible piece of '30s American history, can challenge their stage depictions.
That brings us directly to the Walnut Street Theatre, where the late Ethel Waters is playing again, sort of, for the first time since 1949, when she was on the main stage in A Member of the Wedding. Now, on the third-floor stage in the Walnut's Independence Studio series, the singer, actress and barrier-breaker is being re-enlivened by Broadway's talented Terry Burrell (Threepenny Opera, Into the Woods, Dreamgirls), who's written Ethel!, a one-woman show she delivers with oomph and vigor -- and a questionable depiction.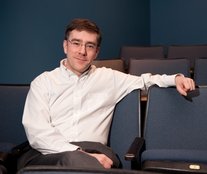 By Howard Shapiro
INQUIRER STAFF WRITER
Tony Braithwaite, one of the region's premiere comic actors, will take the helm of Act II Playhouse in Ambler in July.
The board of Act II, among the region's hottest stages over the past few years, named Braithwaite as the new producting artistic director, replacing Bud Martin.
Martin, also a Broadway and West End producer, will continue to serve on the board and be available to direct, as will Harriet Power, the associate artistic director who will leave that post at the end of the season in May; she will continue on the theater faculty at Villanova.
By Wendy Rosenfield
FOR THE INQUIRER
Of Mice and Men is so well-known and universally taught in American middle and high schools, you'd think a staged production, such as People's Light and Theatre Company's, must go out of its way to distinguish itself. But despite plenty of obvious contemporary parallels, director David Bradley keeps John Steinbeck's 1937 classic, well, classic, and stripped to its bare essence.
Everyone remembers George and Lennie — that mismatched pair of bindlestiffs looking for farm work, hoping to save up some scratch and "live off the fatta the lan' " — but this production takes its time in highlighting the story's peripheral characters, the men and sole woman on this farm who pass for a community.
By Toby Zinman
For the Inquirer
First, put your mind to rest about this play's awful title: nobody is stabbing any chickens.
By Howard Shapiro
INQUIRER STAFF WRITER
Into an office walks a woman, off the street, and asks a professor to make her a cultured lady. If that sounds a lot like Pgymalion, or its musical cousin My Fair Lady, by George, you've got it.
In the case of Educating Rita, in a lovely, crisp production that opened Tuesday night at Hedgerow Theatre, the story's a little tweaked. Rita is a hairdresser in Liverpool who's sung enough pub songs to begin singing to herself "Is That All There Is?" She's determined to find out.