Archive: December, 2012
By Jim Rutter
For THE INQUIRER
Hypocrites never mind a mirror that flatters. This alone explains the theme, if not the success of Frank Wildhorn and Leslie Bricusse's Jekyll & Hyde, the musical.
By Jim Rutter
FOR THE INQUIRER
Ambler audiences love comedic performer Tony Braithwaite so much that a year ago, Act II Playhouse appointed him Artistic Director. The company could no doubt cover its expenses each season by installing Braithwaite in their lobby with a tip jar and letting local patrons come in and pay him by the joke.
Stage adaptations of It's a Wonderful Life have been proliferating, and though no one version dominates, Joe Landry's at Bucks County Playhouse in New Hope feels more viable than many: It rightly emerges as a fanfare for the common man, even if it's lighter than lightweight.
Subtitled A Live Radio Play, the Landry script doesn't try to stage the original small-town setting. It's set at a 1940s radio studio, where the story is being acted out for microphones, the six-member cast playing a variety of roles that, through the considerable power of suggestion, make the stage feel far more populated than it is. In 1940s radio style, the actors give highly inflected line readings, supported by a sound effects.
Anyone who feels shortchanged won't for long. The elements that made radio drama work in the 1940s have retained their power. Soon, you no longer feel the characters are outside you. They're all but in your head, having a subtle dialogue with your own holiday history.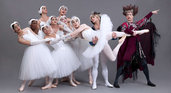 By Merilyn Jackson
Ovations, spiked with wolf whistles, erupted throughout much of Les Ballets Trockadero de Monte Carlo's Thursday night opening Dance Celebration program at the Annenberg Center.

And the Trocks, as they affectionately call themselves, shamelessly cadged for more. Even during the final poignant moments of his solo - Mikhail Fokine's Dying Swan, to the famous Saint-Saëns music - Roberto Forleo, as Marina Plezegetovstageskaya, lifted his false eyelashes and furled his manicured fingertips, hustling for applause. But with his feathers flying, his chicken-walk deserved kudos.
Merilyn Jackson, For The Inquirer
Posted: Thursday, December 13, 2012, 3:01 AM
Choreography begins with the circle. Choreography literally means "dance-writing" from the Greek words for "circular dance" and "writing." For his new work, Occupant, choreographer Jonah Bokaer is researching the etymology of the word and using it to graphically call our attention to its origins.
By Wendy Rosenfield
For the Inquirer
Just as most Jewish holidays have the same theme (They tried to kill us. We survived. Let's eat.), some attentive comedian--Seinfeld? Stewart?--noted that many Christmas stories also share a common plot: someone's trying to steal Christmas and we have to get it back! BCKSEET Productions' newest entry into the crowded yuletide market is true to that form with ELFuego, an original musical by company artistic director Kate Brennan, in which Occupying elves hijack the holiday.
Recording sessions have the mystique of making music history behind closed doors. No matter that the single most famous one in pop culture - the December day in 1956 when Elvis Presley, Johnny Cash, Jerry Lee Lewis, and Carl Perkins, now known as the Million Dollar Quartet, were all in the same Memphis studio - yielded nothing of great musical consequence.
It was lions at play, singing gospel and blues that the public didn't want to hear from them. But who wouldn't have wanted to be a fly on that wall?
No wonder this cultural artifact is the springboard of a jukebox musical, Million Dollar Quartet, which opened Tuesday at the Forrest Theatre, that's everything the original tapes were not - polished, artfully staged, and packaged for mass consumption though the innate funkiness of the music goes missing.
By Toby Zinman
For the Inquirer
Bobby Cannavale could sell me anything—even some worthless land in Florida called Glengarry Glen Ross, even this less-than-sizzling Broadway revival of David Mamet's iconic play called Glengarry Glen Ross. That the play is about real estate makes this an obvious candidate for relevant revival, given what's on the national mind; that it stars showboating Al Pacino makes this too much of a star turn in a drama that requires ensemble work.