Archive: October, 2012
In their song Human, The Killers ask "Are we human, or are we dancers?" The singer says his sign is vital, his hands are cold. On Thursday evening at Christ Church Neighborhood House, Meredith Rainey and Marcel Williams Foster put that question to the test in Carbon Dance Theatre's Science Per Forms. It's a wonderful title for a piece that explores humanity's contest between body and machine and the question of which drives which.
The 45-minute work had multiple collaborators: Nine science, technology, architecture and design wonks from Harvard and the University of Pennsylvania associated with IK Studio and the Hactory (yes, a haven for hackers,) and six dancers under the guiding light of Foster and Rainey.
The academics created the machina sans Deus, a table-shaped creature suspended so its four "legs" (manipulated by computer commands) could bend its "knees" inwards with spider-like efficiency.
By Wendy Rosenfield
FOR THE INQUIRER
Philadelphia Theatre Company's world premiere musical Stars of David, based on Abigail Pogrebin's collection of interviews, asks a whole lot of famous people a single question: How do you feel about being Jewish? The net result of those answers is a survey of a dozen public figures whose attitudes toward Judaism range from ambivalence to outright chauvinism.
By Toby Zinman
For the Inquirer
Like most Concept Art, The Exit Interview is better as a concept than as art. Written by William Missouri Downs, and directed by Seth Rozin, the play is a sometimes entertaining sometimes tedious satire about God and the world. Or about faith and atheism. Or about science and theology. Or about the commercialization of art, the crassness of contemporary news media, the fecklessness of academia, the objectification of women, the horrors of gun violence or, alternatively, the horrors of oboe obsession, or….Well, you get the idea: too much. Way too much topic, way too little play.
By Howard Shapiro
INQUIRER STAFF WRITER
Monday night signaled a turning point for Philadelphia's ever-expanding theater community in a region with 50-plus professional stage companies, almost 1,000 members of the professional Actors' Equity union, more new theater spaces under construction, plus audiences with seemingly insatiable appetites for live stage work.
By Toby Zinman
For the Inquirer
By Howard Shapiro
INQUIRER STAFF WRITER
The prolific Philadelphia playwright Bruce Graham must be leading a charmed life. In a matter of months, The Outgoing Tide, his funny and searing exploration of dementia and its effect on a family, has been given not one but two terrific productions here.
The first was in Center City in the spring, at Philadelphia Theatre Company. The second now plays in Wilmington, where Delaware Theatre Company takes The Outgoing Tide — with its perfect narrative arc, smooth writing, and genuine tone — and runs with it in a production directed by Broadway producer Bud Martin, in his first season as artistic director in Wilmington. He had been running Act II Playhouse in Ambler.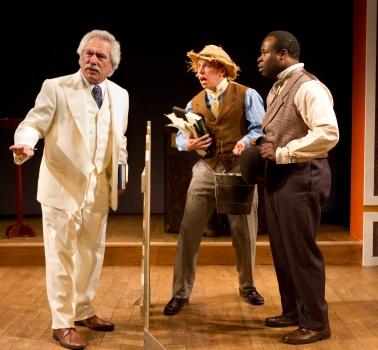 By Jim Rutter
FOR THE INQUIRER
On the speaking circuit of 19th-century America, no one commanded greater audiences than Mark Twain. Just as Charles Dickens mastered the format across the pond in England, the author of Huck Finn and Tom Sawyer crisscrossed the country, reading his books to sold-out crowds.
By Howard Shapiro
INQUIRER STAFF WRITER
Mamma mia! Ladies, wazza-matta you? Ufff! Is this any way to behave in the kitchen? That flour's not for throwing. That ladle's not for bashing. And ... yikes! ... put down th ose guns!
Hey, waidaminit! Are you really ladies, ladies? Let alone sisters? I don't think so. It looks like the frumpy one who calls herself Delphine is a guy named Jay Falzone, and the one called Carmela who thinks she's super sexy, she's really Stephen Smith.