Archive: October, 2011
By Toby Zinman
For the Inquirer


Piradello dunks his Proustian madeleine into his tea and suddenly lines blur between character and actor, illusion and reality, autobiography and fiction, past and present. Others present at the tea party are Tennessee Williams, Eugene O'Neill. Latecomers include Lady Macbeth and Medea.
By Toby Zinman
For the Inquirer
Everybody who's been to China comes back with examples of signs where the translations are hilariously wrong. My favorite was a very tempting warning sign near a pier: "Caution. Danger. Do not caper." The plot of David Henry Hwang's new play, Chinglish, turns on an American businessman who runs a sign company in Cleveland; he goes to China hoping to do a deal to provide accurately translated signs for "the world's largest number of untapped consumers."
By Howard Shapiro
INQUIRER STAFF WRITER
Oh, to have been a fly on the wall during reheasals for the frantic production of The Mystery of Irma Vep, which is unraveling, or detonating, or maybe mushrooming, on the stage of Ambler's Act II Playhouse.
But it would have been nihilistic — I'd be splattered within moments of landing on the scenery. This version of Charles Ludlam's classic quick-change goof gets funnier as it moves into a second act that just can't stop, with more stage business than a Shubert Organization exec.
By Toby Zinman
For the Inquirer
Dumb and Dumber's adventures in corporate America: Adam Szymkowicz's new comedy, The Fat Cat Killers, couldn't be better timed, what with protests against the money establishment making headlines from sea to shining sea. Flashpoint Theatre Company's production offers three excellent performances and satiric, if naïve, insights into the heartlessness big business.
By Howard Shapiro
INQUIRER STAFF WRITER
In an unusual turn, the rights to a hot play --Red, which won the best-play Tony on Broadway two years ago -- were granted to not one, but two professional theater companies in the wider Philadelphia region. The play is now running at Philadelphia Theatre Company in Center City, and also opened Thursday night at the Shore, at Cape May Stage.
Seeing both is like seeing two different plays. My colleague Toby Zinman has already chronicled the virtues of Red at the Philadelphia Theatre Company, where Stephen Rowe plays the late, tormented painter Mark Rothko and Haley Joel Osment, his young assistant. Zinman notes the way John Logan's play covers "a good deal about art and art history and creative passion and the crass spectre of commerce that looms over the high-end art market."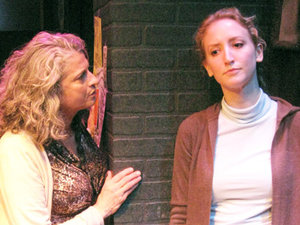 By Howard Shapiro
INQUIRER STAFF WRITER
In The How and the Why, two women meet, discover they are both (of all things) evolutionary biologists -- at the opposite ends of their careers -- and enter into a dialogue that reveals as much about their present identities as it does about their pasts.
The How and the Why, robust and real in performances by Janis Dardaris and Victoria Frings, opened Wednesday night in a production by InterAct Theatre Company. The play, a two-scene piece with an intermission, was originally staged earlier this year at Princeton's McCarter Theatre and is written by Sarah Treem, the writer and producer of HBO's In Treatment.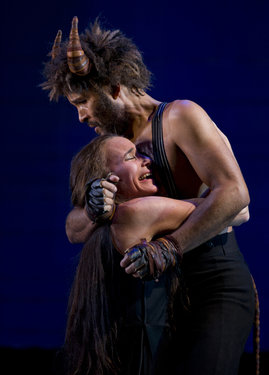 By Howard Shapiro
INQUIRER STAFF WRITER
In the dark, enticing world-premiere production of Phaedra Backwards, which is evermore galvanizing as it unfolds on the main stage of Princeton's McCarter Theatre, myth seems somehow very real.

Yes, Irish playwright Marina Carr's version of the Phaedra story is updated, but not wildly; it's not re-set in an office park in Greece or anything like that. The modernity comes in the language — searing and coarse and oddly beautiful, because Carr cooks up muscular dialogue with no place for leftovers on the plate.
This modern version also begins at the end, which is how it gets its title, then shifts back to the beginning, with memory scenes all along the way that take us back and forth through time.
By Howard Shapiro
INQUIRER STAFF WRITER
The excellent, fast-moving rendition of The Merchant of Venice by Quintessence Theatre Group at the Sedgwick in Mount Airy is all the more interesting for its choices.
Quintessence artistic director Alexander Burns lets William Shakespeare's tale flow like the river of nastiness it is — a comedy because it follows the Elizabethan rule that it end with marriages, but a revenge play many see nowadays as a repellent portrait of Jews and Christians alike.