Archive: September, 2012
Here's what you need to know about choreographer Keila Cordova: she approaches all of her dance-theatre works from a multiplicity of angles. Whether she's creating pieces about the weather, cloning, Manifest Destiny—or in the case of Volcano, My Love—the modern relevance of mermaid mythology, she sculpts a multi-tiered tableau teeming with vivid imagery. In some cases, including her current Fringe show, whole worlds well up from this process.
In Volcano, a shipwrecked man floats through a sea swimming in strange creatures. He's captured by a mermaid; with each kiss, she steals his memory then later releases him to live on land as a stranger on an island kingdom. Here, mermaids haunt the dreams of the women that love him.
This part-play, part-dance piece bursts with poetry, scripted scenes, direct address narrative, dream sequences, mesmerizing ensemble numbers accentuated by K. Moriah Smith's sheer, shimmering costumes, and myth borrowed from many sources (such as the Greek notion that bathing in river Styx robs our personal history).
By Howard Shapiro
INQUIRER STAFF WRITER
It seems as though each year, at least one Fringe show becomes a dark-horse hit. Sometimes it's artsy, sometimes it's freaky or raw, but it's always homegrown, a substantial effort, rough enough at the edges to feel real, and usually memorable. This year, so far, Awesome Alliteration: The Magical Musical, looks to be that show — on a Saturday afternoon in mid-run it filled the house on the top floor of the Adrienne Theatre on Sansom Street, with some audience members already there for their second round.
Awesome Alliteration is much gentler than the in-your-face shows that usually fit the bust-out-of-the-Fringe bill. It's an altogether likeable two-act musical that skews public education in all its facets: teaching, administrating, and being a student. It's filled with so many puns — both obvious or better — that are taken literally by the characters, the show could have been crafted by the team that brought us Rocky and Bullwinkle decades ago and made the vagaries of English a sort of stock in trade and a basic part of the plot.
Three Polish dancers made their American debuts Friday evening at the modest Mascher Space up on Cecil B. Moore Ave. Though their paths have crossed in Poland and two have worked with each other in the past, their movement esthetics diverge except for the fact that each uses sound/music very minimally, if at all. Izabela Chlewińska lives and works in Warsaw, but has also performed in Germany, Mexico and Japan. In a doll-like little white dress, she writes out the story of her concept on an easel filled with large sheets of paper. She takes us to the land of Tralfamadoria, a riff on Kurt Vonnegut's work (which was very popular in Poland) in that her work is non-linear, episodic and elliptical. It's when she strips to her body stocking that we see what an original mover, even a contortionist, she is. In the Zoo section, she takes to the floor in an exquisitely high back-bend, head facing us and scuttles crab-like from side to side. She strikes sharply angled poses, bent-elbowed arms splayed out along her body while her chest and torso rise pointing to the ceiling or lies on her side like an odalisque or such as you might see when a leopard is in repose. Finally, she dedicates the dance to her father. But why? Did he introduce her to Tralfamadoria? Is this a remnant of a childhood memory lived just before the bizarre life lived under Communism dissolved? Maybe nothing of the sort, but I love works that raise more questions than they can answer.
Marysia Stokłosa's Vacuum didn't spare us from questions either. Wielding a vintage Electrolux canister vac (I had a similar one for many years), she literally swept the entire large space with it, criss-crossing from right to left, even insinuating it under the feet of the people in the front row. She re-covered the entire space from front to back running in reverse, so I thought, probably incongruously, of a warp and weft imaginary weaving of the space into one large fabric for her to dance upon. Lest you think this sounds too serious, Stokłosa disappears into a side restroom and runs the shower returning to us in a bathing suit the same vintage as the vacuum cleaner, and sopping wet, belly flops on the floor, flinging and flopping like a fish out of water. To Chopin, she dries her hair with the vacuum. Hah! Is she saying it's time for Poland to wash that fusty romantic self-image away? I hope so, but that's just me.
Each dance seemed born of a big idea realized with an economy of movement and a great take-it-or-leave-it confidence including the final work, Le Pas Jacques. By Magda Jędra, who is co-founder of Good Girl Killer in Gdansk, she starts with both feet planted on the floor while she scoops and swoops the air with her arms. She pulls a Babci shawl from a nearby paper bag and ties her ankles together with it, her wrists with another piece of clothing and then bruisingly jumps around, falling often until she loosens her bonds. I had to leave for another show so I regrettably couldn't stay to see the rest. But I ran into her at the supermarket today and she had cabbages in her cart for tonight's show. So, Kapusta anyone?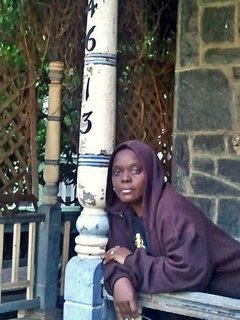 By Howard Shapiro
INQUIRER STAFF WRITER
Vashti Dubois is the artist who produces the smart and crafty EvictionProof PeepShow Home, and she's also the real mother of the house on Newhall Street in Germantown where it takes place. Her husband, Al Stewart. is the dad, all dressed up in a fine tux. With the skill of a ringmaster, he takes you on a tour through their house, which is in foreclosure.
Or maybe it's in foreclosure mediation. It's odd to walk through the house, where various performers are offering their takes of things, and not be able to separate just which parts of this project are site-specific theater and which are real, but that makes the topics -- foreclosure and eviction -- even more urgent. Plus, they're considered in a way that comes at you from an angle you would not expect: This is a house that is trying desperately to keep its family.
By Howard Shapiro
INQUIRER STAFF WRITER
Headlong Dance Theater's This Town Is a Mystery is as much — and maybe more — an experiment in communmity building as it is an artistic pursuit. It's a Live Arts part of the Live Arts/Philly Fringe, running every night during the festival, and each night is different.
That's partly because the Headlong piece is really four pieces in four separate places, plus dinner, and includes the audience in a basic way: We bring the food. Since spring, Headlong has been making dance/theater pieces with four Philadelphia families, each a separate work of about a half hour. Families perform each night perform in their homes. Each ticketholder is assigned a family's performance, and must bring a covered dish of food for a potluck after-performance dinner.
When I chose to see this I couldn't guess what it might be about, but its title and location down by the river recalled to mind the film Querelle with Jeanne Moreau as the brothel's madame singing "Each Man Kills the Thing He Loves." I wasn't far off. The Poetry Brothelᵀᴹ, a registered trademark of The Poetry Society of New York, has branches in Barcelona, Chicago, New Orleans, and New York and made its Philadelphia debut tonight in Grasso's Magic Theatre. It's a darkly pseudo-Victorian space with a bar, a ticket booth and a lobby that makes a perfect lounge where you can size up the lovely Poetry Whores and purchase $5 tokens to have them give you a private reading of their poetry. Its revue-like format also allows for suggestive songs by the Femme-Mynistiques, Geri Vanore, Alexa Gold, and Gabrielle de Burke -- songstresses of high-repute. Rachel Fogletto recounted sexual escapades in Safe Sex, and so did Monica Day, but I can't give the title of her monologue here. During intermissions called Open Brothels, I gave my first token up to a pair of redhead twins who took turns with me, reading alternate lines of the same poem. Later, for two tokens, I engaged a set of triplets who knelt at my feet adoringly and read in a similar fashion, while shyly tucking little love notes into my handbag and pockets. Both South Philly Lou (Lynn Hoffman) and Doctore Bluez (Carol Moog) gave me freebies. I fled into the night with my clothes still on.
$25 Grasso's Magic Theatre 103 Callowhill St. Sept. 15 7 and 10 p.m. Sept. 20 8p.m.
By Howard Shapiro
INQUIRER STAFF WRITER
I now write in defense of beautifully staged, meticulously lighted, handsomely dressed, genuinely acted and shrewdly contrived soppiness. I make no apologies.
You will either detest the new musical Love Story, which has all of that and more at the Walnut Street Theatre, or you'll give yourself over to stunning manipulation. You may regret it afterward — you've been played like a soulful cello by a cast full of Yo Yo Mas — but while you're being sucked in you'll be fully in the moment.
Just when I thought I knew Strindberg, the great modernist author of Miss Julie and The Father, Philadelphia Artists' Collective gives us a revelatory production of his rarely performed Creditors; Charlotte Northeast's directorial debut is nothing short of dazzling. Of course, she does have a remarkable trio of fine actors to work with.
This riveting old-fashioned drama is built on Strindberg's profound belief that the battle of the sexes is a war to the death. It begins with two men talking: Adolph (Dan Hodge) is ill and desperate: a painter who has lost faith in painting, he has been emasculated by his novelist wife, Tekla (Krista Apple), and his marriage is foundering, mired in suspicion and jealousy and distorted by power struggles. Gustav (Damon Bonetti), a mysterious smooth talker, manipulates the conversation, advising Adolph to assert himself and "husband your masculinity."