Archive: September, 2012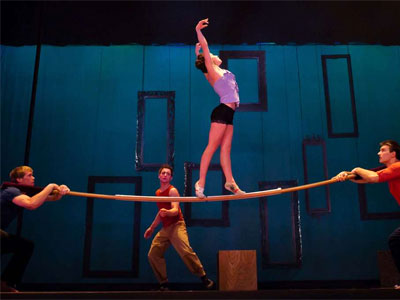 The names of the company and the show tell you nothing, but 7 Fingers' Sequence 8 is fantastic, one of the most memorable Live Arts/Fringe performances I've seen over the years.
The show, which had its U.S. premiere Tuesday night at the Merriam Theater, seamlessly blends circus arts with modern dance and hip-hop in a family-friendly array of acrobatic feats reminiscent of Olympic gymnastics. All eight performers are clowns at times, but no one is creepy or annoying.
Set to music ranging from Tosca to the Squirrel Nut Zippers, Sequence 8 includes group dance sections with a heavy dose of aerial acrobatics; a Russian bar routine that's a cross between trampoline and balance beam; and performers who defy gravity juggling cigar boxes, on a trapeze, or by dashing up a Chinese pole.
By Wendy Rosenfield
I don't really go to Atlantic City much, and haven't yet visited any of the Philadelphia area's casinos. But I can say this: whatever I've learned about the pleasures and pitfalls of taking a gamble, I learned at the Philadelphia Live Arts/Fringe Festival.
Last night I saw the last of my Critic's Picks (minus one--missed Some Other Mettle due to a scheduling snafu), those as yet unseen works we were asked to recommend to the public right before the start of the fest. As in any gambling endeavor, it's best to assess the odds. You read the press release, peep the Kickstarter campaign, listen to the buzz, go with what you know about the company's history and performers, or their subject matter.
A huge, hexagonal, cagelike structure that reached to the ceiling commanded the space inside Pier 9 on Friday night for the premiere of The Gate Reopened by choreographer Brian Sanders' company, Junk. Surrounding it was a packed audience.
As Sanders' eight muscular performers — six men and two women — emerged, fleetly circling the Gate's base to the wild cheers of the crowd, I couldn't help but see them as gladiators. Instead of fighting each other, they fought height and gravity, calculating risk as they swung on bungees or launched themselves like simians against the chain-link fencing, which they gripped only by their fingertips and the J-hooks on their boots.
Nudity or near-nudity has been featured in almost every Live Arts/Fringe event I've attended — and I'm only halfway through the festival. Since I haven't heard anyone yell "Let's get naked!" I've kept my clothes on so far. I can't say the same for the performers in Jumatatu Poe's Private Places — members of Poe's company, idiosynCrazy — which opened Saturday at the Live Arts studio.

In the lobby we checked our bags, then were divided into four alphabetized groups and herded in as meekly as airline passengers. Some were seated in aisles and some around the periphery of the black-and-white space.

Imagine your flight attendant breaking into J-Sette, a mix of southern black marching band moves stylized by gay men — often in competitions — or into mad cackling abruptly terminated when another dancer bops them on the head. Their silvery gray and black strappings by Katie Coble come off in pieces by evening's end, leaving scanty purple and chartreuse underwear that eventually is shed for the final 15 minutes of the 75-minute show.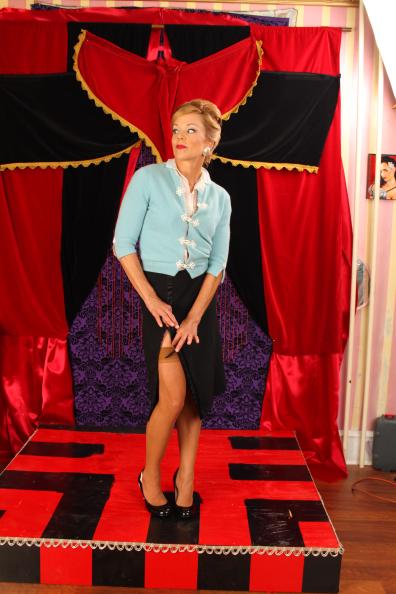 Gerald van Wilgen wrote his play 3 Wishes in response to E.L. James' novel Fifty Shades of Gray. But whether Wilgen intended it as satire or homage (or something else) still escapes me after seeing B. Someday's staging.
Like Fifty Shades, 3 Wishes deals with a sexual awakening, in this case, of Cornella Jennings (Michelle Pauls). But unlike James' 22-year old paramour, Wilgen gives us an uppity middle-aged, sexually repressed executive, circa 1958. She's followed everywhere by Voce (Sarah Braun), who represents her inner lust. When Voce causes Cornella to inadvertently grope a plumber (Matt Shell), he demands three wishes, each a bit more erotically escalating, from G, to PG to PG-13.
Themes of misogyny (via Cornella's boss) and gender disparity in the workplace cloud this fantasy, at times making 3 Wishes feel like a history piece culled from 50's home-ec education reels. The dated language and lame double entendres add to the historical distance, whether referring to a toilet as the "crapper" or having Cornella respond to a plumber's question about her leaky sink with "oh, yes, my wet spot."
By Jim Rutter
FOR THE INQUIRER
By Toby Zinman
For the Inquirer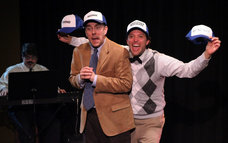 By Howard Shapiro
INQUIRER STAFF WRITER
Johannes Gutenberg built his first printing press in 1450, and if he'd seen the irresistibly ridiculous Gutenberg! The Musical!, we might still be reading handwritten scrolls — forget about online media.
Gutenberg! began theatrical life as a one-act by Scott Brown and Anthony King, workshopped by the Upright Citizens Brigade. The two-act version, starring the authors, premiered in London in 2006, then went on to an Off-Broadway run. A frenzied exercise that demands actors with precise comedic timing and a game musician to accompany them, it has all that in the show that opened Saturday at Souderton's Montgomery Theater, where two of the region's busiest actors — Tony Braithwaite and Steve Pacek — would have chewed the scenery if there had been any.