Archive: September, 2011
By Jim Rutter
Balletomanes, rejoice — "Feelin'Alright" at the Painted Bride introduces Christopher Fleming's new classical company, Ballet Fleming, in an evening of works that display its founder's choreographic versatility.
Long Train Running starts with the thunder of bluegrass and bodies raining down on stage in bold leaps, cartwheels and explosive turns. Lively ensemble segments blend ballet and swing before transitioning into Jake Nowicki's lithe, athletic solo of dustbin masculinity, which shifts to a female trio of delicate pointe work in Time for Three's riff on the Beatle's "Blackbird."
By Howard Shapiro
INQUIRER STAFF WRITER
NEW YORK – In April, as part of an Irish theater festival with several professional Philadelphia companies taking part, a curious little play called Dublin by Lamplight, with all the actors in clownface, opened in Center City in the large space at Broad Street Ministries.
Inis Nua Theatre, the company that staged it, put in lots of effort and re-opened the production Wednesday night Off-Broadway, at the suite of theaters called 59E59. Now, it's part of NewYork's first Irish theater festival. The setting by Meghan Jones has been scaled down to fit the New York space, and the six-member Philadelphia cast now includes two new actors.
By Howard Shapiro
INQUIRER STAFF WRITER
The subject is longing -- a theme that came to theater artists David O'Connor, Kittson O'Neill and Miriam White. So they decked out an airless room in an unused space on 21st Street in South Philadelphia, with a bed, some chairs here and there, a microphone, a wall-projection of videos with people telling you what they long for ("good Mexican food," "making use of my life," "more" and the like) and snack all around. I myself had a soda and a Snickers bar.
It's a little theatrical experiment with little theatrics, not essential but interesting and surely Fringe-worthy. We enter and for the first few minutes -- parts of the show change daily, so what I saw you might not see -- assess the room, the sign that announces "Office of Interior and Exterior ID, Open," the actors reading prepared pieces on the nature of longing, a magician (Harrison Lampert) doing tricks with cards and foam balls.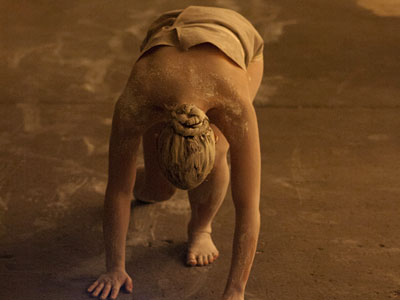 By Lisa Kraus
Founder's Hall at Girard College is one of those Philadelphia treasures you might never know about were it not for artists in search of great spaces. The Lawrence-Herchenroether Dance Company has staged a haunting Fringe event, Awakened Ruins, to animate this majestic 1847 National Historic Landmark.
The piece begins with the sound of Christopher Brooks's violin spectacularly reverberating off the domed ceilings. Making use of long views from one space to another, five women dancers caked in white clay and wearing corseted muslin bodices progress through the three adjoining rotundas that were Girard College's first classrooms.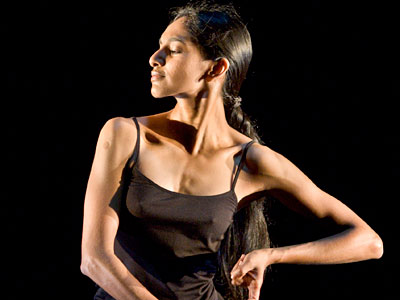 By Merilyn Jackson
The moment Shantala Shivalingappa appeared at the Brooklyn Academy of Music's in Tanztheater Wuppertal's Bamboo Blues in 2008, the audience inhaled collectively as if a floral scent had suddenly wafted onto the stage. It had.
It wasn't the first time Shivalingappa danced with Pina Bausch's company, but it was the first whiff of her we had in the States. She appeared shorter, more adorably childlike than the older, wiser, perhaps jaded, Wupertallers.
By Wendy Rosenfield
Everyone, it seems, loves to watch A.R. Gurney's Sylvia, and everyone loves to produce it. Since 1995, the comedy about a boy and his dog, and his wife, and his midlife crisis as projected onto the dog, who is played by a cute young woman (Jessica Bedford) with shaggy blonde curls, is a perennial on regional and community stages. This time around, the lassie comes home to Ambler's Act II Playhouse, and why not? People love dogs, people love marriages weathering crisis, people love a happy ending.
I do not love Sylvia, though I do anthropomorphize and love dogs, and all the rest of it. Lines such as Sylvia's wide-eyed declaration, "Even when you hit me, I love you," always struck me as a lose-lose proposition. If they're truly the dog's/woman's sentiments, Sylvia -- the play -- is a misogynistic fantasy in fur; if they're husband Greg's (Greg Wood), it still might be, and identifying with him is a whole lot harder.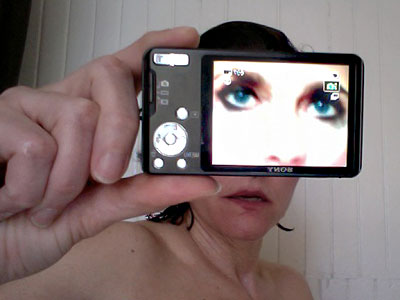 By Wendy Rosenfield
Maybe it's unfair to review the first and second acts of New Paradise Laboratories' newest Live Arts Festival project without knowing where it all ends up. But director Whit MacLaughlin, with Jorge Cousineau, Annie Enneking, Brittany Freece and Larry Loebell, have embarked on an ambitious adventure through the looking glass and inside the Internet, and since each act of Extremely Public Displays of Privacy occurs in a different format, it's sort of like its own discrete mini-production, right?
Well, I can't say yet. But judging by the overlap between Acts 1 and 2 (repeated themes and introductions), I'm guessing New Paradise expects the slackers in its audience to skip at least some of the homework. I'm not sure what Act 2 adds to the initial Act 1 experience of surfing the show's website, meeting its central characters — middle-aged mom and musician Fess Elliot and twentysomething seductress Beatrix Luff — via YouTube videos, Tumblrs, SoundClouds and every other means of online attention-getting, then diving into their virtual wormhole.
By Toby Zinman
I'm still laughing. "What's the wherefore? / Every why got a wherefore."
And here's the wherefore of my laughing: The Bomb-itty of Errors, an Off-Broadway hit, then a Philly hit four years ago (nominated for seven Barrymores) is being reprised by 11th Hour Theatre Company.
Written by Jordan Allen-Dutton, Jason Catalano, Gregory J. Qaiyum, Jeffrey Qaiyum and Erik Weiner and (well, you didn't expect one guy to come up with two hours worth of rhymes, did you?), the show is directed by Megan Nicole O'Brien with hilarious precision, and DJed by Mark Valenzuela.