Archive: September, 2011
By Jim Rutter
In No Exit, Jean-Paul Sartre encapsulated the torment of existence in his line "hell is other people." Unlike the central character Tony in Kash Goins gripping Tonight?, Sartre never lingered 30 years on death row for murdering five women.
Sartre also didn't suffer years of abuse from a drunken mother who locked him in a closet for days without food, or a priest who molested him from ages seven to 10. Over a 50-minute one-act, Goins' memory play revisits each of these heinous events; in true existential fashion, what else would Tony do when all he can do is wait?
By Wendy Rosenfield
The Philly Urban Theatre Festival's second year brings Fair Son, a second production written, directed by, and featuring Kareem Rogers. Like Twice Loved, last year's Rogers entry, this issues-based living room melodrama skims the surface of a potentially deep pool. But Fair Son — which takes on interracial families, racism, civil rights, lynching, love and leukemia, tosses themonstage for an hour or so and watches them scatter — is half as much fun and even less credible.
With a supporting cast that's sincere, if amateurish, Rogers, as patriarch Martin Stewart, brings laid-back levity to his role. His teddy-bear physique and earnest eyes put a spectator in his corner — though he appears to be roughly the same age as his married attorney son, Malik (Michael Irvin). But while Rogers can charm an audience into overlooking this discrepancy, there's no hiding his lack of research and simplistic approach to character.
By Howard Shapiro
INQUIRER STAFF WRITER
If there's one thing we all know about Don Quixote, it's this: He dreamed the impossible dream. Sure, he was crazy and fictional, but that's what he did, he reached for ideals no one could ever grasp.

Man of La Mancha, the musical adapatation of his adventures, laid this out in a song that has become a solid piece of the American musical theater canon. I thought the play The Return of Don Quixote, which opened at People's Light & Theatre in Malvern over the weekend, might give us something different, some curve-ball insight.
By Howard Shapiro
INQUIRER STAFF WRITER
Mama Turner has died, and she hasn't been tucked away for more than a couple hours before the fighting between her two grown daughters begins. Her son tries to be the buffer, but old wounds still itch and burn, and aged Papa is too senile to understand what's going on.
What's going on is gentrification in the African-American neighborhood where the Turners built a family, raised their kids, watch their grandchildren — and then their great-granddaughter — grow. Some of the later generations also were raised in the house, the last house standing on a block that developers need.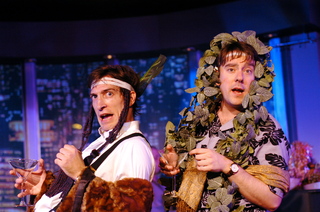 By Howard Shapiro
INQUIRER STAFF WRITER
In the beginning there was the Big Bang, and then free food and frontal nudity, also called the Garden of Eden. Or that's how it goes in a zany 70-minute show called The Big Bang, settled into the Kimmel Center for an October run.
Any show whose lyrics rhyme Caesar and geezer has me as its sucker, but Jed Feuer's music and Boyd Graham's lyrics and script hooked me for much more than the show's slick wordplay. The whole concept is a hoot. We're all supposed to be sitting in the Park Avenue living room of a wealthy couple while two characters — named Jed and Boyd, like the authors — and their pianist hold what's called a "backers' audition." They're trying to get our money to back their new Broadway show.
By Howard Shapiro
INQUIRER STAFF WRITER
You've never had a boss as excruciating as Victor. And my guess is that even if you are a boss, and your staff thinks you're a moron, you can't come close. (I know, you're a great boss, you've told the staff yourself.)
Victor is the boss, one of two characters in Rich Orloff's play Big Boys, the amusingly dumb and strikingly well-performed production now at Souderton's Montgomery Theater, with one of the region's most seasoned actors, Pete Pryor, as the boss. The other character is young, newly hired Norm, played by Jefferson Haynes, also seen on several area stages.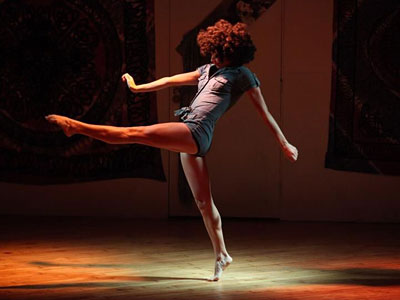 By Jim Rutter
Don't expect a dance documentary in Pink Hair Affair's 1970s-styled One City Under a Groove. The decade defined by draft dodgers, disco and drugs saw only the last receive full treatment in the collaborative's 10 pieces.
None of the Pink Hair girls were even born until the mid-1980s, and drew at least some of their Me Decade knowledge from movies. Christine Steigerwald and Ashley Wood's playful "Space Magic" depicted two kids in a backyard light-saber battle. Jacklyn Koch donned an afro wig, blue denim jumper, and Pam Grier swagger in "Fluff That Fro," a piece that crackled with sisterhood sexuality as her legs enveloped the floor in splits and straddles.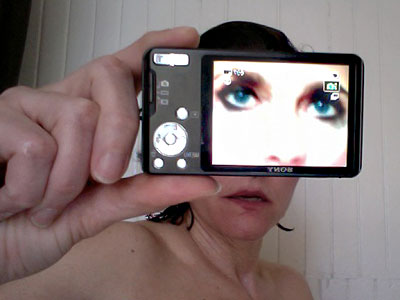 By Wendy Rosenfield
At long last, we reach Act 3 of New Paradise Laboratories' Extremely Public Displays of Privacy. We followed the entanglement between forty-something Fess Elliot (Annie Enneking)--wife, mother, lapsed musician--and twenty-something internet sylph Beatrix Luff (Brittany Freece, voiced by Mary Tuomanen) from the moment they met by chance online, through seven podcasts featuring an exhibitionist's walking tour of Rittenhouse Square, to the corner of 17th and Sansom Streets, where we are ushered into an undisclosed location, and presumably, all will be revealed.
At first, when we pass Jorge Cousineau's 10-foot-high video projections of Beatrix's dreamy face and enter Fess' sheet-metal-lined basement bunker, where she sits handcuffed to a desk, we think, "Ah, here it comes." But it never does come.