Archive: February, 2012
by Toby Zinman
for the Inquirer
As a friend suggested at dinner after we'd seen John Ford's, *The Broken Heart*, there sure has been a paradigm shift in the past few hundred years. And that change is part of what makes Renaissance drama so thrilling: people took themselves and their passions so seriously—not 'taking seriously' as in snarky narcissism, but as in tragedy: love and power and loss and profound error collide and result in unbearable self-knowledge.
By Jim Rutter
FOR THE INQUIRER
Opera depicts tragedy. American musicals, for the most part, show sappy, silly stories of young lovers stumbling through courtship.
Composer Jeffrey Lunden's and writer Arthur Perlman's musical adaptation of Arthur Kopit's play Wings
— now in a heartbreaking production at the Media Theatre — takes a different tack by starting with the tragic to recount a remarkable story of resilience and recovery.
By Jim Rutter
FOR THE INQUIRER
Despite science fiction's immense popularity in books and film, it has never enjoyed similar esteem on stage. Instead, playwrights since Jules Verne's era have embraced psychological realism as the means to examine life.
Little, I'm sure, felt more real for Kurt Vonnegut than watching a division of Panzer tanks cut his fellow soldiers to ribbons. And he, like many post-war writers, dealt with the horrors of World War II by closing his eyes and clutching the steady hand of fatalism.
By Merilyn Jackson
FOR THE INQUIRER
Abe Lincoln had an irksome dream that he'd be assassinated just two weeks before he actually was. Dancer Lindsay Browning and her father, actor David Browning, collaborated in a dance theater work they called Lincoln Luck that evoked a dreamlike atmosphere while not treating it as a narrative. It premiered at the Painted Bride over Lincoln's birthday weekend.
By Jim Rutter
FOR THE INQUIRER
Memories of trauma tormented Tennessee Williams most of his adult life. His father bullied him, his lover died young from cancer, his family had his sister, Rose, lobotomized. In his later years, Williams (1911-1983) coped with a deluge of alcohol, amphetamines and barbiturates. He choked on a bottle cap and died alone in a New York hotel room.
Anyone could learn the above from Williams' Wikipedia page; a new creative work that attempts to dramatize his final moments must transcend available information. The solid production at South Camden Theatre Company can't save the world premiere of Joseph M. Paprzycki's Tennessee's Final Curtain from failing in this crucial respect.
By Toby Zinman
FOR THE INQUIRER
Nikalai Gogol, the 19th century Russian writer with a strong sense of the ridiculopathy of life — after all, he wrote a story about a nose -- would seem to be a perfect fit for the Idiopathic Ridiculopathy Consortium, a theater company specializing in Theater of the Absurd, though Gogol's play Marriage (an utterly improbably occurrence in two acts) isn't really absurdist drama — it's a farce, complete with loud voices, many doors (and a significant window).
Under Tina Brock's direction, everything is farcically exaggerated: costumes (Erica Hoeschler) and a nifty set (Anna Kiraly) on which all the much-discussed furnishings are flat, painted images, with flat, painted trees outside. It's all amusing, in that broad, 19th century Russian way.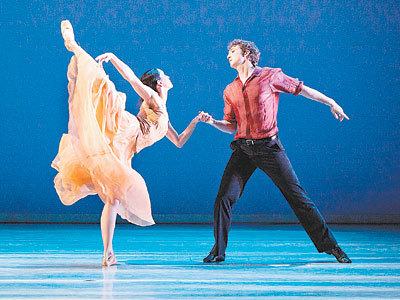 Pennsylvania Ballet principal dancer Riolama Lorenzo's final performance before retiring is Sunday, but it was already a lovefest Thursday night, when the company opened its Pushing Boundaries series at the Merriam Theater.
The theater was buzzing with talk of Lorenzo, both before the show and during the two intermissions. And she didn't disappoint, dancing two Matthew Neenan ballets, 11:11, set to six songs by Rufus Wainwright, and in a gorgeous, mature pas de deux with Zachary Hench in Keep.
Created in 2009, Keep is a beautiful ballet, featuring a suite of, mostly, duets about relationships, set to string quartets by Borodin and Rimsky-Korsakov. But it also could be interpreted as Lorenzo's bittersweet bourrée into the next phase of her life, as fresh-faced dancers in pink eagerly fill the gap. Lorenzo, in a yellow gown, stands in the shadows during a long section, then kneels to lean over a fallen colleague and, with bits of chiffon floating around her, melts into her partner in pirouettes and dramatic ports de bras.
By Nancy G. Heller
FOR THE INQUIRER
It's 60 minutes of sheer delight — jam-packed with slapstick humor, astonishing acrobatic feats, witty visual effects, romance, heartbreak, and music ranging from jazz to Tuvan throat singing. Oyster, inspired by a book of poems by filmmaker Tim Burton, is a signature work of Israel's award-winning Inbal Pinto & Avshalom Pollak Dance Company. The troupe's three-day run at the Annenberg Center, which began Thursday, marks the end of its latest U.S. tour.
While each of the vignettes that make up Oyster evokes its own mood, the overall sense of eeriness and androgyny — and especially the dancers' stark white makeup, fright wigs, and outrageous costumes — are certainly Burtonesque. (Think: Johnny Depp in Edward Scissorhands, Michael Keaton in Beetlejuice, Helena Bonham Carter in practically anything.) But Oyster also owes a lot to the circus, Federico Fellini, and the cracked sensibility of Edward Gorey.

There's no linear, identifiable "plot" here, but there are distinctive recurring characters, notably a woman in a bright orange wig, dark tutu, pointe shoes, and a black turtleneck that obscures the lower half of her face. We don't know who she is or why she has a tiny step stool attached to her rear end. But, because of the performers' skill and the endless inventiveness of co-artistic directors Pinto, a dancer, and Pollak, a classically trained actor, who create the choreography and design soundscapes, sets, and costumes for all their works, we do wonder about this. We also care about Oyster's other creatures as they crawl, stagger, shimmy, scuttle, strut, and fly about the stage.