Archive: December, 2011
By Wendy Rosenfield
For the Inquirer
Eric Kimmel's children's book Hershel and the Hanukkah Goblins is a story that, aside from being engaging, is also gently subversive and proudly ethnic.
By Toby Zinman
For the Inquirer
The emperor walked beneath the beautiful canopy in the procession, and all the people in the street said, "Goodness, the emperor's new clothes are incomparable! What a beautiful jacket. What a perfect fit!" No one wanted it to be noticed that he could see nothing, for then it would be said that he was unfit for his position or that he was stupid. None of the emperor's clothes had ever before received such praise. "But he doesn't have anything on!" said a small child.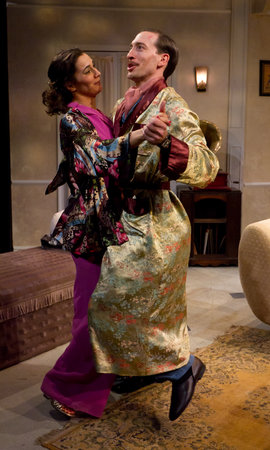 By Howard Shapiro
INQUIRER STAFF WRITER
Maybe the current Broadway revival of Noël Coward's Private Lives wouldn't be ending so quickly if it had the same tone and pizzazz as the Private Lives that opened Wednesday in a production by Lantern Theater Company.
Lantern's associate artistic director Kathryn MacMillan stages the play, which first came to Broadway 80 years ago, to target the laughs and not to capture the era, its prime focus in its seventh Broadway revival. There, it comes off as a look at the style of '30s British elite that's also a bickerfest meant for fun; at Lantern, it's the other way around.
By Howard Shapiro
INQUIRER STAFF WRITER
It wasn't just the bright new national-tour cast of Jersey Boys up on the Forrest Theatre stage, bowing to wild enthusiasm at the curtain call for Friday's opening in its very first stop.
There, standing amid the guys who play the Four Seasons and the sizable ensemble that backs them, was the creative team — the folks who devised the show that won the best-musical Tony in 2006 and that has proceeded, in several national tours, to win over audiences nationally.
By Toby Zinman
For the Inquirer
Christopher Durang, America's self-appointed satirist, the theater's oldest living teenager, wrote New City Stage's current show, Why Torture is Wrong and the People Who Love Them two years ago. An assault on the "war on terror," this is the perfect demonstration of how short the shelf life of political humor is. On his worst day, Stephen Colbert wouldn't foist off stuff this stale on us.
The plot begins when Felicity (Ginger Dayle, the cast's weak link) wakes up after a drunken night in bed with a man who claims to be her husband. Zamir (Sam Henderson) is a shady character, who may be a terrorist or a criminal or a drug addict on parole. She takes him home to meet her parents — slightly delirious, excessively chatty Luella (the excellent Marcia Saunders) and Leonard (Paul L Nolan), a right-wing-lunatic, Second-Amendment kind of guy who runs a black op in his attic.
By Wendy Rosenfield
For the Inquirer
As someone who neither speaks Spanish nor celebrates Christmas, I'm probably a tough sell for Walking Fish Theatre's Un Viaje: A Christmas Journey. But as a parent looking to expand my children's cultural horizons, I'm also probably an ideal audience. The company should be commended for trying to integrate bilingual programming into its children's theater slate. Philly has a large Latino population in general, and Fishtown in particular, so it's a great way to get the whole neighborhood invested in supporting local theater.
By Toby Zinman
For the Inquirer
How do you say dated and boring in Italian? OOH, wait, wait, I know, I know: Dario Fo. Curio Theatre is giving the Italian farce-meister a revival with their production of Fo's Accidental Death of an Anarchist, only to prove that this highly political comedy is thoroughly mired in post-war European issues and thus irrelevant to contemporary American audiences, and, as a consequence is desperately unfunny.
Half Absurdist, half commedia del arte, this indictment of police brutality involves a lot of slapstick, with fake walks, fake wigs, fake accents and fake fighting. That the madman is the only politically sane character was an overworked conceit long before this play beat it to death.
By Howard Shapiro
INQUIRER STAFF WRITER
There are mothers and there are Mothers, and then there's Momma Rose. She is the world's most famous stage mother, the driving force behind her children and the reason the great American musical Gypsy exists.
At the swell production of Gypsy starring Tovah Feldshuh, which opened Thursday night at Bristol Riverside Theatre in celebration of the stage company's 25th anniversary, Momma Rose is not just intent, or aggressive, or difficult or even defiant. When the plot's pushes come to shoves, Feldshuh plays her as downright maniacal.