Archive: November, 2011
By Howard Shapiro
INQUIRER STAFF WRITER
For a fan of absurdist playwright Samuel Beckett, is there anything as comforting as seeing two large garbage cans on stage when the curtain comes up on Endgame? A pair of his great oddballs, Nell and Nagg, will pop their heads from those cans, as they always do, to further elucidate or confuse things.
The cans are a sign that a modern classic is about to begin, perhaps the last thing Beckett, who died in 1989, would have wanted: people becoming comfortable with his plays, knowing what to expect and even anticipating their own takes on it.
By Toby Zinman
For the Inquirer
Venus in Fur (no s) is a dazzling play by the endlessly surprising playwright David Ives about a playwright (Hugh Dancy) and an actress (Nina Arianda) who is auditioning for the lead in his new sado-masochistic play.
Venus in Furs is the title of a 19th-century novel by Leopold Sacher-Masoch (whose name gave us the M part of the label S&M), about a man exploring his psychosexual need to be tortured and enslaved by a woman; this is the novel the playwright, Thomas, has adapted for the stage.
By Wendy Rosenfield
FOR THE INQUIRER
So here's a real surprise: On the third floor of Plays and Players Theatre, there's a world premiere by an under-the-radar local playwright -- Joy Cutler -- filled with amateur actors, directed by a relative newcomer. All outward signs indicate a hot mess; instead, it's a blast.
Cutler's oddball black comedy, Pardon My Invasion, features an AWOL Iraq war soldier hiding, Exorcist-style, inside the body of Penny, a 13-year-old American girl whose single mother Rita (Jennifer Summerfield) writes pulpy detective novels for a living. And that synopsis only covers the first few scenes.
By Jim Rutter
FOR THE INQUIRER
Most romantic comedies succeed by indulging fantasy: men want to date out of their league; women want a nice guy they can whip into a socially respectable man.
Robin Pond's Even Steven, at the Walnut's Studio 5, borrows the rom-com backdrop but toys with the formula. Teddy (Matt Dell'Olio) and Sarah (Stephanie Lauren) broke up after three years, when she dumped him because his slacker lifestyle no longer fit her careerist ambitions. (That, and a Porsche-driving lawyer took her out a few times, then vanished.)
By Wendy Rosenfield
For the Inquirer
Like any good sports drama, Iron Age Theater's world premiere production of Ray Saraceni's Maroons: The Anthracite Gridiron covers as much action off the field as in the game; maybe more. And like the most successful efforts in its genre, filmed, staged or literary, Saraceni connects the thrills and agonies of winning and losing, the struggle against all odds, to their parallels outside the stadium.
By Merilyn Jackson
FOR THE INQUIRER
Tui is the Maori name for a black bird with a small white tuft at its throat. When the English came to New Zealand, its native habitat, they named it the parson bird. Tuis are honey eaters; they have two voice boxes, and some of their sounds range beyond human hearing. On opening night at Subcircle's Christ Church fall run, called Seed, Gin MacCallum and Niki Cousineau danced like two wavering voices that hushed us and left us craving to hear and see them.
By Jim Rutter
FOR THE INQUIRER
Too many writers bank on early success and never expand their literary boundaries. Madi Distefano sprang onto the nascent Philadelphia theater scene in the mid-1990s and for a dozen years slashed her pen across the page in epic, edgy scripts about burnt-out youths chasing dreams of punk superstardom.
Fifteen years later, she's set a different task. After staging small-cast, quick-costume-change shows like Greater Tuna and The Mystery of Irma Vep, Distefano has penned a quick-changer of her own in Meanwhile ..., now in its world premiere with Brat Productions.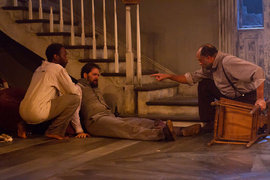 By Howard Shapiro
INQUIRER STAFF WRITER
It was a dark and stormy night.
No, really. So dark and so stormy in the play The Whipping Man, or maybe just in Arden Theatre Company's production of it, that The Constant Metaphor blasts you from the first crash of thunder to the last flash of lightning, when mist and fog are rolling in through a door and rain pours through the show's sound design.