Archive: October, 2011
By Wendy Rosenfield
For the Inquirer
As they say in show biz, timing is everything. But Delaware Theatre Company's timing, opening Arthur Miller's capitalist corruption drama All My Sons--amidst the myriad Occupy Wall Street protests, and the same week 20/20 aired an episode revealing the damage Bernie Madoff's crimes inflicted on his late son--is uncanny. Or maybe it's just that like so many of the themes in Miller's work, the more business changes, the more it stays the same.
By Wendy Rosenfield
For the Inquirer
By Toby Zinman
For the Inquirer
EgoPo Classic Theater, under Lane Savadove's direction, launches its Festival of Jewish Theater with The Diary of Anne Frank at the Prince Music Theater Cabaret. How do you review an excellent production of a terrible play? Especially when that play is iconic? Well, here goes.
The story, as everyone knows, is about a 13-year-old Jewish girl who, with her parents and older sister, hides from the Nazis in an attic along with another family and a dentist. Eight people, living in fear and hunger, alert to every noise, getting on each other's nerves. Many of the eight people are annoying, as people are; they are also brave and affectionate. Sometimes they are noble, sometimes ignoble. All the ingredients for a good drama.
By Toby Zinman
For the Inquirer
Three new one-act comedies written by three famous comic names (Ethan Coen, Elaine May, and Woody Allen) and performed by many veteran comic actors should be a trifecta of laughs. Should be.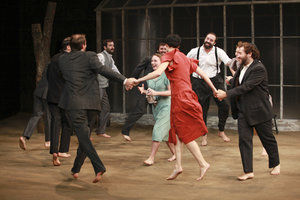 By Howard Shapiro
INQUIRER STAFF WRITER
One thought comes first about the overpowering Our Class: The cast and creative team at the Wilma Theater, giving the play a remarkable United States premiere, are serving more than audiences or even the notion of theater.
Their ample abilities strikingly honor the memory of 1,600 Jews who were marched by Catholic Poles - and not invading Germans - into a barn that their attackers locked and set afire in a drench of kerosene.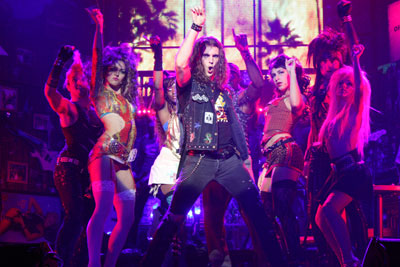 By Howard Shapiro
INQUIRER STAFF WRITER
Electric, cocky, boistrous, kinetic, sometimes smart, sometimes dumb, and accelerating with hugely impressive speed — that's the big picture of Rock of Ages, the Broadway juke-box musical that reclaims the heavy-metal '80s.
The show's national tour, here at the Merriam Theater through the weekend, is better than on Broadway because of its killer cast, which strikes me as even more polished. That's not to say that the Broadway version slumps by comparison — it's been playing two years, is just short of 1,000 performances, and is also more magnetic as it rolls along.
As she traveled with playwright Tadeusz Slobadzianek through the Czech Republic and Poland last summer, Blanka Zizka, founding director of the Wilma Theater, noticed that many of the towns they passed through were full of vivid posters advertising theater, concerts, and other activities. But their destination, Jedwabne - on which Slobadzianek modeled the town in his play