Archive: January, 2012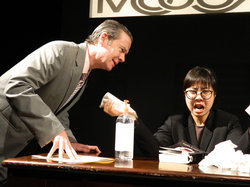 By Howard Shapiro
INQUIRER STAFF WRITER
Bankers are lending big money to poor folks who can never pay it back, Ivy League whiz kids are developing new ways to get interest on that cash, financial watchdogs grant high ratings to every scammer, the feds turn all their cheeks, and in the play Microcrisis — can you believe it? — it's big fun.
Granted, you can argue fine points about the financial stuff, but not about the fun factor of Microcrisis, in InterAct Theatre Company's dynamically wacky production staged by InterAct's leader, Seth Rozin. It opened Wednesday at the Adrienne Theatre with a cast fully versed in the idiocies of the characters.
By Toby Zinman
For the Inquirer
That creaky sound you hear is not just a door ominously opening; it's also the plot of this legendary Agatha Cristie mystery at the Walnut Street Theatre. The play has been running for an astonishing sixty years—it's the world's longest running play, and for the first time, the producers are permitting productions outside London.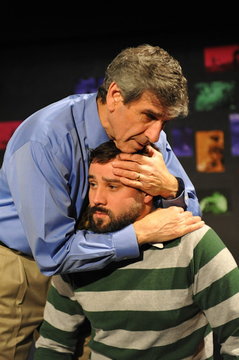 By Howard Shapiro
INQUIRER STAFF WRITER
Isaac is a guy in his 30s who teaches art and has a burning love for a student of his — a boy aged eight. What we know from Beautiful Child, the play being done by Fever Dream Repertory at the Adrienne, is little more. During the course of a class, Issac put his hand on the boys shoulder, then his finger on the boy's lips. Anything else, we have to assume.
In the end, we also have to assume that the painfully awful Beautiful Child has something to tell us, but that gives it undocumented credit. The play by Nicky Silver — a Philadelphian who lives in New York and wrote Pterodactyls, Raised in Captivity and a new book for the 2002 revival of musical The Boys from Syracuse — is a mish-mash. It begins with a dream, always a red flag, then goes into a scene with two characters telling each other the details of something they already both know well, a second red flag.
By Howard Shapiro
INQUIRER STAFF WRITER
The issue in Donald Margulies' engrossing drama Time Stands Still is not whether you can come home again. The issue is whether you can stay there.
In a beautifully wrought production at Delaware Theatre Company in Wilmington, the play comes off as both realistic and deeply felt by its characters. Time Stands Still is about a complex woman — a news photographer (Susan McKey) much more at home on a battlefield than in her real home in Brooklyn, which she shares with a writer (Kevin Kelly) who often works abroad with her.
By Toby Zinman
FOR THE INQUIRER
A contempt-filled word: Bafu means traitor in Shona, the indigenous language in the African land that would become Zimbabwe, and The Convert is about betrayal. This world premiere at Princeton's McCarter Theatre, written by Danai Gurira and directed by Emily Mann, boasts a cast that is beyond outstanding. The performances are so riveting that the play's three hours fly by.
This is a conventional, well-made play that almost feels as if it had been written in the late 19th century, when its action takes place; it has three acts, great curtain lines, a plot that has clarity, linearity, and a serious political agenda. The characters are familiar types yet distinct individuals, and it asks the question: Is it self-betrayal to aspire to be other than your native culture, which in this case means leaving your tribal village, learning English, embracing Christianity, wearing European clothing drinking tea with your pinky out?
By Toby Zinman
FOR THE INQUIRER
Joe Turner's Come and Gone is a big, strong, juicy play, and Plays & Players' production is just as big, strong and juicy. Representing the second decade in August Wilson's "Century Cycle," Joe Turner takes place a hundred years ago in 1911, a suitable choice for Plays & Players theater's 100th anniversary. While the building may be old, the company is new, led by Daniel Student, who is rapidly proving himself a young director of range and vision.
Joe Turner was the brother of a governor of Tennessee who arbitrarily seized black men off the streets and forced them to work as slave labor for seven years. Herald Loomis (the excellent Kash Goins) , the mysterious, half-destroyed visionary figure at the center of Joe Turner, has spent three years since being freed walking with his young daughter Zonia (Lauryn Jones), searching for his wife. They arrive at a Pittsburgh boarding house -- the perfect locale to represent the comings and goings of the Northern Migration — run by the practical Seth Holly (James Tolbert) and his comforting wife, Bertha (Cherie Jazmyn).
By Howard Shapiro
INQUIRER STAFF WRITER
I went into the Wilma Theater the other day to cook. That's right, cook. On stage. Actually Mary Martello, who plays one of the leads in Annie Baker's comic drama Body Awareness, did the cooking — at a full kitchen that's been built as part of Mimi Lien's set for show.
Martello cooks in character as she delivers dialogue, and needs to be at a specific time in the action, needs to have finished making her soup so that the cast can then eat it. So there's no messing up at the stove allowed.
By Toby Zinman
For the Inquirer
David Auburn's Pulitzer Prize winning play, Proof, has found a perfect venue in the intimate Independence Studio on 3 at the Walnut Street Theatre. This luminous production, directed by Kate Galvin, invites you onto the porch and into the lives of four interesting people.