By Wendy Rosenfield
for the Inquirer
Some guys have all the luck. Tony Braithwaite, in his third season as artistic director of Act II Playhouse, hit a home run by choosing Richard Dresser's two-hander Rounding Third as the company's season opener.
By Jim Rutter
FOR THE INQUIRER
Are you ready for some football? In the fall, always, but this weekend even more so after seeing Half Straddle's In the Pony Palace/Football, a fast, funny romp and stomp all over the gridiron playing during this year's Fringe Arts Festival.
By Toby Zinman
For the Inquirer
In French a beast is called la bête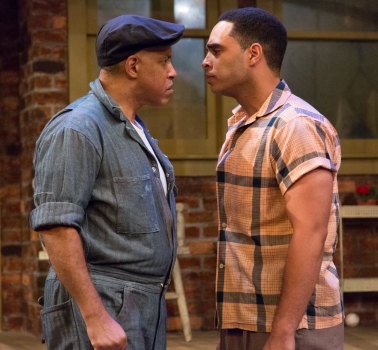 By Jim Rutter
For THE INQUIERER
As someone who grew up with only a sister, plays about brothers (like True West) have never spoken to me. Plays about fathers and sons though? Hoo boy.
By Wendy Rosenfield
for the Inquirer
There's often a direct line drawn between the artists Henri de Toulouse-Lautrec and Andy Warhol: their personal oddities and illnesses, their embrace of advertising as art, their affection for depicting quotidian moments in the lives of the demimonde. However, Mary Tuomanen and Aaron Cromie's The Body Lautrecfocuses less on Lautrec the artist and more on Lautrec the invalid outcast, with mixed results.
Merilyn Jackson
For the Inquirer
The much-anticipated Antigone Sr./Twenty Looks or Paris is Burning at the Judson Church (L) opened Friday night at the FringeArts venue. The scene is set with three large white raised squares near the audience. As choreographer Trajal Harrell explains in a curtain talk, they are "islands" which the space's lack of depth prevented from being set back further, "But they're here," he said drily.
By Toby Zinman
For the Inquirer
Not a single word of the 512 pages of Victor Hugo's novel is spoken in The Hunchback of Notre Dame...a Mute Play, since it is performed as mime, which sometimes works to great effect and sometimes doesn't; even the best effects can wear thin and big scenes can go on too long. The production was conceived and directed by Michael Durkin.
By Toby Zinman
For the Inquirer
One of those wonderful Fringe surprises: a show running only two nights with the unprepossessing title, Speed Dating TONIGHT! turns out to be so good in such unexpected and charming ways.