By Toby Zinman
For the Inquirer
Free Shakespeare is a noble idea and I admire Revolution Shakespeare's commitment to making their productions available to the public, a public willing to sit on blankets in a dark park on a chilly night.
By Wendy Rosenfield
for the Inquirer
The 39 Steps, Patrick Barlow's winking romp through Alfred Hitchcock's 1935 film, itself adapted from John Buchan's 1915 spy novel, has proved it has the goods to be a regional theater staple in perpetuity.
By Wendy Rosenfield
for the Inquirer
There are so many entrances to Tom Stoppard's sprawling Arcadia: through its parsing of scientific theories, time travel, symbolism, literary references, shifts in cultural and literal landscapes, comedy, tragedy, and the combustible cocktail of fire, youth, sex, and mystery.
By Wendy Rosenfield
for the Inquirer
Times are tough, right? That's one of the few reasons I can imagine for the spreading revival of A.R. Gurney's Love Letters, which opened this week both at Delaware Theatre Company and on Broadway.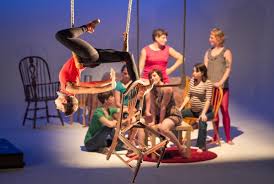 By Merilyn Jackson
FOR THE INQUIRER
Loop, Tangle Movement Arts' 2014 FringeArts offering, takes to the air to explore themes of identity and sexuality amid an eye-pleasing display of aerial rigging and string sculptures by Julia Wilson.
By Wendy Rosenfield
for the Inquirer
Some guys have all the luck. Tony Braithwaite, in his third season as artistic director of Act II Playhouse, hit a home run by choosing Richard Dresser's two-hander Rounding Third as the company's season opener.
By Jim Rutter
FOR THE INQUIRER
Are you ready for some football? In the fall, always, but this weekend even more so after seeing Half Straddle's In the Pony Palace/Football, a fast, funny romp and stomp all over the gridiron playing during this year's Fringe Arts Festival.
By Toby Zinman
For the Inquirer
In French a beast is called la bête