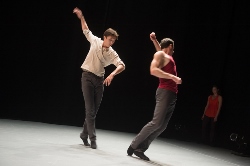 By Merilyn Jackson
For the Inquirer
At the gala openingof the spectacular new FringeArts building Friday night, the air was charged with so much electricity I was glad it was no longer in use as a water processing plant. Though no danger of electrocution, the crowd that sparkled like the wine could have crushed you. They were there as much to see the Pennsylvania ballet dancers in new works as they were to party and sample Peter Woolsey's (LaMinette) appetizing treats from his new LaPeg restaurant.
By Wendy Rosenfield
for the Inquirer
Poor Emilie Krause, or rather, her poor characters. As a member of New Paradise Laboratories' newer, younger ensemble, she seems to have settled in as the company's little girl lost--all softness and saucer eyes--last in 27, their depiction of rock-star afterlife, and now in their FringeArts world premiere The Adults. But it's a privileged position, and a theme NPL founder and director Whit MacLaughlin has been exploring of late with pretty spectacular results.
by Toby Zinman
for the Inquirer
How can you bore me? Let me count the ways: 99. Fortunately, we don't have to sit/stand through all 99 Breakups but only 11 in Pig Iron's disappointing, self-indulgent and thoroughly fatuous new work.
By Toby Zinman
For the Inquirer
With a handsome new home down by the riverside, the Fringe Festival is ready to strut its stuff, starting officially September 5 but actually starting on September 3. Said stuff to be strutted includes 130 "Neighborhood Fringe" productions plus the ten invited shows of the "Presented Fringe." There is also a new, comfy 225-seat theater with a brasserie and a late-night bar called La Peg run by chef Peter Woolsey. The bar will feature free late-night programming during the Festival, starting with the surprising combo of Martha Graham Cracker's famous drag act plus members of the Philadelphia Orchestra.
Merilyn Jackson
FOR THE INQUIRER
Brian Sanders' new show, Suspended, opened with a gala Thursday night during Neighborhood FringeArts at the headquarters of his troupe, JUNK, at Shiloh Baptist Church. The aging, dilapidated church, having given over its soaring nave to Partners for Sacred Places, is perfect for Sanders' company to build its skyscraper scaffolding and bungee-cord rigging. But Lordy, I sure hope the church elders don't catch drift of what's going on in there.
By Toby Zinman
For the Inquirer
Coulda, shoulda, woulda: that's the premise of Alan Ayckbourn's comedy, Intimate Exchanges. 1812 Productions' take on this complicated script is a lively romp through a marriage on the rocks and what happens when people come to a fork in their road and choose to do one thing rather than another. This very English play is about might-have-beens.
By Toby Zinman
For the Inquirer
By Toby Zinman
For the Inquirer