By Toby Zinman
For the Inquirer
Not a single word of the 512 pages of Victor Hugo's novel is spoken in The Hunchback of Notre Dame...a Mute Play, since it is performed as mime, which sometimes works to great effect and sometimes doesn't; even the best effects can wear thin and big scenes can go on too long. The production was conceived and directed by Michael Durkin.
By Toby Zinman
For the Inquirer
One of those wonderful Fringe surprises: a show running only two nights with the unprepossessing title, Speed Dating TONIGHT! turns out to be so good in such unexpected and charming ways.
by Toby Zinman
for the Inquirer
By Jim Rutter
For THE INQUIRER
In Communicating Doors, Alan Ayckbourn has written an almost director-proof play. At least I would have argued that before seeing the Liam Castellan helmed production currently at the Hedgerow Theatre.
by Toby Zinman
for the Inquirer
Steve Jobs said that the "i" in all the Apple products' names stood for "internet, individual, instruct, inform, inspire." And although the products are patented, the use of "i" is not, and Philly Shakes's solo show, iHamlet, an adaptation by Robin Malan, seems to mean the "i" literally as "I" since the show is made up of Hamlet's lines extracted from the play and strung together. Hamlet as narcissist. And a female narcissist to boot.
By Toby Zinman
For the Inquirer
It's hard to know which is the more astonishing: the revelation of a work by Shakespeare unknown to almost everybody, or the impassioned performance by Dan Hodge in delivering the epic poem, The Rape of Lucrece. Either way, this production by PAC (Philadelphia Artists Collective) is not to be missed.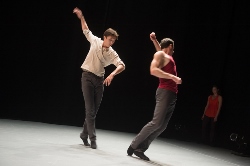 By Merilyn Jackson
For the Inquirer
At the gala openingof the spectacular new FringeArts building Friday night, the air was charged with so much electricity I was glad it was no longer in use as a water processing plant. Though no danger of electrocution, the crowd that sparkled like the wine could have crushed you. They were there as much to see the Pennsylvania ballet dancers in new works as they were to party and sample Peter Woolsey's (LaMinette) appetizing treats from his new LaPeg restaurant.
By Wendy Rosenfield
for the Inquirer
Poor Emilie Krause, or rather, her poor characters. As a member of New Paradise Laboratories' newer, younger ensemble, she seems to have settled in as the company's little girl lost--all softness and saucer eyes--last in 27, their depiction of rock-star afterlife, and now in their FringeArts world premiere The Adults. But it's a privileged position, and a theme NPL founder and director Whit MacLaughlin has been exploring of late with pretty spectacular results.