Archive: January, 2012
A memorial service for Jiri Zizka, co-founder of the modern Wilma Theater who died last week at his home in Philadelphia at age 58, is set for noon Monday.
The service, open to the public, will be at the theater, Broad and Spruce Streets, a Wilma spokesman said on Tuesday.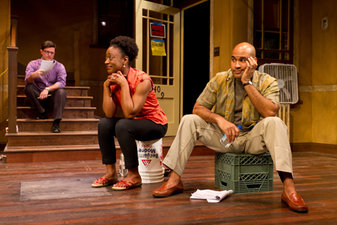 By Howard Shapiro
INQUIRER STAFF WRITER
Clybourne Park, a provocative and funny play about the way people discuss race — has become a magical stage property, its rapid trajectory unstoppable.
The play, set in the same Chicago house that figured in Lorraine Hansberry's groundbreaking 1959 play A Raisin in the Sun, premiered just two years ago Off-Broadway, hit London 18 months ago, and then Washington. It got legs, as they say — and quickly — with recent productions in Toronto and Germany. In March, Clybourne Park won Britain's prestigious Olivier Award, in April the Pulitzer Prize. A production that opened in Los Angeles last week moves directly to Broadway in the spring.
But not before it opens here Wednesday night at the Arden Theatre Company.
By Howard Shapiro
INQUIRER STAFF WRITER
The in-your-face play Bachelorette has one major element in common with the hit movie Bridesmaids — it's about nasty gals who include a bride and her maid of honor on the eve of the wedding.
But Bachelorette, which opened Saturday night in a production by Luna Theater Company that purrs along in a super-dark funniness, has tons more drugs, booze, pills, sex, petty jealousies, gross dialogue and general excess — in other words, an altogether edgier script than the movie.
By Howard Shapiro
INQUIRER STAFF WRITER
Soon after Black History Month became a February fixture in the mid-1970s, professional stages in big cities around the country began to pick up on it, and for a time it seemed as though a growing canon of African American-themed plays would be available — but only in February.
As that collection of work has become richer and audiences have become more diverse, February has become a less visible month for such productions. Indeed, many artistic directors say they believe that relegating plays about race or African Americans to one month a season minimizes not just the work but the talent pool of black theater artists.
Other arts leaders talk about the outdated nature of such a month for theaters, indicating that minority audiences now come to the theater in more numbers than ever — especially to shows that interest them culturally, any time of the year.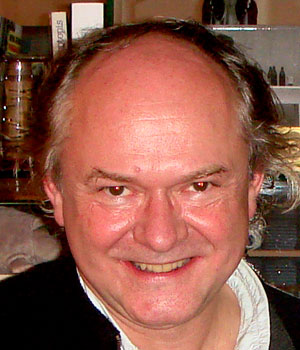 By Howard Shapiro
INQUIRER STAFF WRITER
Jiri Zizka defected from Czechoslovakia, joined a small Philadelphia theater company, and, with his then-wife Blanka Zizka, transformed it into the Wilma Theater — one of the city's largest stage companies. On Tuesday, Mr. Zizka, 58, died of liver complications at his Philadelphia home.
The first news of his death appeared in a banner with his picture across the Wilma's website late Wednesday, offering only his years of birth and death. That was all that remained on the site Thursday as his former wife, the Wilma's artistic director, began to make plans that will eventually include a memorial service in Philadelphia, a theater spokesman said.
Jiri Zizka had not been active at the Wilma since 2010, when he said he was moving into a consulting relationship to pursue other artistic endeavors. During his tenure — the Zizkas became co-artistic directors three decades ago — he directed more than 70 productions and was a visible force in the emergence of Philadelphia as a theater town.
By Wendy Rosenfield
FOR THE INQUIRER
Let's make one thing clear: The Scottsboro Boys is not a minstrel show. It's a musical, yes, the last by John Kander and the late Fred Ebb (book by David Thompson). It revives the characters and conventions of minstrelsy — there's even a tap dance — and it's plenty entertaining. But the difference is, this tale about a very real miscarriage of justice uses every element of the minstrel form, including that gruesome tap dance, performed before an electric chair, to highlight the viciousness and humiliations of racism.

Philadelphia Theatre Company, producing the show's first post-Broadway incarnation, brings with it six members of the original cast, Susan Stroman's arresting original direction and choreography (re-created by Jeff Whiting), Beowulf Borritt's minimalist set (three wooden frames and a tangle of metal chairs), and Toni-Leslie James' rough-hewn costumes. It also features some homegrown talent — including Eric Ebbenga, who provides sharp musical direction, and several Philly-based actors, including Forrest McClendon, a standout among standouts, returning to his Tony-nominated role as Mr. Tambo. This is handy, because I fully expect the show to sweep the 2012 Barrymore Awards, and it's always gratifying when the cast is around to accept in person.
So, who were the boys? Well, for starters, they were indeed boys, nine of them, ranging in age from 12 to 19. All had the misfortune to be riding a train through Alabama in 1931, at the same time a pair of white prostitutes talked their way out of a solicitation charge. The women accused them of rape, and despite eight trials, significant public outrage, and one recanted accusation, the boys grew into men behind bars.
Fans of Kander and Ebb will recognize elements of their other work here, not just in its challenging subject, but also in the way the rousing "Hey, Hey, Hey, Hey!" recalls Cabaret's "Willkommen," or "Alabama Ladies" references Billy Flynn's manipulation of Roxie Hart in Chicago's "We Both Reached for the Gun."
The trouble with Kenneth Lin's Fallow, receiving its world premiere at People's Light & Theatre Company, begins at the beginning. Elizabeth Hayes (Mary Elizabeth Scallen), on a quest to visit her son Aaron's murderers in prison, first travels to California farm country, where Aaron was a migrant worker after dropping out of Cornell University. Upon her arrival in the Golden State -- helpfully, she's wearing a T-shirt that reads "California" -- Elizabeth immediately encounters Happy (Robert Montano), a Mexican gypsy-cab driver, who may know more about Aaron than he admits.
Lin never clarifies whether Elizabeth's meeting with Happy occurs by chance or design, though his play seems to claim both. But that's only the first problem in a drama so overstuffed that its plot devices have to jostle for attention with its bloated metaphoric flourishes. Think I'm exaggerating? Here's Elizabeth's description of a strawberry's flavor, which she claims tastes like leather: "Imagine you are riding through an orchard, and your horse's hooves are smashing rotten apples and you come to a stream and you stop and smell your hands. Isn't that it?" Well, no, not in real life or in its scripted naturalistic approximation, anyway.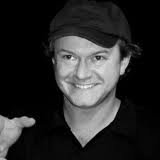 By Howard Shapiro
INQUIRER STAFF WRITER
The Wilma Theater posted a banner across its website late Wednesday to announce that Jiri Zizka — a cofounder of the modern Wilma on Broad Street and a major force in Philadelphia's evolution as a vibrant city for live theater — had died.
No details were posted and no one was reachable at the theater after 10:30 p.m., when word of the posting began to spread. Zizka, with his wife, Blanka Zizka, came from Czechoslovakia and formed a relationship with the theater company they would take over and move into new directions. Blanka Zizka continues to lead the company, among the city's largest, which is currently presenting the play Body Awareness.
The banner on the Wilma Theatre's website read, simply, "Remembering Jiri Zizka, 1953-2012," and included a picture of a smiling Zizka in a signature baseball cap. There was no accompanying report.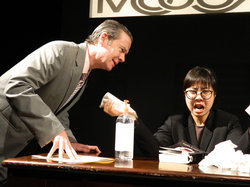 By Howard Shapiro
INQUIRER STAFF WRITER
Bankers are lending big money to poor folks who can never pay it back, Ivy League whiz kids are developing new ways to get interest on that cash, financial watchdogs grant high ratings to every scammer, the feds turn all their cheeks, and in the play Microcrisis — can you believe it? — it's big fun.
Granted, you can argue fine points about the financial stuff, but not about the fun factor of Microcrisis, in InterAct Theatre Company's dynamically wacky production staged by InterAct's leader, Seth Rozin. It opened Wednesday at the Adrienne Theatre with a cast fully versed in the idiocies of the characters.
Mike Lew's satire, in which the New York-based playwright takes everyone in the international financial crisis to extremes, is an all-out goof. A banker gets catatonic on the floor when a big federal official denies him an ease in regulations. The federal official can barely take time to consider the question while he volleys racketball shots around the super-cool court he's built under the Federal Reserve offices. He breaks his game, then wipes up with a 2,000-thread-count Egyptian cotton towel for a moment of scheming.
By Toby Zinman
For the Inquirer
That creaky sound you hear is not just a door ominously opening; it's also the plot of this legendary Agatha Cristie mystery at the Walnut Street Theatre. The play has been running for an astonishing sixty years—it's the world's longest running play, and for the first time, the producers are permitting productions outside London.
Somehow, despite more than 24,500 performances, I managed to miss it until now. And somehow nobody revealed the mystery's surprise solution, so look for no spoilers here.