Archive: January, 2012
By Howard Shapiro
INQUIRER STAFF WRITER
The issue in Donald Margulies' engrossing drama Time Stands Still is not whether you can come home again. The issue is whether you can stay there.
In a beautifully wrought production at Delaware Theatre Company in Wilmington, the play comes off as both realistic and deeply felt by its characters. Time Stands Still is about a complex woman — a news photographer (Susan McKey) much more at home on a battlefield than in her real home in Brooklyn, which she shares with a writer (Kevin Kelly) who often works abroad with her.
They've been traumatized — he's been home getting his head together after an overseas incident, to use the sanitized word we apply to deadly chaos, and she's now home with a head and body full of shrapnel from an exploding roadside bomb. The play begins with her arrival in Brooklyn.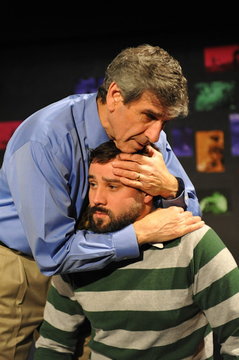 By Howard Shapiro
INQUIRER STAFF WRITER
Isaac is a guy in his 30s who teaches art and has a burning love for a student of his — a boy aged eight. What we know from Beautiful Child, the play being done by Fever Dream Repertory at the Adrienne, is little more. During the course of a class, Issac put his hand on the boys shoulder, then his finger on the boy's lips. Anything else, we have to assume.
In the end, we also have to assume that the painfully awful Beautiful Child has something to tell us, but that gives it undocumented credit. The play by Nicky Silver — a Philadelphian who lives in New York and wrote Pterodactyls, Raised in Captivity and a new book for the 2002 revival of musical The Boys from Syracuse — is a mish-mash. It begins with a dream, always a red flag, then goes into a scene with two characters telling each other the details of something they already both know well, a second red flag.
Before opening night was over on Friday, red flags were crowding my consciousness.

After a few scenes, the play leaps into a new format: characters suddenly spring from their scenes to address us directly. Then it moves to a theatrical conceit equally jarring — fantasy; Isaac's dad has shirked the secretary he's been squeezing, and she's sitting forlorn in on a park bench when a stranger comes to give her (ridiculous) advice and (cold) comfort. The stranger just happens to be the psychologist who treated Isaac when he was a kid. Cool coincidence! In one of the play's many lines that could come only from writing, not speech, she says: "You can see the haze of desperation from miles away!" Yes, I could. It was mine.
By Toby Zinman
FOR THE INQUIRER
A contempt-filled word: Bafu means traitor in Shona, the indigenous language in the African land that would become Zimbabwe, and The Convert is about betrayal. This world premiere at Princeton's McCarter Theatre, written by Danai Gurira and directed by Emily Mann, boasts a cast that is beyond outstanding. The performances are so riveting that the play's three hours fly by.
This is a conventional, well-made play that almost feels as if it had been written in the late 19th century, when its action takes place; it has three acts, great curtain lines, a plot that has clarity, linearity, and a serious political agenda. The characters are familiar types yet distinct individuals, and it asks the question: Is it self-betrayal to aspire to be other than your native culture, which in this case means leaving your tribal village, learning English, embracing Christianity, wearing European clothing drinking tea with your pinky out?
By Toby Zinman
FOR THE INQUIRER
Joe Turner's Come and Gone is a big, strong, juicy play, and Plays & Players' production is just as big, strong and juicy. Representing the second decade in August Wilson's "Century Cycle," Joe Turner takes place a hundred years ago in 1911, a suitable choice for Plays & Players theater's 100th anniversary. While the building may be old, the company is new, led by Daniel Student, who is rapidly proving himself a young director of range and vision.
Joe Turner was the brother of a governor of Tennessee who arbitrarily seized black men off the streets and forced them to work as slave labor for seven years. Herald Loomis (the excellent Kash Goins) , the mysterious, half-destroyed visionary figure at the center of Joe Turner, has spent three years since being freed walking with his young daughter Zonia (Lauryn Jones), searching for his wife. They arrive at a Pittsburgh boarding house -- the perfect locale to represent the comings and goings of the Northern Migration — run by the practical Seth Holly (James Tolbert) and his comforting wife, Bertha (Cherie Jazmyn).
By Howard Shapiro
INQUIRER STAFF WRITER
I went into the Wilma Theater the other day to cook. That's right, cook. On stage. Actually Mary Martello, who plays one of the leads in Annie Baker's comic drama Body Awareness, did the cooking — at a full kitchen that's been built as part of Mimi Lien's set for show.
Martello cooks in character as she delivers dialogue, and needs to be at a specific time in the action, needs to have finished making her soup so that the cast can then eat it. So there's no messing up at the stove allowed.
I asked Martello about the mechanics and acting involved, and mostly about the recipe she uses, in the play that involves a lesbian couple, their son who may or may not have Asperger's syndrome, and a photographer who is boarding with them, during "Body Awareness Week." He takes unconventional pictures of women in the nude; the two women react differently to his work.
By Toby Zinman
For the Inquirer
David Auburn's Pulitzer Prize winning play, Proof, has found a perfect venue in the intimate Independence Studio on 3 at the Walnut Street Theatre. This luminous production, directed by Kate Galvin, invites you onto the porch and into the lives of four interesting people.
Unlike so many characters in contemporary plays, these interesting people are all kind and all smart—mathematical wizard smart; nobody is cruel or snide or selfish or violent. Makes a nice change.
By Toby Zinman
For the Inquirer
If there is anything New Yorkers like to talk about more than restaurants it's real estate. In the Footprint: The Battle over Atlantic Yards, performed by the Civilians at the Annenberg Center, is a musical docudrama about the unpromising topic of "eminent domain"—the complex real estate legality that can crush the individual homeowner in the jaws of corporate takeover.
The Atlantic Yards project in Brooklyn has dragged on for seven years; it began when Bruce Ratner decided to build an arena for basketball in Prospect Heights, a land grab that involved displacing more than 800 people, In the course of various battles, the community was split many different, often surprising ways: black leaders find themselves opposed by black citizens, liberal leaders find themselves allied with big money, a Russian oligarch buys the New Jersey Nets (herein referred to as the Nyets—one of two actually funny moments in the course of the 100-minute evening), the eminent architect Frank Gehry's design is ditched, and the bloggers have a field day.
It is civic life as its least civil: shouting, haranguing, belligerent, self-righteous, outraged.
By Howard Shapiro
INQUIRER STAFF WRITER
The pumping musical Memphis celebrates an America whose definition of freedom is always evolving. The national tour, which pulled into the Academy of Music on Tuesday and is staying through Sunday, delivers the show about the '50s with the same high-energy and spirit as its Broadway rendition.
Memphis, which is loosely based on a true story about a young Memphian who integrated the music on the city's radio stations, won the best-musical Tony in 2010, and its popularity across demographics has helped producers turn it into a new Broadway experience, across formats.
By Bill Reed
Inquirer Staff Writer
After rescuing the iconic Bucks County Playhouse from a year of dormancy, the new owners and operators are aiming to light up the New Hope stage for a May fund-raiser, two summer plays, and a Christmas holiday show.
"I can't imagine what it was like in 1939," when playwright Moss Hart put on the first show, Springtime for Henry, after converting the decaying 18th-century gristmill, Broadway producer Jed Bernstein said Tuesday. "It will be pretty exciting when the lights blaze on again.
"The enthusiasm of the community will get us off to a fast start," said Bernstein, who will live in the county while maintaining his Above the Title Entertainment office in New York City. "That's how we can make this theater blaze in glory again."

By David Patrick Stearns
INQUIRER MUSIC CRITIC
The first thing anybody needs to know about Ludwig Live! is that the cabaret show, playing at the Kimmel Center's Innovation Studio, has little to do with Beethoven or even having laughs at his expense. Using tired devices such as the clash of high and low art, Ludwig Live!, which opened Friday, explores how intentionally ramshackle showbiz somehow holds the stage.
The concept is that cranky old Beethoven — played by Charles Lindberg, in the cheapest wig imaginable — is somehow back from the dead and taking his story on the road with a troupe of actors. But all have quit. The one survivor is his mousy, amiable stage manager, played by Katherine Pecevich, who is faced with playing all the characters in his life story as well as the legions of modern celebrities he credits himself with influencing, from Elvis Presley to Sarah Palin.