Review: 'Sandra Bernhard: I Love Being Me, Don't You?'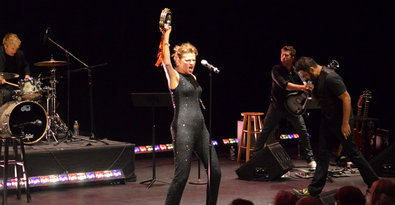 Sandra Bernhard is sultry-songed, pouty, potty-mouthed and a general stitch -- just what you expect (and hope for) -- at the Painted Bride. Inquirer theater critic Howard Shapiro reviews.
Review: 'Sandra Bernhard: I Love Being Me, Don't You?'
By Howard Shapiro
INQUIRER STAFF WRITER

On my way to the Painted Bride on Tuesday night, I looked into the cloudless sky to see a lustrous, bulging full moon, and thought, well, of course. Sandra Bernhard's new show was opening.

The moon has nothing on Bernhard, the hard-working, outrageous stand-up comic, actor and chanteuse whose lunacy is all her own. In an evening called I Love Being Me, Don't You? — also the name of her recently released first comedy album in a decade — she is every bit the outspoken, sometimes bizarre persona she has trademarked: the queen of pop-culture commentary, an earthy singer, a hilarious slasher of hypocrisy and everyday nonsense, with a mouth that could launch a thousand embarrassed sailors off-course.

So she is not for everyone. She is, however, for me — I laughed out loud through the 100 minutes of I Love Being Me, Don't You?, which runs through Saturday. It's a stitch, and a satisfying way to spend time with Bernhard, who last performed here five years ago. You feel as if you're in a one-way conversation with an in-your-face pal; Bernhard makes each person in the audience a co-conspirator in her outrageous patter, all of which she writes.

She's a fascinating companion, in any case: a gay mom whose daughter has just entered teen-hood, a classy dresser (she performed in sleeveless black Dolce & Gabbana fronted with sleek lines of sequins and beads, and Manolo Blahnik shoes with spikes that could kill you just for gawking), a frequent player on TV (currently, TV Land's Hot in Cleveland), and a slinky, sexy presence whose pouty mouth rivals her potty mouth.

She started off Tuesday night by riffing on the light-colored rug the Painted Bride supplied for flooring ("a Wedgwood blue border with a green flower — and they didn't think I'd see the filth?"), then moved on to life with her partner ("mean as a snake in, you know, the best way").

Bernhard took to a number of paths, often running between them. "Is it possible to embrace and appreciate something for more than a 24-hour news cycle?" she asked at one point, from nowhere. She marveled as how it's been 30 years since her filming in Martin Scorsese's The King of Comedy. "I know," she declared in the overturned form of self-deprecation that's key to her work, "you look at me and think ... somehow ... time has stood still for her!"

Backed by an excellent three-piece band, she sang five songs, plus an encore for which she wore a bowler hat, white top, hip-high fishnet stockings and black panties. The best of the numbers was an intense "Before the Parade Passes By" from Hello, Dolly!, which she said Kristin Chenoweth encouraged her to sing. The parade is not passing by Bernhard anytime soon.

Contact staff writer Howard Shapiro at 215-854-5727, hshapiro@phillynews.com, or #philastage on Twitter. Read his recent work at http://go.philly.com/howardshapiro. Hear his reviews at the Classical Network, www.wwfm.org.
---------------------------------------
Sandra Bernhard: I Love Being Me, Don't You: At the painted Bride, 230 Vine St., through Saturday. Tickets $40-$50. Information: 215-925-9914 or www.paintedbride.org.