Review: "Our Class"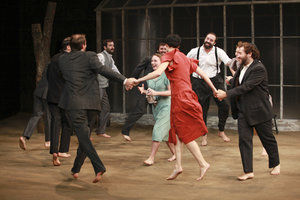 The extraordinary play and production of "Our Class" is in its American premiere at the Wilma. Inquirer theater critic Howard Shapiro reviews.
Review: "Our Class"

By Howard Shapiro
INQUIRER STAFF WRITER
One thought comes first about the overpowering Our Class: The cast and creative team at the Wilma Theater, giving the play a remarkable United States premiere, are serving more than audiences or even the notion of theater.
Their ample abilities strikingly honor the memory of 1,600 Jews who were marched by Catholic Poles - and not invading Germans - into a barn that their attackers locked and set afire in a drench of kerosene.

Our Class, by Polish playwright Tadeusz Slobodzianek, is running in Poland. In its English translation by Ryan Craig and a deeply considered staging by Wilma's artistic director, Blanka Zizka, it's tough, energized and revealing: extraordinary, provoking theater.
The play is inspired by historian Jan Gross' book Neighbors, an account of the murders in the hamlet of Jedwabne in 1941, after Germans took the country from Soviet occupiers. The town's name is never mentioned in the play, whose resonance flares far beyond any one town, one people, one massacre.
The playwright creates 10 fictional characters, classmates in the town — five Jewish Poles, five Catholic Poles — and traces them from childhood through life. The kids are, before the Soviets come, kids: They play, learn together, taunt each other.
As the Soviets invade, then the Germans, the kids grow, allegiances shift and Polish classmates begin to show two faces, beating up Jewish classmates in town, tolerating them in school.
Among Our Class' strengths is the way it lays out an acceleration of hatred, showing the driving forces: loss of Polish sovereignty, the attraction of communism as an equal playing field, acceptable anti-Semitism opened wider by German occupation and a constant feeling of entrapment.
Our Class is not for the meek; its rough violence -- in speech and action -- becomes constant, as it did in life during that time.
When classmates die and their ghosts begin to smother the living, Zizka sends the dead, one by one, into a harshly-lit glass house that may symbolize the death barn (Marsha Ginsberg's set); even the furniture they've been using is collapsed. Through the show, the cast delivers little songs, probably from their youths. The effect is confusing and the actors are so tentative, the lyrics can't come through — the sole discord in an exceptional night.
The play uses a roll-call of names to trace the town's murdered relations of a single survivor then, decades later, the several generations of that man's offspring. The first roll-call underscores the horror; the second, the hope. And so I offer, now, a roll call of the 10 actors who make this absorbing theater work:
Krista Apple, playing a Polish woman who becomes stygmatized for her bravery; Kate Czajkowski, as a Jewish woman saved by a compromising decision; Emilie Krause, as a Jew whose young marriage leads to naught.
Ross Beschler, playing the young Jew who embraces the Soviets and anything that suits him; Dan Hodge, as the Pole who drapes himself in the vestments of goodness; Kevin Meehan as a Pole who is tortured and tortures; Allen Radway, as a two-faced Pole in everything he does; Ed Swidey, as a Pole who saves a Jew but essentially destroys her; Matteo Scammell, as a Jewish scapegoat; and Michael Rubenfeld, a Jew who goes off to America.
All of these are classmates for life, in a world that never really learns its lessons.
Contact staff writer Howard Shapiro at 215-854-5727, hshapiro@phillynews.com, or #philastage on Twitter.
---------------------------------------------------------------------------
Our Class: Playing at the Wilma Theater, 256 S. Broad St., through Nov. 13. Tickets: $39-$66. Information: 215-546-7824 or www.wilmatheater.org.