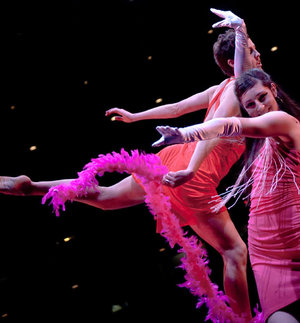 Doug Elkins troupe at Annenberg
Merilyn Jackson, For The Inquirer
By Jim Rutter
For THE INQUIRER
"Abandon all hope, ye who enter here." Dante's words, hung over the gates of hell, could easily warn any theatergoer trying to approach Hinckley, Ginger Dayle's mind-numbing and engrossing new work, now in its world premiere at New City Stage Company.
LONDON REVIEWS
by Toby Zinman
for the Inquirer
By Wendy Rosenfield
for the Inquirer
There's no doubt Jacqueline Goldfinger's authorial voice rings loud and clear through her tales of Southern misfits.Skin and Bone, the second pitch-black comedy in her planned trilogy about the residents, transients, and dear departed of Transfer, Fla., and a world premiere by Azuka Theatre, brings back some of the sound and fury of Part 1, the terrible girls. But to paraphrase another Southern writer, this time, it signifies less.
By Wendy Rosenfield
for the Inquirer
An international dance pairing
Merilyn Jackson, For The Inquirer
Published Saturday, March 1, 2014, 3:01 AM
These days, there is as much a global arts scene as a global economy.
Terry Fox, executive director of Philadelphia Dance Projects, curates programs that partner Philadelphia dance groups with others from across the country. On Thursday night at the Performance Garage, she made her first international match: Nora Gibson's Temporal Objects and, from Ireland, John Scott's Body Duet.
By Wendy Rosenfield
for the Inquirer
By David Patrick Stearns
INQUIRER CULTURE CRITIC
Jane Austen has handily overtaken pretty much everybody among staged romantic comedies, not just because she helped codify the form, but because nobody (still) does it better.
The People's Light and Theatre Company's engrossing adaptation of Pride and Prejudice achieves immediacy for 21st-century audiences through meticulous attention to period manners. Our distance from Regency England allows a more objective comparison to our own cold, calculating mating dances. For all their exterior formality, Austen's characters — who pursue the spouse of their dreams with endless complications along the way — verbalize power dynamics with a frankness that Sex and the City denizens would only discuss guiltily among themselves.