Archive: December, 2011
Lauren Auty
Christmas debt, endless bills, a suffering economy and paying for higher education will stress anyone. If you know where to look, there is money available to assist with tuition and further your nursing education. The reality is that nurses are facing this financial hardship many years after becoming a nurse. Many are raising a family or holding senior positions, yet a higher nursing degree is a common career necessity. Whether for job security, a higher salary, greater nursing knowledge or a career change, colleges are offering RN-to-Master programs, BSN-to-PhD programs and many other fast-paced classes to meet nurses needs.
The Future of Nursing Report: Leading Change, Advancing Health sets a high standard for the educational goals of the nursing profession. The report by the Institute of Medicine (IOM) and Robert Wood Johnson Foundation (RWJF),states:
"The committee recommends that the proportion of nurses with baccalaureate degrees be increased to 80 percent by 2020. While it anticipates that it will take a few years to build the educational capacity needed to achieve this goal, the com­mittee maintains that it is bold, achievable, and necessary to move the nursing workforce to an expanded set of competencies, especially in the domains of community and public health, leader­ship, systems improvement and change, research, and health policy…. Bridge programs and educational pathways between undergraduate and graduate programs—specifically programs such as LPN-to-BSN, ADN-to-BSN, and ADN-to-MSN—are designed to facilitate academic progression to higher lev­els of education. The ADN-to-MSN program, in particular, is establishing a significant pathway to advanced practice and some faculty positions. Financial support to help build capacity for these programs will be important, including funding for grants and scholarships for nurses wishing to pursue these pathways."
Lauren Auty

Registered nurses (RNs) constitute the largest healthcare occupation, with 2.6 million jobs. Chances are that a nurse may be on your holiday shopping list. With less than 2 weeks left before the holidays, I wanted to suggest some great gift ideas for nurses. Whether you are a nurse or know a new grad, nursing student or senior nurse, there are some essential nursing products that are practical and move nurses into the future with technology geared to their needs.
First, nurses are tired of the traditional uniform and have largely become open-minded to scrubs being "stylish." A custom pair of scrubs make a great gift. A seasonal print jacket or scrubs with your favorite sports team logo (Phillies or Eagle gear are a favorite) are always appreciated. Grey's Anatomy scrubs are available if you or someone you know is a series fan! Check out Lydia's uniforms, Scrubs and Beyond, and/or Tafford uniforms for sales, gift cards with a purchase and other buying incentives. Don't wait too long or the gift may not be available or arrive in time to make it under the tree!
Also consider a pair of comfortable shoes. A popular trend for nurses are clogs or a slip-on shoe, often in a pattern design to add some personality to a very routine uniform. Tie-shoes seem to be less popular but realize that nurses spend 12 or more hours on their feet, so look for elements of comfort. A wrist watch also make a great practical gift since nurses always need to record times. There is a wide range of watches that would make a nurse very happy and don't need to cost a fortune. I suggest finding a watch with clearly displayed seconds and one that is waterproof due to our need for frequent handwashing. Otherwise, leave the realm of conservative and have fun picking out a great watch!
Lauren Auty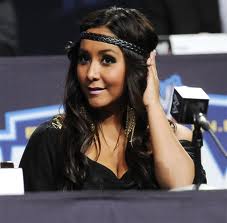 On Tuesday afternoon, I was driving in New Jersey with my 14-month-old son and my car was T-boned by another women's vehicle that failed to stop at the stop sign. After the impact and coming to a screeching stop, knowing that my son and I were alright (despite my heart palpitations!), I jumped out of the car, went immediately to her driver's side door, and said "is everyone alright?"
An appropriate question as I am thankfully observing that no airbags were deployed, damage was moderate and she was soon walking, problem free, and talking on her cell phone without any hesitation. Her response was… "You from Philly?"
Maybe I was overly sensitive, but I was ready to lay out this women. Not only did her careless driving put me, my son and other drivers in harm but her inconsiderate response immediately put me on the defensive. I was about to pull up my sleeves and make her very aware that I was from Philly. Truthfully, I couldn't hurt a fly but this woman pissed me off. I was inconvenienced, I am now without my car for 2 weeks, and I had nothing nice to say to her so I returned to my car and called the cops. Whether it was maternal instinct, Philly attitude, or simply my Italian upbringing, this woman was on my "list."
Lauren Auty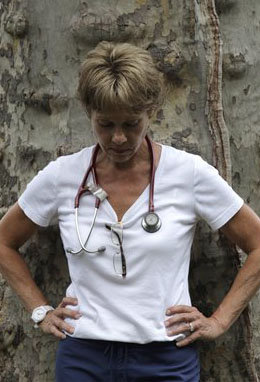 An Alabama ER nurse, Tammy Mathews, was working a late-night shift when an intoxicated and medicated patient grabbed her around the neck, choked her until she couldn't breathe and spit in her face. She survived, MSNBC reported, but found that her employer wanted her to drop assault charges against her attacker. Then when she refused, she said officials fired her.
Accounts like these compel me to keep talking about violence directed at nurses.
While violent fatalities in the workplace are on the decline, healthcare workers remain at high risk of violent injuries. The Emergency Nurses Association (ENA) reports that "workplace violence (not exclusive to nursing) accounts for approximately 900 deaths and 1.7 million non-fatal assaults each year in the United States." In 2004, half of non-fatal injuries to workers from assaults and violent acts occurred in healthcare settings, the Bureau of Labor Statistics (BLS) reported.