Lauren Auty
After 22 years of employment with a local hospital, Barbara LaPierre's life changed dramatically one April night in 2010. While working in the psychiatry division of the emergency room, known as the "crisis center," LaPierre, R.N., B.S.N., endured a painful, violent injury that has required several surgeries and resulted in permanent disability and scarring.
"This male patient was not mine, " LaPierre exlains, "instead his nurse was busy caring for a true medical patient who required intubation and her full attention. I was asked by a physician to administer Haldol [used to treat psychotic disorders or severe behavioral problems such as explosive, aggressive behavior] since he was loud, screaming, and acting out."
Lauren Auty
In September 2005, Charles Kunkle was paged to the St. Mary Medical Center emergency room (ER) to find that a patient had shot and killed one local police officer, and wounded another officer and one of the hospital employees.
Kunkle, R.N., director of Emergency and Trauma Services at St Mary, learned a painful lesson first hand about violence against nurses in the workplace. He has since dedicated himself to improving the situation.
"Bucks County is the third oldest county in the state, and although we are not a city hospital, violence comes from many avenues—psychiatric patients, aging patients with dementias, drug withdraw, etc. No facility can ignore the problem," Kunkle says.

Kunkle, now travels nationwide, speaking at conferences about workplace safety, sharing the lessons he has learned.
Lauren Auty
Two weeks ago, I posted the story of an emergency room nurse at a center city hospital, who was attacked by a patient. Today, a similar tale from a different setting - a 130-bed suburban psychiatric hospital.
This story is about a nurse with 37 years of experience, who has practised as a licensed practical nurse (LPN) at a doctor's office, a nursing home, and a drug and alcohol rehabilitation facility. For the past 6 years, she has worked at the psychiatric hospital.
Lauren Auty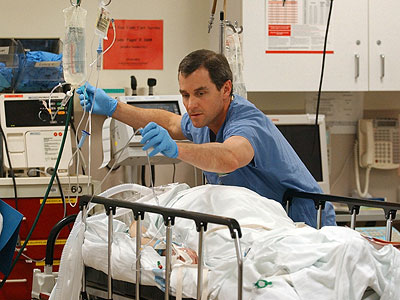 "I was assaulted by an intoxicated 20-year-old male as I took the patient to the phone to call his mother for a ride home. He passed me the phone and immediately punched me in the side of the face."

These are the words of Stanley Johnson, a Temple University nurse for nearly 20 years. In August of 2011, while working night shift in the Emergency Department, he became a victim of violence, a problem that is too familiar to many nurses.
Lauren Auty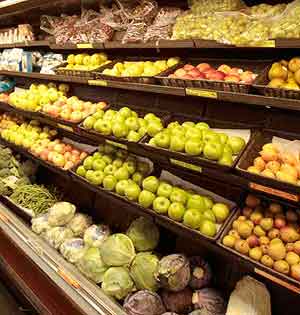 The call came from a distant neighbor on a beautiful Friday night in September 2004. 7:22 p.m. I was giving a report at work after a busy 12-hour shift. My father had collapsed in our driveway. He was not breathing, had a tube in his throat to keep it clear, and was en route for my hospital, with my younger sister following behind the ambulance. I wanted to be optimistic but this distant neighbor was a nurse at a local emergency room and her voice gave me no hope. He was not going to survive.
I had to call my mother and older sister with the news. My mother was out of town and told me to call her when the doctors evaluated him. I had to be blunt. I told her his heart stopped, and he was not breathing on his own. She sped home.
My dad, age 54, just months after retiring from a 31-year career with Peco and weeks after passing his cardiac stress test, was pronounced dead immediately on arrival to my ER. No one slept that night.
Lauren Auty
Communication breakdowns in healthcare are often the leading cause of serious mistakes reported to the Joint Commission's Sentinel Event Root Cause Database. The Joint Commission defines 'communication' as that which is "oral, written, electronic, among staff, with/among physicians, with administration, with patient or family." In nursing, if a message is not clear or perceived inaccurately, patient care can suffer.
So I ask, what methods have hospitals found most successful to communicate new information, policies or procedures to large numbers of staff? Staff in the hundreds or thousands -- specific to a department or hospital wide, often on several campuses, working day shift, night shift, per diem, and/or are travelers -- creates many obstacles for effective communication.
The Joint Commission's 2012, National Patient Safety Goals, addresses improved staff communication. Staff must be informed at a pace that keeps up with the abundance of information. The most frequent form of communication between nurses occurs at shift change when patient reports are given. The outgoing nurse is exhausted, has multi-tasked all day, but need to give an accurate summary of her patient's history and care. If not, treatments, medications, and more may be missed. Another example of poor patient reporting that I often see in the ER setting occurs when a patient arrives from a nursing home and appears confused. It is vital to know how cognitive impaired versus mildly confused versus demented a patient is at baseline so that the next nurse does not over-react. 'Over-reacting' often exposes a patient to more, unnecessary tests, radiation and needle sticks.
Lauren Auty
Christmas debt, endless bills, a suffering economy and paying for higher education will stress anyone. If you know where to look, there is money available to assist with tuition and further your nursing education. The reality is that nurses are facing this financial hardship many years after becoming a nurse. Many are raising a family or holding senior positions, yet a higher nursing degree is a common career necessity. Whether for job security, a higher salary, greater nursing knowledge or a career change, colleges are offering RN-to-Master programs, BSN-to-PhD programs and many other fast-paced classes to meet nurses needs.
The Future of Nursing Report: Leading Change, Advancing Health sets a high standard for the educational goals of the nursing profession. The report by the Institute of Medicine (IOM) and Robert Wood Johnson Foundation (RWJF),states:
"The committee recommends that the proportion of nurses with baccalaureate degrees be increased to 80 percent by 2020. While it anticipates that it will take a few years to build the educational capacity needed to achieve this goal, the com­mittee maintains that it is bold, achievable, and necessary to move the nursing workforce to an expanded set of competencies, especially in the domains of community and public health, leader­ship, systems improvement and change, research, and health policy…. Bridge programs and educational pathways between undergraduate and graduate programs—specifically programs such as LPN-to-BSN, ADN-to-BSN, and ADN-to-MSN—are designed to facilitate academic progression to higher lev­els of education. The ADN-to-MSN program, in particular, is establishing a significant pathway to advanced practice and some faculty positions. Financial support to help build capacity for these programs will be important, including funding for grants and scholarships for nurses wishing to pursue these pathways."
Lauren Auty

Registered nurses (RNs) constitute the largest healthcare occupation, with 2.6 million jobs. Chances are that a nurse may be on your holiday shopping list. With less than 2 weeks left before the holidays, I wanted to suggest some great gift ideas for nurses. Whether you are a nurse or know a new grad, nursing student or senior nurse, there are some essential nursing products that are practical and move nurses into the future with technology geared to their needs.
First, nurses are tired of the traditional uniform and have largely become open-minded to scrubs being "stylish." A custom pair of scrubs make a great gift. A seasonal print jacket or scrubs with your favorite sports team logo (Phillies or Eagle gear are a favorite) are always appreciated. Grey's Anatomy scrubs are available if you or someone you know is a series fan! Check out Lydia's uniforms, Scrubs and Beyond, and/or Tafford uniforms for sales, gift cards with a purchase and other buying incentives. Don't wait too long or the gift may not be available or arrive in time to make it under the tree!
Also consider a pair of comfortable shoes. A popular trend for nurses are clogs or a slip-on shoe, often in a pattern design to add some personality to a very routine uniform. Tie-shoes seem to be less popular but realize that nurses spend 12 or more hours on their feet, so look for elements of comfort. A wrist watch also make a great practical gift since nurses always need to record times. There is a wide range of watches that would make a nurse very happy and don't need to cost a fortune. I suggest finding a watch with clearly displayed seconds and one that is waterproof due to our need for frequent handwashing. Otherwise, leave the realm of conservative and have fun picking out a great watch!