Archive: September, 2012
David Sell
A plaintiff suing Johnson & Johnson over the side effects of the antipsychotic drug Risperdal and allegations that the company promoted the drug off label wants to show the jury documents filed by J&J with the Securities and Exchange Commission that say J&J is close to admitting to criminal violations in a federal case.
The filing reference is to the ongoing negotiations with the Justice Department, with news reports suggesting it might end in a payment of up to $2.2 billion. The 10-Q filed in August says there is an "agreement in principle" over "criminal charges pursuant to a single misdemeanor violation." The SEC filing notes that nothing is finalized.
The suit is in the Philadelphia Court of Common Pleas.
David Sell
Johnson & Johnson increased sales of the antipsychotic drug Risperdal by paying doctors to speak about the drug, paying for their golf trips and providing bags of "Risperdal Popcorn," a former sales manager testified on the second day of a trial in Philadelphia Court of Common Pleas.
Bloomberg News reported (link here) that Tone Jones, a former Oklahoma State quarterback, was on the stand for a second day and spoke of the inducements to doctors for prescribing the drug to children from 1998 through 2006, even though the FDA had not approved the drug for use in children during that period.
J&J faces hundreds of individual lawsuits alleging harm to patients, but it also faces - or has paid to settle - multiple state and federal cases involving inappropriate promotion of Risperdal. Janssen Pharmaceuticals is the wholly-owned subsidiary that makes Risperdal.
David Sell
We usually leave TV previews to the professionals elsewhere in the Inquirer, but if you care about health care and the costs and have control of the remote tonight, a great program begins at 8 p.m. (Eastern) on WHYY in the Philadelphia region or PBS wherever you live.
The show is called Money & Medicine and deals with the problems of a fee-for-service system, diagnostic screenings and the difficult end-of-life decisions that can be terrible for families.....and expensive for all of us.
David Sell
A Philadelphia judge thwarted an attempt by Johnson & Johnson attorneys to prevent an Inquirer reporter from entering a courtroom during jury selection Thursday for a Risperdal trial scheduled to start Monday.
Philadelphia's Court of Common Pleas is the venue for dozens of lawsuits involving Risperdal, the antipsychotic drug made by J&J's Janssen Pharmaceuticals subsidiary. The trial in question is over a lawsuit filed by the family of a 17-year-old boy, who was prescribed Risperdal when he was only five years old. He began growing breasts when he was 12.
J&J, which made $4.7 billion from antipsychotic drugs in 2007 alone, has hundreds of individual lawsuits pending over Risperdal, with allegations of harm to patients. There are also several state cases and a federal investigation over allegations of inappropriate marketing through taxpayer-funded Medicaid plans.
David Sell
A Philadelphia judge said Thursday that Johnson & Johnson chief executive officer Alex Gorsky can't be called as a witness by a plaintiff in a lawsuit against the company related to its antipsychotic drug Risperdal.
In a big victory for the health-care giant, Philadelphia Common Pleas Court Judge Arnold New ruled that Gorsky - who led the J&J subsidiary Janssen, which makes Risperdal - does not have to testify and, in effect, answer allegations of inappropriate marketing of the drug to children.
The plaintiff is a 17-year-old boy from Sherman, Tex. He was prescribed Risperdal and began taking it when he was five years old. He began growing breasts when he was 12.
David Sell
People will just have to understand that Johnson & Johnson chief executive officer Alex Gorsky has places to go.
He does not have time to testify at trials, to talk about the past and allegations of inappropriate marketing of Johnson & Johnson's antipsychotic drug Risperdal.
But what about Exelon, the Novartis Alzheimer's drug?
David Sell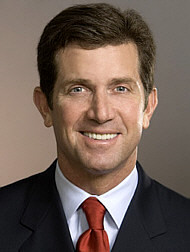 Johnson & Johnson Chief Executive Office Alex Gorsky was proud enough of helping to boost Risperdal sales to include the numbers on his resume at one point, according to court filings, but he is trying to hard to avoid talking about the antipsychotic drug on the witness stand in front of a jury in a trials scheduled for the next several weeks in Philadelphia.
On Sept. 10, with a jury waiting in Philadelphia Court of Common Pleas, J&J settled a case with a man who claimed he grew breasts after being prescribed Risperdal as a child, rather than risk having a judge rule that Gorsky must testify.
The 60-page transcript of Gorsky's deposition in the individual suit filed by Aron Banks in Philadelphia was a publicly-available exhibit in the case.
David Sell
Teva Pharmaceuticals, which recently changed leadership and is re-examining what it plans to focus on, said Friday morning that it sold its animal health unit to Bayer for up to $145 million.
Teva is based in Israel, but its Americas headquarters is in North Wales, Montgomery County, and it has other facilities in the Philadelphia region.
The animal unit includes a manufacturing site in St. Joseph, Mo., and about 300 employees, according to a statement from Teva.