Archive: August, 2012
David Sell

, Staff Writer

Thursday's announcement of the $181 million settlement between Johnson & Johnson with 36 states and the District of Columbia over Risperdal marketing, was a fairly coordinated effort, with state attorneys general filing their own complaints in state courts and then issuing statements.

"Pharmaceutical corporations' illegal promotion of drugs for off-label uses must stop," New York Attorney General Schneiderman said in a statement. "Consumers, including parents of children with serious mental disorders and vulnerable patients should be able to trust their doctor's advice without fear that drug companies are manipulating their physician's independent judgment.

"This landmark settlement holds the companies accountable for practices that put patients in danger, and serves as a warning to other pharmaceutical giants that they must play by one set of rules. It goes further by ensuring that the corporations stop rewarding doctors for prescribing certain drugs or presenting scientifically-suspect studies as sound."
David Sell

, Staff Writer

Targeted cancer drugs are one of the great hopes for pharmaceutical companies, but a business survey says cancer doctors are limiting visits by sales representatives more than most medical specialists.

Whether this is good or bad depends, of course, on your perspective or how you make money.

ZS Associates, a global sales and marketing firm, published its spring 2012 AccessMonitor report this week and it says about 61 percent of oncologists placed moderate-to-severe restrictions on visits from pharmaceutical sales reps. The report says oncologists were the most restrictive of the 20 most common medical specialties measured. About 47 percent of cardiologists and 38 percent of primary care physicians restricted sales representative access to the same degree, according to the report.
David Sell

, Staff Writer

Thirty-six states and the District of Columbia will share in $181 million that Johnson & Johnson has agreed to pay to resolve allegations of inappropriate marketing of the antipsychotic drug Risperdal.

Pennsylvania, New Jersey, and Delaware are among the states that filed similar complaints in their own courts Thursday and will get $8.4 million, $5.3 million, and $4.2 million, respectively. New York will get $9 million.

Johnson & Johnson has headquarters in New Brunswick, N.J.; its Janssen Pharmaceuticals subsidiary, which makes Risperdal, is based in Titusville.
David Sell

, Staff Writer

Bristol-Myers Squibb spent $2.5 billion to acquire an experimental hepatitis C drug earlier this year, but the bet does not look good after the company stopped a clinical trial because one patient died and others were hospitalized.

Last week, BMS said it would take a $1.8 billion charge in the third quarter related to the research efforts.

BMS bought Inhibitex, a Georgia company that had developed the treatment now known as BMS-986094.
David Sell

, Staff Writer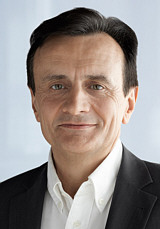 AstraZeneca said Tuesday morning that its new chief executive officer will be Pascal Soriot, who has been chief operating officer of Roche AG since 2010.
David Brennan announced in April that he would depart as CEO on June 1 as the company wrestled with how to reorient itself as it fought the loss of revenue from several top drugs.
Simon Lowth, who had been chief financial officer until serving as interim CEO, will return to handling finances when Soriot begins on Oct. 1, the company said in a statement.
David Sell

, Staff Writer

The U.S. Food and Drug Administration on Monday approved a once-a-day AIDS medicine that combines four drugs in one pill and is produced by Gilead Sciences, Inc.

The drug is designed to treat HIV-1 infection in adults who have never been treated for HIV infection, according to the FDA.

Brand-named Stribild, the pill contains two previously approved HIV drugs plus two new drugs.
David Sell

, Staff Writer

A note to regular readers of the PhillyPharma blog. Updates to the blog will begin again on Tuesday, August 28, 2012. Until then, be well.

David Sell
David Sell

, Staff Writer

The American Chemical Society will hold its 224th national meeting in Philadelphia starting Sunday and the five-day gathering kickoffs with a dinner at the Four Seasons Hotel to honor "Heroes of Chemistry."

The 2012 honorees include a group of scientists who developed the hepatitis C drug Victrelis, while working at Schering Plough and then Merck after it acquired Schering Plough in 2009.

Merck researchers in North Wales and Kenilworth, N.J., were among the hundreds who worked on the drug, which doctors hoped would be an improvement on a two-drug cocktail that had been used for more than a decade.