Archive: May, 2013
David Sell

, Staff Writer

Sun Pharmaceutical Industries Ltd., one of India's largest drug makers, said its newly-acquired URL Pharma of Philadelphia helped Sun increase sales in the United States, according to its quarterly and fiscal full-year earnings released earlier this week.

Meanwhile, the Wall Street Journal reported Friday morning that Sun is in talks to buy Swedish drugmaker Meda AB. A link to the Journal story is here.

Sun Pharma is based in Mumbai. It's main U.S. generic subsidiary is Caraco Pharmaceuticals, which is based in Detroit. Sun also has a facility in Cranbury, N.J.
David Sell

, Staff Writer

PhillyPharma is now available on Inquirer.com. The promo code for signing in is B17B and we'd love to have you sign up. Thanks.
David Sell

, Staff Writer

AstraZeneca said Tuesday morning it agreed to pay as much as $443 million for Princeton-based Omthera Pharmaceuticals, which is close to being able to sell new treatment called Epanova for dyslipidemia, which is a lipid disorder with a heightened level of serum triglycerides that can contribute to heart disease.

AstraZeneca is based in the United Kingdom, but has about 2,000 employees at facilities in Wilmington and Newark, Del.

The drugmaker is searching for new medicine that will help compensate for revenue declines in other drugs that lost patent protection and exclusivity and now face generic compensation.
David Sell

, Staff Writer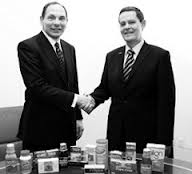 The two chief executive officers who engineered the joint venture between Teva Pharmaceuticals and Procter & Gamble are now gone, only slightly more than two years after the deal was announced.
The joint venture, called PGT Healthcare, seems to be working well enough for each company to focus on other challenges, but leadership changes can mean once-heralded plans and practices fall out of favor.
Teva said at the end of the first quarter that its revenues related to the joint venture amounted to $240 million, an increase of 47%, compared to $163 million in the first quarter of 2012.
David Sell

, Staff Writer

Many taxpayers expect the government to plan for every contingency, so perhaps it makes sense to have the Biomedical Advanced Research and Development Authority - and then have it plan to develop medicine in case of a nuclear attack.

(This, of course, assumes we're not all vaporized.)

That really is part of the official mission of BARDA, which is within the Department of Health and Human Services. BARDA announced a $200 million agreement with GlaxoSmithKline on Wednesday. The goal of the agreement is to develop new antibiotics that help with infections, whether they occur in an otherwise normal visits to a hospital......or in a nuclear, chemical or biological terrorist attack.
David Sell

, Staff Writer
Apple chief executive Tim Cook spent two hours before a Senate committee Tuesday defending how the computer device maker uses subsidiaries to shelter billions of dollars in cash offshore to avoid paying taxes.
Pharmaceutical companies, including the biggest multi-nationals such as Pfizer, Merck and Johnson & Johnson, use similar tactics. That was particularly evident Monday, when drugmaker Actavis announced it would spend $5 billion in stock to buy Warner Chilcutt, Plc.
Actavis bought Warner Chilcutt in part because it is "domiciled" or registered in Ireland which has low corporate taxes. (Ireland has other economic problems, but we'll leave that for others today.) But the main offices of both companies are in North Jersey and Actavis will continue to operate from Parsippany.
David Sell

, Staff Writer
You think you got money problems?
Get in line.
Gary Gibbons graduated from, and worked at, very fancy schools and medical facilities, but he understands that some folks in America face different challenges because the places they live in are challenging. It doesn't relieve anyone of personal responsibility, but there are different challenges.
David Sell

, Staff Writer

Pennsylvania Sen. Bob Casey says he spends a lot of time pushing for funding of the National Institutes of Health because it translates into jobs in Philadelphia and other parts of this region.

"There is bipartisan consensus, less so on financial levels, but we're not as far apart as we are on other issues," Casey said in a meeting Friday with Inquirer reporters and editors. "I focus on [NIH funding] for a couple reasons. No. 1 is because this region of the country has made great progress but also there is no region more at risk than Southeastern Pennsylvania because of the dollars the state gets."

A Scranton Democrat, Casey said breakthroughs in medical and life sciences research happened in Philadelphia and the surrounding area because of expertise, but also because NIH funding helps pay for the expertise.