Archive: April, 2013
David Sell
The U.S. Supreme Court justices are scheduled to have one of their regular conferences to consider what cases they will decide to hear in full and one of the possibilities pits drugmaker GlaxoSmithKline against health insurer Humana.
The case is GlaxoSmithKline v. Humana Medical Plans, Inc., 12-690.
The gist of the case is disagreement over whether Medicare laws allow private insurance companies to sue a provider of care (GSK in this instance) for double damages in certain situations when the patient is a Medicare beneficiary using a Medicare Advantage health plan.
David Sell
The U.S. Food and Drug Administration posted a notice on the federal register that it will hold a joint meeting of two advisory committees on June 5-6 for discussion of results of a new and "independent" review of a previous clinical trial that GlaxoSmithKline did for its troubled type 2 diabetes drug Avandia. The original trials helped GSK gain approval for the drug.
As the Wall Street Journal noted on its web site earlier Friday, Avandia (rosiglitazone maleate) once had $3 billion in sales, but reports of side effects related to the heart caused sales to decline.
GSK paid penalties of $3 billion and pleaded guilty to three criminal charges in 2012. One of the criminal charges stemmed from allegations by federal prosecutors that GSK failed to relay safety data to the FDA from 2001 through 2007 about Avandia.
David Sell
Michael Wolf was named secretary of the Pennsylvania health department by Gov. Corbett on Monday, as Inquirer colleague Amy Worden wrote the other day. A link is here.
Wolf spent more than five years with Pfizer, Inc., the world's largest pharmaceutical company by revenue. Pfizer's headquarters is in Manhattan, but it has a big operation in Collegeville.
From March 2006 through May 2011, Wolf was director of public affairs and policy. Such positions often involve, directly or indirectly, urging government officials to pass rules or laws that help the company.
David Sell
GlaxoSmithKline chief executive officer Andrew Witty said in an interview with The Inquirer that leaders must decide whether to use their positions for more than generating cash for the corporation, that the drugmaker is producing more with less square footage of facilities and that he wants GSK to hire people with heart, opinions and skills to lead in the right way.
Witty shared those thoughts during his recent visit to GSK's new building at the Philadelphia Navy Yard.
Some of Witty's comments on the building and why the company still finds Philadelphia important were in an Inquirer story published on March 27. A link is here.
David Sell
Countries sometimes do things differently from other countries or gain reputations for doing certain things well or poorly.
But within a country, within the same federal government, does it make sense to do things differently among departments or programs that are providing essentially the same service?
To that point, does it make any sense that Medicare, Medicaid, the Department of Veterans Affairs and the Department of Defense (whose Tricare health plan costs big bucks) buy pharmaceuticals and negotiate the prices in different ways?
David Sell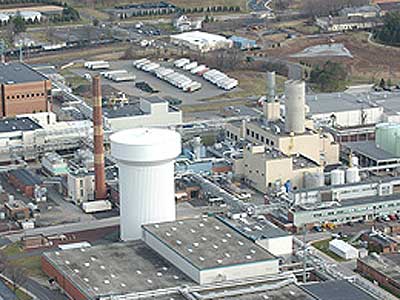 Princeton, N.J. - Merck & Co., chief executive officer Ken Frazier told The Inquirer that the drugmaker's facility in the Philadelphia suburb of West Point, Montgomery County, is in no danger of being closed now.
Merck is among the many pharmaceutical companies that have announced in recent months plans to close or consolidate facilities in hopes of squeezing more efficiency out of their operations to increase profits or decrease losses. Some, but not all, of those decisions involved laying off employees.
Is West Point safe?
David Sell
The Inquirer's architecture critic, Inga Saffron, toured and reviewed GlaxoSmithKline's new building at the Philadelphia Navy Yard.
A link to Inga's story in Friday's Inquirer is here.
The drugmaker's Center City employees have moved from their previous location at Franklin Plaza to the new facility.
David Sell
Healthcare and pharmaceutical companies continued to shed jobs in March and the rest of the first quarter of 2013, according to the latest employment report released Thursday morning by Challenger, Gray & Christmas.
Challenger defines and tracks 28 different sectors, with "healthcare/products" and "pharmaceuticals" being separate sectors. Government jobs are also a separate category, and some of those involve healthcare.
The healthcare sector had the third highest number of job cuts through the first three months of 2013, with 11,713 people leaving jobs versus 6,880 in the same period of 2012. The only two sectors with higher job losses were the financial and retail sectors. In shorter term, 6,349 people lost healthcare jobs in March versus 2,754 in February. The report said companies in March announced plans to hire 1588 people.