Archive: March, 2013
David Sell
British-based drugmaker AstraZeneca said Monday morning it would cut 1200 job from its facility in Wilmington and move research and development functions to a facility in Gaithersburg, Md.
The company said research and development, global marketing and specialty care positions will be moved or cut from Wilmington in a process that will run through.
The newer Gaithersburg facility was inherited when AstraZeneca bought MedImmune for $15.6 billion in 2007 and it will be one of three worldwide research centers for the company. The other two will be in the United Kingdom and Sweden.
David Sell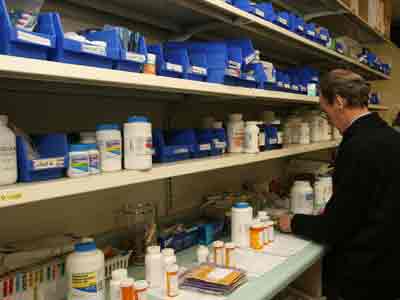 New Jersey-based compounding pharmacy Med Prep Consulting Inc., announced that a "nationwide recall of all lots of all compounded products due to potential mold contamination."
The company is located in Tinton Falls, Monmouth County.
There was no word of the recall via a search of the company web site.
David Sell
GlaxoSmithKline chief executive officer Andrew Witty said Thursday the pharmaceutical industry's common estimate of $1 billion in average cost to develop a drug is a "myth," according to Reuters.
The drug industry, and its supporters, often cite the $1 billion price tag - and lately, we've heard $1.3 billion - to counter complaints that drugs cost too much and that insurers - government and private alike - shouldn't reduce payments for such medicine.
Witty spoke at a healthcare conference in London, where Glaxo is based. The company has thousands of employees and several facilities in the Philadelphia region.
David Sell
Pennsylvania Bio, a state-based trade organization representing the life sciences industry, gave out awards at its annual dinner the other night at the Philadelphia Convention Center.
PA Bio President Christopher Molineaux and Gov. Corbett spoke to the crowd of about 1,000.
The 2013 award winners are:
David Sell
In the continuing search for the fountain of youth, the U.S. Food and Drug Administration is proposing to loosen the rules for approving drugs to fight Alzheimer's disease.
In February, the FDA issued new draft guidelines that the agency posted on its web site and in the federal register, while encouraging comment. The paper is entitled, "Guidance for Industry Alzheimer's Disease: Developing Drugs for the Treatment of Early Stage Disease," and a link is here.
An article posted Wednesday evening on the New England Journal of Medicine (link) further explained the agency's willingness to change the rules regarding how and when drug companies must measure cognition and function. Generally, the standards for clinical testing are safety and efficacy.
David Sell
Philadelphia native and Merck chief executive officer Ken Frazier, who serves on the Penn State board of trustees, said Thursday that the report on the Jerry Sandusky investigation from family of late football Joe Paterno brought forward "no new facts."
The Associated Press report says that Frazier, who led the board's task force formed to investigate the Sandusky matter, spoke at a meeting of the university's legal and compliance committee at the board's two-day meeting in Hershey.
Frazier got to be CEO in part because he was credited with devising Merck's legal strategy in fighting lawsuits over the company's Vioxx drug.
David Sell
Former Johnson & Johnson chief Bill Weldon will get $29.8 million for 2012, according to documents filed by the company with the Securities and Exchange Commission.
The health-care giant published its 2012 annual report Wednesday and filed a proxy statement with the SEC. A link to the SEC filing is here.
J&J sells prescription medicine, medical devices and over-the-counter medicine. It is based in New Brunswick, N.J., and has operations around Philadelphia.
David Sell
GlaxoSmithKline's announcement of reshuffling of its research and development people and facilities impacted employees at facilities in Philadelphia suburbs of Upper Merion and Upper Providence, but it also involved the closing of its red wine unit in Cambridge, Mass.
Red wine?
Sirtris Pharmaceuticals is the biotech company that Glaxo bought in 2008 for $720 million. But Glaxo said it would close that unit and move some - but not all - of the 60 employees to Upper Providence.