Archive: March, 2013
David Sell
PhillyPharma is on furlough this week. We're planning to rejoin the conversation during the week of April 1 (no kidding).
Be well.
David Sell
AstraZeneca, which had two announcements this week about staff cuts, also tried to spread a little pharmaceutical sunshine with an investor day in New York.
"There were no major surprises or sudden solutions – which we weren't expecting anyway – suggesting a long, slow crawl out from beneath a host of past problems," Bernstein Research analyst Tim Anderson wrote in a note to clients. "Many of the proposed solutions appear reasonable (and in-line with expectations) yet some of them will probably be viewed by investors with a measure of caution and skepticism.
"On balance, we continue to think AZN is likely "at the bottom" and that the dividend is safe (current yield ~6%). This makes it tempting given low investor expectations and AZN's low relative valuation. The downside is that the stock stays at the bottom for a prolonged period because solutions like these generally play out only slowly, and that investors only earn their ~6% during this period of gradual rebuilding. Furthermore, earnings will very likely continue to go down for a number of years before they go up again."
David Sell
Teva doesn't want its drugs used to kill people
It sounds logical enough.
Bloomberg News reported that Teva Pharmaceutical Industries Ltd., plans to carefully control distribution of the anesthetic propofol to prevent the drug from being used in executions of U.S. prisoners, according to a London-based human rights group called Reprieve.
David Sell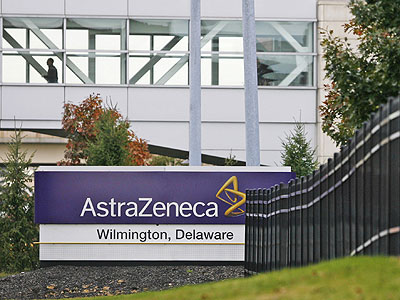 Drugmaker AstraZeneca, which announced big job cuts in research and development Monday, said Thursday morning that it was in the process of laying off 2300 more people from sales and administrative departments over the next three years throughout its worldwide operation.
AstraZeneca has facilities in Wilmington and Newark, Del., but a spokesman declined to specify the local impact.
The company spokesman said the majority of the 2,300 people impacted have been notified or soon will be and those people are largely in sales in Europe. The rest of the 2300 cuts will be determined over the next three years and the company had not determined the department or locations to be reduced.
David Sell
It sounds logical enough.
Pharmaceutical companies always say they are in the business of helping patients, so it's easy to understand Teva Pharmaceuticals' concern about the public relations aspect of one of its drugs being used by prison officials for the sake of capital punishment.
Teva is based in Israel, so there might be even greater historical concern.
David Sell
You are my partner. You are my competitor.
The way healthcare and medicine is made and delivered has changed quickly in the last few years and Tuesday's announcement of a collaboration between wholesaler AmerisourceBergen and retail pharmacy giant Walgreens adds another element.
Doctors have sold practices to join hospital companies.
David Sell
WASHINGTON - The Supreme Court justices questioned, discussed and debated Tuesday morning about whether a Philadelphia drug company, Mutual Pharmaceutical Co., was liable for injuries suffered by a New Hampshire woman who took the company's generic painkiller sulindac in 2004 and suffered horrific injuries.
"No warning label would have made a difference," attorney David Frederick argued on behalf of Karen Bartlett, who had a rare reaction to the medication in which her skin essentially sloughed off and she was left mostly blind. A federal jury awarded her $21 million in a case originally filed in state court.
Much of the debate was about when and whether federal law trumps state law and, specifically, whether a generic drug company can be sued in state courts over alleged design flaws in a drug.
David Sell
The Supreme Court will hear oral arguments Tuesday morning in the case of Mutual Pharmaceuticals v. Bartlett. Besides involving what until last year was a Philadelphia-based company, the case is about when and whether federal law trumps state law and, specifically, whether a generic drug company can be sued in state courts over alleged design flaws in a drug.
Besides its own litigation trail, the case has a cousin, of sorts. For pharma legal eagles and Supreme Court watchers (you know who you are), Pliva v. Mensing offered a glimpse of what might occur in Mutual Pharmaceutical v. Bartlett.
A link to Tuesday's Inquirer story on Mutual Pharmaceutical v. Bartlett is here.