Archive: June, 2012
David Sell

, Staff Writer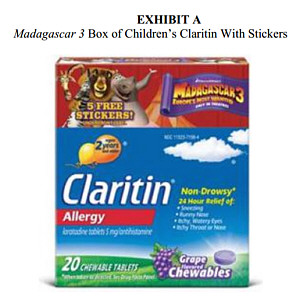 Merck is now atop the pharmaceutical most-wanted list of at least one public advocacy group.
The Public Health Advocacy Institute at Northeastern University School of Law in Boston, joined by 10 other organizations, complained in a letter to the U.S. Federal Trade Commission that Merck should not be allowed to use characters from the children's movie "Madagascar 3: Europe's Most Wanted," to promote its children's allergy medicine.
Merck licensed the images from Dreamworks Animation, which produced the movie, and is using them to market Grape-Flavored Chewable Children's Claritin and grape-flavored syrup, both of which are available as over-the-counter products.
David Sell

, Staff Writer

Walgreen's announcement that it was expanding to Europe with a $6.7 billion, two-part purchase of Alliance Boots prompted a bit of scorn on Wall Street Tuesday, but aside from the opinions on the deal terms, it could have some impact on pharmaceutical sales.

Based in Deerfield, Ill., Walgreen is the largest drug store chain in the United States and it hopes the purchase of Alliance Boots will help it sell more drugs and shampoo and anything else in Europe and beyond.

Walgreen figures being larger and more worldly will give it more power to negotiate with suppliers, including drug companies. As insurers, private or governmental, demand lower prices, middlemen like drug stores are looking for different ways to get or keep or increase their share of the market.
David Sell

, Staff Writer

The Supreme Court spared pharmaceutical companies a big expense in its Monday ruling against former sales representatives for GlaxoSmithKline, who sued to get paid for overtime. The reps worked for GSK's predecessor, SmithKline Beecham, but GSK inherited the litigation.

"The numbers would have been gigantic," said University of Michigan business professor Erik Gordon, who keeps track of the pharmaceutical industry. "It saves companies from writing some very big checks."

Michael Christopher and Frank Buchanan were the plaintiffs in the case, having been hired as pharmaceutical sales representatives in 2003, but they sought class-action status and estimates suggested the group could have included more than 90,000 reps.
David Sell

, Staff Writer

Merck and the Geisinger Health System, which is based in Danville, Pa., and often cited as one of the most innovative in the country, Monday morning announced an agreement to collaborate in ways to improve patient health outcomes.

The particulars about financial contributions and possible rewards for the two companies were not included in the announcement.

Mark Timney, Merck's president of global human health for the U.S. market, said in an interview that Merck would contribute "millions" of dollars in employee time and energy, but not product, meaning Geisinger doctors won't be obligated to write prescriptions for Merck drugs ahead of competitors.
David Sell

, Staff Writer

The American Medical Association gathers in Chicago Saturday for its annual convention and its House of Delegates will consider an advisory committee report that suggests the doctors group urge the U.S. Food Administration to increase notification requirements for pharmaceutical manufacturers about impending drug shortages.

The advisory committee report recommends an addition to AMA policy that calls for a specific time frame requirement for early warnings on drug shortages, and asks the AMA to call for a comprehensive federal report that discusses the root causes of drug shortages, according to a spokesman.

The recommendation would need to be approved by delegates sometime between June 18-20.
David Sell

, Staff Writer

Acting Assistant Attorney General Stuart F. Delery told lawyers at the American Bar Association's ninth National Institute on the Civil False Claims Act and Qui Tam Enforcement that health-care prosecutions have worked for taxpayers.

"Since January 2009, the Civil Division, working with our partners in the U.S. Attorney offices, has recovered over $11.1 billion under the False Claims Act," Delery told the group last week, according to text of his speech. "Of this amount, more than $7.4 billion was recovered in health care fraud matters, with the largest recoveries coming from the pharmaceutical and medical device industries. These are historic figures."

Qui tam is the abbreviated Latin phrase that translates, in practical terms, to whistle-blowers speaking up about what they perceive as malfeasance.
David Sell

, Staff Writer

Teva Pharmaceuticals and the Philadelphia Eagles combined to spend $100,000 to reward community leaders and their non-profit groups for efforts to serve people in their areas.

The 2012 Eagles Community Quarterback Award will be given out Wednesday evening at an event at Lincoln Financial Field.

The grand prize winner will receive $50,000 toward their non-profit organization. The second and third place winners will each receive $11,000, and each of the other seven finalists will be awarded $4,000.
David Sell

, Staff Writer

Omnicare, Inc., which manages pharmacies in nursing homes and other facilities in all 50 states, changed its chief executive officer Monday in the midst of a turbulent stretch.

John Figueroa resigned as CEO after only 18 months on the job and the company said in a statement that the board of directors appointed president and chief financial officer John L. Workman as interim CEO, effective immediately.

Reports from Wall Street suggest investors were surprised.