Archive: February, 2012
David Sell

, Staff Writer

The 18th annual Wharton Health Care Business Conference last week at the Hyatt at the Bellevue on South Broad had the usual high concentration of smart folks in one semi-confined space. However, there were as many questions as answers in several of the panel discussions because most topics eventually got to that troubling issue of who will pay for all of the health care that Americans expect and companies expect to profit from.

Alzheimer's disease will only add to the costs as the U.S. population ages. The other chronic diseases - diabetes, heart and lung ailments - are massive problems unto themselves. When Alzheimer's is added to the mix, the cost and strain on caregivers - often unpaid family members - increases.

The keynote speech on Thursday was delivered by former Pennsylvania Congressman Jim Greenwood, now chief executive officer of the Biotechnology Industry Organization (BIO) in Washington, D.C., which represents more than 1,200 biotechnology companies, academic institutions, state biotechnology centers and related organizations across the United States and in more than 30 other nations.
David Sell

, Staff Writer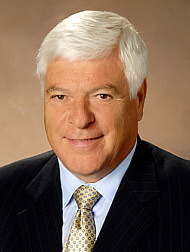 Johnson & Johnson chief executive officer Bill Weldon, 63, will retire in April, after a string of recalls that have embarrassed the health-care giant in recent years.
Alex Gorsky, 51, one of two holding the title of vice chairman, will succeed Weldon at the company's annual meeting in April. Gorsky edged out fellow vice chairman Sheri McCoy for the top spot.
The announcement came after a board of directors meeting on Tuesday.
David Sell

, Staff Writer

Pfizer, which is based in Manhattan but has units in the Philadelphia area, said last year it would explore options for its animal health unit and the group that makes infant nutrition products.

The hope was to then concentrate attention on the core pharmaceutical business.

There is some basic logic in that, though the logic gets squishier when those units continually are among the most profitable within the company.
David Sell

, Staff Writer

Health and Human Service Secretary Kathleen Sebelius chaired a panel discussion Thursday afternoon at the African American Museum and the focus was the difficulty some women, especially African American women, have in accessing affordable health insurance.

Several told of the struggle they endured and then Dolores McCabe, the retired pastor at Millcreek Baptist Church, asked Sebelius what she and administration could do about the high price of medicine.

McCabe, who uses an asthma inhaler, noted that she was old enough to remember the price controls imposed by President Nixon.
David Sell

, Staff Writer

Synthes, Inc., the medical device manufacturer with operations in Chester County, reported that it increased profit by 6.5 percent in 2011 compared to 2010.

The company stock is traded on the Swiss stock exchange and its earnings announcement was released before markets opened in Europe.

In 2010, Synthes' chairman and major shareholder Hansjorg Wyss and company leaders solicited bids to buy the company and in April 2011, Johnson & Johnson announced that it would pay $21.3 billion for Synthes in hopes of strengthening its presence in market for fixing broken bones.
David Sell

, Staff Writer

Without actually saying "Iran," Teva Pharmaceuticals chief executive officer Shlomo Yanai said Wednesday that the Israel-based company was prepared as best as possible to deal with potential manufacturing disruptions if Israel is attacked by Iran or its allies.

Tensions have risen in recent weeks over Iran's nuclear program and whether Israel might launch a military strike to disable the program before Iran can make a weapon. The assumption is that Iran and its allies would attack Israel in retaliation.

During Wednesday morning's conference call to discuss 2011 earnings, Yanai was asked by an investment analyst about the percentage of Teva's manufacturing operation in Israel and Yanai responded by saying he assumed the question related to "contingencies or emergency or regional issues."
David Sell

, Staff Writer

Teva Pharmaceuticals reported increases in non-GAAP profit and revenue for all of 2011 and the fourth quarter, but the results were skewed for comparison purposes by the acquisition of Cephalon and the company faced challenges in the U.S. generics market.

Teva bought Cephalon for $6.8 billion, with the sale closing in October 2011.

Teva said it had $18.3 billion in GAAP net revenue for all of 2011, vs. $16.1 billion in 2010.
David Sell

, Staff Writer

Coming out of 2011, GlaxoSmithKline hopes that it turned a corner, with leaders saying they hope several years of changes will result in higher and more consistent profits, but also a bit more civic good.

"We want to have the right people, acting the right way with the right set of values," North American pharmaceutical president Deirdre Connelly said from the company's Center City Philadelphia office. "When you do that, you evolve a culture that is expected by society."

An Inquirer story on GSK and its impending move from Center City to the Navy Yard is Tuesday's paper, with a link here.