Archive: October, 2012
David Sell

, Staff Writer

AstraZeneca, which is based in the United Kingdom but has a big operation in Wilmington, said its third-quarter profit dropped more than 50 percent, indicating the challenge ahead for new chief executive officer Pascal Soriot.

"We are facing patent challenges for some products, but we have growth platforms," Soriot said in a conference call.

Soriot departed Roche and stepped into his new job on Oct. 1. He has said he will explain his grand plan for the company in the coming months.
David Sell

, Staff Writer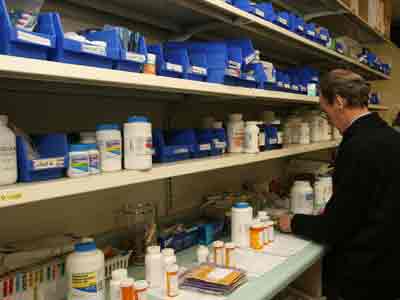 When you have "leaking boiler" and "clean room" in the same sentence in a report about making medicine, it's usually problematic.
The Massachusetts Department of Public Health issued a preliminary report Tuesday evening about its investigation of the New England Compounding Center, a now-closed compounding pharmacy near Boston thought to have been the source of a fungal meningitis outbreak that has spread to 17 states. As of Wednesday afternoon, the Centers for Disease Control and Prevention web site said 24 people have died.
Compounding pharmacies are only supposed to make new potions based on a prescription from a doctor. NECC was making medicine in big batches and shipped 17,676 vials around the country, including to facilities in Pennsylvania, New Jersey and Delaware.
David Sell

, Staff Writer

The November issue of the business magazine Fast Company has a couple of interesting stories and items about new approaches to health care, especially where technology meets medicine. The link to the main page for that issue is here.

The encouraging thing for a nation (ours) that spends 17-plus percent of GDP on health care and gets mediocre results systematically compared to other nations in the OECD (Sunday's Inquirer story is here) is that smart, ambitious people are still gravitating to the space in hopes of slaying the beast. Or at least finding a lower co-pay on a drug.

Anyway, as an introduction, we'll borrow from the Fast Company online blurb:
David Sell

, Staff Writer

The Centers for Disease Control and Prevention said there have been 23 deaths nationally in the fungal meningitis outbreak, which authorities suspect is attributable to a compounding pharmacy in Massachusetts.

The CDC web site said Monday morning that it has 285 cases, with 16 in New Jersey and one in Pennsylvania.

The most of the problems related to a steroid injected into people's backs to deal with pain.
David Sell

, Staff Writer

We'll end the week by noting, albeit belatedly, that there are moments of peace and harmony between corporations and environmental groups.

Yes, it's just one piece.

Yes, pharmaceutical companies have, on occasion, been criticized for the run off of chemicals from their plants.
David Sell

, Staff Writer

Philly-born and Harvard-trained, Andrew Weil drew repeated applause Wednesday afternoon when he launched the American Academy of Family Physician's 2012 convention by telling fellow doctors that they could help Americans most by starting a grass-roots effort to ban sugary drinks, pharmaceutical advertising and break up the medical industrial complex.

"We don't have a health-care system, we have a disease management system," Weil told the group, which is meeting at the Philadelphia Convention Center through Saturday.

Weil, 70, has become well-known in the health-care community for his advocacy of integrated medicine, meaning a mix of conventional medicine, natural remedies, yoga and novel concepts like regular exercise and healthy eating.
David Sell

, Staff Writer

Twenty eight percent of Medicare Advantage (MA) plans and 49 percent of stand-alone Part D plans (PDPs) improved their star ratings from 2012 to 2013, according to an analysis by Avalere Health of data released Centers for Medicare & Medicaid Services' (CMS).

"This is good news for Medicare beneficiaries," Bonnie Washington, Avalere senior vice president, said in a statement. "In 2013, beneficiaries will be able to choose from a greater number of high-quality plans that best meet their health care needs."

Avalere said that of the 419 Medicare Advantage plan contracts that received star ratings in both 2012 and 2013, 119 improved their star ratings in 2013. The study said that 50 Medicare Advantage plan contracts had lower ratings in 2013 as compared to 2012. For prescription drug plans, of the 59 PDP contracts that received ratings in both 2012 and 2013, 29 improved their star ratings while six saw a decline.
David Sell

, Staff Writer

Three doctors from Memorial Sloan-Kettering Cancer Center in New York wrote an op-ed piece in Monday's New York Times that illustrated some of why selling pharmaceuticals in America is not quite like selling soap or cars or most other things.

The link to the story is here.

Peter B. Bach, Leonard B. Saltz and Robert E. Wittes explained that they chose one colorectal cancer drug over another because of price.