Johnson & Johnson chief executive officer Bill Weldon, 63, will retire in April, after a string of recalls that have embarrassed the health-care giant in recent years.
Alex Gorsky, 51, one of two holding the title of vice chairman, will succeed Weldon at the company's annual meeting in April. Gorsky edged out fellow vice chairman Sheri McCoy for the top spot.
The announcement came after a board of directors meeting on Tuesday.
J&J's McNeil Consumer Healthcare Division, which has its headquarters in Fort Washington, announced on Friday that it had to recall nearly 600,000 bottle of Infants' Tylenol because a newly-designed syringe-based dispensing system had malfunctioned for some parents.
That was the latest in dozens of recalls in the last few years.
Production of medicine at the Fort Washington plant was halted in April 2010 after numerous problems, including musty smelling medicine and metal particles in some products. The company said it spent $100 million on renovations, but it will need approval of a federal judge and the U.S. Food and Drug Administration before it can resume sending over-the-counter medicine to consumers.
Former plant workers told The Inquirer in October that Weldon was among those responsible because he and his appointees added to the workload after acquiring products from Pfizer, but drove out experienced managers.
Weldon, who made $28 million in salary and bonuses in 2010, was vague when asked in January of this year how long he would stay or who would succeed him.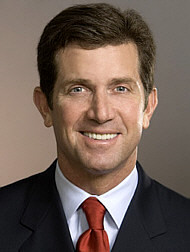 Johnson & Johnson Vice Chairman Alex Gorsky
"I'm doing my job, I've got a job to do and I can't comment on that," Weldon said when asked about a succession plan. "There will be a point in time when I'm ready to leave and the board will feel I'm ready to leave and I'll let you know."
That point came Tuesday, though Weldon will stay as chairman of the board, at least for now.
"Our success at developing outstanding leaders from within is reflected in the selection of Alex to lead our great company forward," Weldon said in a company statement. "Alex and Sheri are two extraordinary leaders. The future of Johnson & Johnson is in very capable hands."
Gorsky graduated from the U.S. Military Academy and later got an MBA at Wharton. A filing with the Securities and Exchange Commission said Gorsky will earn $1.2 million in salary, but the bonuses will bring more.
"I'm honored that the board has placed such confidence in me, and I am also aware of the serious responsibilities that come with this office," Gorsky said in a statement. "Johnson & Johnson is a strong and extraordinary company with enormous opportunities to advance health and well being. I look forward to working with the best employees in the world to achieve future success the way we always have - through unwavering commitment to the principles of our credo."