Layla A. Jones
Bentley, a Great Dane that lives in Throop, Pennsylvania, may be the world's biggest dog, says owner Bob Magliocchi.
The 5-year-old dog is 38 inches tall from paw to shoulder and weighs 228 pounds. He eats about 30 pounds of dog food a week, with human food and treats as well, Magliocchi told WNEP-TV.
According to the Guinness Book of World Records, the tallest dog ever was Great Dane from Michigan named Zeus. At 44 inches from paw to withers, Zeus passed away late last year at the age of five. Zeus set the record in 2011.
Layla A. Jones
In August, Jon Stewart announced he was taking his comments from the television to the farm, with plans to open an animal sanctuary for farm rescues. The dreams of Stewart and his wife, Tracey McShane, have come to fruition, and the couple has successfully turned their 12-acre Middletown, New Jersey farm into a Farm Sanctuary animal rescue.
McShane, a Philly native, runs a vegan lifestyle magazine called Moomah Magazine. On the magazine's Facebook page, she wrote, "Somebody pinch me! Last night I was able to announce that our farm will become part of Farm Sanctuary."
Stewart and McShane's rescue facility will be the fourth for Farm Sanctuary, which operates other rescue centers in California and New York. The opening date for Stewart's New Jersey location has yet to be announced, but it will eventually be open for tours.
Layla A. Jones
Even though yesterday was National Dog Day, Uber wants to spread more puppy love in Philadelphia. Today, Thursday, Aug. 27 from 11 a.m. until 3 p.m., the ridesharing service, in collaboration with the PSPCA, will be delivering puppies to offices around the city for 15-minute play dates.
UberPUPPIES is here. Today you can request on-demand playdates w/pawsitively adorable puppies! http://t.co/97gjksuQYo pic.twitter.com/lPsDn1zDSV

— Uber Philly (@Uber_Philly) August 27, 2015
Office locations in Center City, Northern Liberties, Fishtown and the Navy Yard can score some puppies for $20 with all proceeds benefiting the PSPCA. To schedule a puppy play date, request the PUPPIES option on the Uber app during the four-hour time span.
Layla A. Jones
Two sea lion pups were born to two separate first-time mothers at Six Flags Great Adventure theme park in Jackson, N.J. Piper was born on June 5 to mother Dichali and Ridley, named after an endangered turtle species at the park, was born June 18 to mom Ella.
Already, the sea lion pups have begun to express their own personalities.
"She has no qualms about sassing the trainers or her mother through vocalizations," Jessica Peranteau, senior supervisor of animal training, said about Piper. "She is exploring her independence at an early age," Peranteau said of the 2-month-old.
Ridley weighed just 15 pounds when she was born. She earned her turtle-themed name because of her non-traditional side-to-side flipper movement and early swimming proficiency.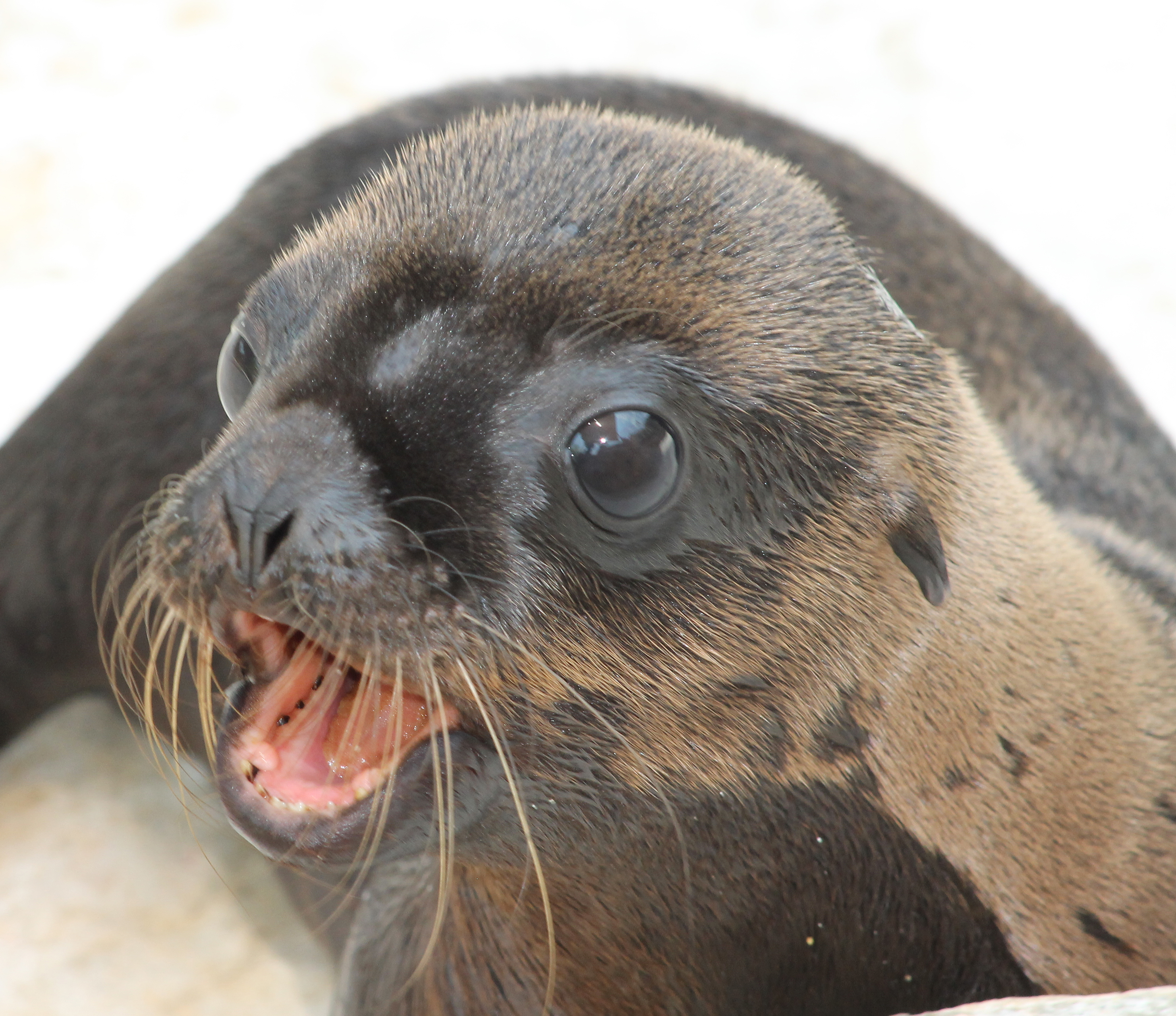 Ridley, born June 18.
The new pups and their mothers can be seen at the SeaFari Theater in the Golden Kingdom section of Jersey's Six Flags theme park.
Layla A. Jones
As part of the Clear the Shelters Day initiative by NBCUniversal-owned TV stations, about 30 area pet shelters in Philly and surrounding counties, New Jersey and Delaware will reduce or waive adoption or spaying and neutering fees to encourage animal adoption.
Clear the Shelters Day will take place on Saturday, Aug. 15, with over 300 animal shelters in 19 NBC markets taking place. Philadelphia's efforts are being sponsored by NBC10 and Telemundo62. Before and after the pet-adoption drive, local stations will air special pet-related shows.
"Many people don't realize that there are so many loving and adoptable animals in shelters and rescue groups throughout our region," Ric Harris, president and GM of NBC10 and Telemundo said on the NBC10 website.
petMD Staff
I have noticed in my 32 years of veterinary practice that large breed dogs, especially German Shepherds, have larger and more frequent watery stools and digestive problems with commercial dog food. Owners and their veterinarians often observe the same problem. As it turns out there are anatomical and physiological reasons for this: The digestive tract of large dogs functions differently than smaller dogs, creating this problem.
Veterinary researchers from France presented their findings during a lecture I attended at the American College of Veterinary Internal Medicine Symposium in Indianapolis, Indiana recently.
What are These Digestive Differences?
The weight of the intestines in large dogs is only 3 percent of their body weight compared to 7 percent in smaller breeds. This means there is less intestinal area for digestion and absorption of the nutrients in the diet.
The time that food spends in the colon is longer for large breed dogs. That means that the colon bacteria have longer to ferment food products. This increases by-products that promote more water in the colon, causing more watery, frequent stools.
What Are the Solutions to These Digestive Differences?
More non-fermentable fiber in the diet. The guaranteed analysis on the label of dog food lists the total crude fiber, which really is not an indication of the fiber in the diet. Fiber can be divided into two major types. The first is indigestible or digestible fiber. As their names imply, indigestible fiber adds bulk to the diet and stool and passes with the stool. Digestible fiber can be used by the cells of the colon lining and are divided into two classes, fermentable fiber and non-fermentable fiber.
Bacteria in the colon use fermentable fiber as food to produce fats and lactic acid, which causes the intestinal contents to react like a sponge and draw water into the colon. By decreasing the amount of fermentable fiber in the diet, there is less water in the colon and large dogs have a more firm, formed stool.
petMD Staff
Boulder Dog Food Company, L.L.C., recalled ten 3-ounce-bags of Chicken Sprinkles dog treats due to a positive test for Salmonella contamination
This recall is limited to Chicken Sprinkles treats with a best by date of 05/04/16, lot number 998 and a UPC Code of 899883001231. The product is in a clear plastic bag, and the UPC Code is located in the lower right hand corner of the product label on the front of the bag. The best by date and lot lumber are on a label on the reverse side of the bag.
The recall is a result of a routine sampling program by the Colorado Department of Agriculture which revealed a positive test for Salmonella in one package of Chicken Sprinkles.
petMD Staff
Tara the Cat Recognized for Courage in the Face of Danger
It's never a surprise when a dog wins the award for pet hero of the year; dogs are well known for jumping into action in times of crisis and saving their owners from injury, or even death. Cats… not so much. While canine history has hundreds of dogs to represent bravery and heroism, cats have only a handful.
So when the Society for the Prevention of Cruelty to Animals (SPCA) Los Angeles announced their choice from the nominations for the most heroic dog of 2014, it came as a big surprise that the title was awarded to a cat.