Archive: July, 2011
Mike Armstrong

, Inquirer Columnist

More job cuts are planned for Merck & Co.

The Whitehouse Station, N.J.-based pharmaceutical company said that it plans to slash 12 percent to 13 percent of its jobs by 2015. The AP calculates that would amount to 10,920 to 11,830 of the current 91,000-member workforce. The AP calculates that would amount to 12,000 to 13,000 more job cuts.

It's not clear what impact the cuts could have on Merck's enormous complex in West Point, Montgomery County, where it employs 12,000 people.
Mike Armstrong

, Inquirer Columnist

We're deep into earnings season and corporations have been reporting generally healthy top and bottom lines for the quarter ended June 30.

But even financial analysts, who are primarily concerned with things such as market share and capital expenditures, have been looking up from their spreadsheets to ask CEOs about the debt-ceiling tragicomedy playing out in Washington.

On Universal Health Services Inc.'s conference call Thursday, CEO Alan B. Miller was asked how he thought the stand-off over raising the nation's $14 trillion debt limit would end.
Mike Armstrong

, Inquirer Columnist

DuPont raised its earnings guidance for the rest of 2011 to $3.90 to $4.50 (excluding items) from $3.65 to $3.85. The Wilmington chemical giant reports strong sales for its biotech seeds and paint pigment. Q2 earnings per share of $1.37 were up 17 percent compared with $1.17 per share last year.

Revenues for DuPont climbed to $10.5B from $9.1B for the 2d qtr. of 2010. The company says it will now report results with two new business segments: Industrial Biosciecnes (following its acquisition of Danisco) and Nutrition & Health (which was broken out from its previous Agriculture & Nutrition unit).

AmerisourceBergen's new CEO, Steven Collis, got to deliver good news in his first earnings announcement. The Valley Forge-based wholesale drug distributor squeezed out a 2.9 percent rise in revenue to $20.2B for its Q3. Net income of $184.4M, or 66 cents per share, increased by 13 percent.
Mike Armstrong

, Inquirer Columnist

The cavalcade of earnings reports marches by on this Wednesday.

Valley Forge's UGI - both an natural gas utility and propane distributor - started off with a net loss of $7.2M, or 6 cents per share, for its 3d qtr. compared with net income of $3.4M, or 3 cents per share. Blame goes to "extraordinarily warm spring weather in Europe," according to CEO Lon Greenberg.

Also out is Teleflex, the Limerick-based medical device company. Sales were up 9.2 percent to $391M during Q2. However, net income of $34.1M, or 83 cents per share, was down by nearly half from $60.1M, or $1.51 per share, last year.
Mike Armstrong

, Inquirer Columnist

Novira Therapeutics Inc., a Radnor drug discovery firm, has raised a total of $2.5 million in seed financing, thanks to the participation of three of the Philadelphia region's angel investor groups.

Delaware Crossing Investor Group, the Mid-Atlantic Angel Group Fund II and Robin Hood Ventures led the financing for the virtual company, which is developing compounds to treat viral diseases, such as Hepatitis B and HIV.

Novira's first outside investment came in 2009 from BioAdvance, the "life-sciences greenhouse" in Philadelphia that received funding from Pennsylvania's share of the national tobacco litigtation settlement. In all, BioAdvance has invested about $1.3 million in the start-up.
Mike Armstrong

, Inquirer Columnist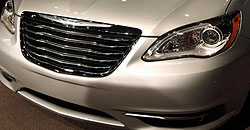 Raise your hand if you thought Chrysler would be conducting an IPO after the U.S. and Canadian governments sold off their last holdings in the automaker,
Me too. But now comes word via Reuters that Fiat may be trying to buy the 41.5 percent stake in Chrysler held by the United Auto Workers. Apparently, that's a move that might prompt ratings agencies to downgrade Fiat's debt. Chrysler is expected to announced its Q2 financial results Tuesday.
In earnings news of Phila-area companies, Dorman Products reported higher sales and profits for its second quarter. The Colmar-based supplier of aftermarket auto parts said revenues for the quarter ended June 25 rose 14 percent to $132M from $115M a year ago. Net income was up 11 percent to $12.7M, or 70 cents per share.
Mike Armstrong

, Inquirer Columnist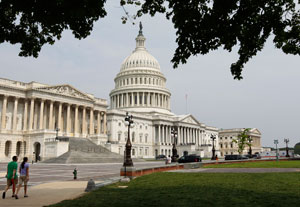 The only story anyone's talking about is the lack of agreement in Washington on raising the debt ceiling.
So the U.S. stock market looks like it will open lower, based on trading in the futures markets.
To me, what's distressing is how little policymakers seem to have learned from the financial crisis and the consequences (intended or otherwise) of action or inaction. OK, maybe policymakers did learn some lessons, but we seem to be trapped in a vicious circle of point/counterpoint as we near the Aug. 2 deadline for lifting the $14 trillion limit on debt.
Mike Armstrong

, Inquirer Columnist

All you have to do is mention Google or Apple to excite investors these days.

When King of Prussia's InterDigital said earlier in the week that it had retained investment bankers to consider various alternatives, including a possible sale, the stock price of the mobile-phone technology company naturally spiked.

Following InterDigital's Tuesday announcement, its shares climbed 28 percent, or $11.75, to $53.26.