Archive: June, 2011
Back from a vacation in the Pacific Northwest just in time to see everyone getting ready for a long holiday weekend at the Shore.
The approach of July 4th means a couple of things. First, the second quarter ends today. So everyone can calculate the damage/repair to their portfolios, and the wonks can get on with predicting better days in the second half of 2011.
Second, those ever-important monthly jobs numbers WON'T be published on the first Friday of July. The federal holiday bumps that release to July 8, which should means Wall Street can track an even longer vacation with no looming employment fireworks.
Billion-dollar deals may grab all the attention, but it's when smaller firms with unfamiliar names get snapped up that I start thinking the merger market may be popping.
PricewaterhouseCoopers L.L.P. tallied 1,276 announced transactions with a total value of $454 billion during the first five months of 2011. Over the same period of 2010, there were 1,336 transactions worth $327 billion.
Now that suggests fewer deals are getting done for more money. But for both years, more than 36 percent of the deals struck have been for less than $1 billion, or transactions involving smaller companies. That's a higher percentage than the 23 percent to 28 percent during the 2005 to 2007 boom years.
FXI, the Delaware County-based maker of polyurethane foam products, has a new chief executive.
Jack Johnson, who'd been president and CEO since the privately company emerged from bankruptcy in June 2009, is retiring, but will remain chairman.
Succeeding the 70-year-old Johnson is John Cowles, who'd most recently been the CEO of Touchstone Wireless Repair & Logistics L.P., a Hatfield provider of repair services to the wireless industry that generated about $125 million in 2010 revenues. Indianapolis-based Brightpoint Inc. acquired Touchstone for about $76 million in December.
The end of the quarter approacheth and the corporate news spigot trickleth.
What's in the water in York, Pa.? On Friday, York's Graham Packaging agreed to be acquired by Reynolds Group. On Tuesday, Reuters is reporting that York's Dentsply International is near a deal to buy AstraZeneca's dental implants division.
It's not everyday you can mention Greg Allman and Merck & Co. in the same sentence. But the lead singer of the Allman Brothers Band has a gig as pitchman to raise awareness about chronic hepatitus C virus infection.
It's clear that not all fathers were busying cleaning out their garages on Father's Day. Monday has started off with acquisitions from a variety of sectors.
Wyomissing-based Carpenter Technology will buy Latrobe Specialty Metals in a cash-and-stock deal valued at $558M. Latrobe, a Western Pennsylvania company currently owned by private-equity firms, had recently filed for an initial public offering.
Pittsburgh's PNC Financial Services Group is buying the U.S. retail operations of Royal Bank of Canada for $3.45 billion. RBC Bank (USA) is based in Raleigh, N.C., so the deal could be seen as another blow to North Carolina's once-thriving banking scene. PNC picks up 424 branches and $19B in deposits with the deal.
Let's make deals on this Friday morning.
Capital One made it official. It will buy Wilmington-based ING Direct USA, the Internet banking operations in the U.S. of the Dutch financial service giant, for $9B in cash and stock. (What's in their online wallet?) Here's Reuters' take on it.
Graham Packaging, the York plastic container maker, has decided to take a higher offer from Reynolds Group Holdings, jilting Silgan Holdings, which thought it had landed Graham in April. But Reynolds' offer, worth $25.50 per share, topped Silgan's, which was valued at $22.10. As a parting gift, Silgan leaves the stage with a $39.5M breakup fee.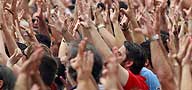 Greece is the word weighing on world markets on Thursday. Debt default or rescue. Riots and governmental disarray. The tiny country has it all right now, and the uncertainty seems to be fanning the fears of investors. Looks like we may need to wait until Sunday to see what the Eurozone countries decide.
Closer to home, the Philly Fed offers its view on manufacturing in the region when its Business Outlook Survey is released at 10 a,m. Let's hope it presents a brighter picture than a similar report by the New York Fed on Wednesday that turned negative for the first time since November.
And this is the day that City Council may decide whether to mandate that all but the smallest businesses in Philadelphia provide paid sick leave to their employees. Even if council approves, Mayor Nutter has said he would veto the measure.
The day after Monday's debate of Republican presidential candidates, former Pennsylvania Sen. Rick Santorum resigned from the board of Universal Health Services Inc.
The King of Prussia-based for-profit hospital operator said Wednesday that Santorum "tendered his resignation" June 14 as a result of the announcement of his candidacy for the nation's highest office. Univeral Health said that Santorum had been a board member since 2007.
Chairman and chief executive officer Alan B. Miller had this to say in a statement: