Archive: March, 2011
Mike Armstrong, Inquirer Columnist
I think all of us would love to see a blowout month for job creation one of these first Fridays when the federal Bureau of Labor Statistics releases its widely watched employment report.
The consensus forecast among economists is that the U.S. economy added 185,000 jobs in March. If that figure holds, it's no blowout, but it's better than a year ago.
And that's what many of the various surveys that track employment and hiring expectations are saying -- things are slowly improving. On Thursday, Pittsburgh-based PNC Financial Services Group issued its semi-annual economic outlook survey of small and mid-sized business owners that suggests "cautious optimism" is replacing "fear of falling sales."
Mike Armstrong, Inquirer Columnist
This time of year, not many people willingly go to see the IRS. But there I was, standing on the second floor of the agency's new Philadelphia operations in the former 30th Street Post Office.
I was invited, not summoned, as the IRS sought to mark the completion of a decade-long effort to move nearly 5,000 workers from Northeast Philadelphia into a $252 million rehab of the 862,000-square-foot post office building.
The last time I'd visited the 30th Street Post Office was some April 15th evening when I (and half of the city) needed to mail a federal income-tax return. Ah, the anxiety of those days before electronic filing.
Mike Armstrong, Inquirer Columnist
I received some interesting reactions from readers to Friday's column about the legacy of two pioneers of the region's biotechnology sector.
I'd wondered aloud who might follow in the footsteps of Frank Baldino Jr., the founder of Cephalon Inc. who died in December, and Hubert J.P. Schoemaker, the founder of Centocor Inc. who died in 2006. Both built large enterprises that continue to employ hundreds locally.
In a comment posted online, Pennsylvania Bio president Christopher P. Molineaux listed seven local life-sciences entrepreneurs whom he suggested were walking that same path, including Steven Nichtberger, CEO of East Norriton-based Tengion Inc., and Maxine Gowen, founder and CEO of King of Prussia-based Trevena Inc.
Mike Armstrong, Inquirer Columnist
Big Pharma has been shedding all sorts of assets in recent years - human as well as intellectual property.
While that poses big risks for an area like Philadelphia that is home to so many large pharmaceutical companies, it can be an opportunity for new company formation.
An announcement last week involving brand-name GlaxoSmithKline P.L.C. and no-name AltheRx Inc. shows how.
Mike Armstrong, Inquirer Columnist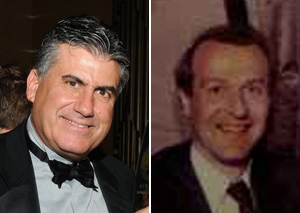 Something's been bugging me since I attended the annual awards dinner of Pennsylvania Bio last week.
Organizers strove to balance the somber tribute to the late Frank Baldino Jr., founder of Cephalon Inc., with the anticipation over awards celebrating the past year's top deals and proven leaders.
Repeatedly, the more than 900 people at the Convention Center were told that they were "standing on the shoulders of giants," a quote often associated with Isaac Newton.
Mike Armstrong, Inquirer Columnist
As the U.S. economy continues to expand, we've been waiting for small business to start creating jobs again.
After all, politicians and economic development experts have drummed up the message that most new jobs come from small business.
New data released by the U.S. Census Bureau indicates that when those start-ups and existing firms do start to hire again, they'll be filling in a deep hole. The recession that ran from December 2007 through June 2009 produced the lowest job-creation rates by start-ups and existing firms in about 30 years.
Mike Armstrong, Inquirer Columnist
As a top executive at Subaru of America Inc., Thomas J. Doll has traveled to Japan on business many times to meet with his colleagues in Tokyo.
The earthquake and tsunami that devastated the northeast coast of Japan on March 11 didn't cause him to change plans to fly out from Newark two days later. However, after landing in Tokyo and learning that the State Department was advising U.S. citizens to avoid travel to Japan, Doll wound up cutting this visit short and returning to Cherry Hill.
For the last 12 days, production has been halted at the five vehicle and parts factories run by Subaru's parent company, Fuji Heavy Industries Ltd. The main problem for the factories, all in the Gunma prefecture north of Tokyo, has not been earthquake damage, but lack of consistent electric power as a result of several damaged nuclear reactors.
Mike Armstrong, Inquirer Columnist
On Friday, I went on a tour of AT&T Inc.'s Philadelphia "command center," a rare peek inside a secure facility that handles a terabit of information every second.
It was a way for local AT&T managers to show how the telecommunications company plans to spend $19 billion nationwide on its wireless and wireline networks and other capital projects in 2011.
On Sunday, Dallas-based AT&T showed another way that it hopes to spend its capital: It intends to buy T-Mobile USA from Deutsche Telekom AG for $39 billion in a cash-and-stock transaction.