Archive: January, 2009
Mike Armstrong

, Inquirer Columnist

The Detroit Three automakers may get more attention for their woes, but Reuters has a story today that shows how the global credit crisis is wounding Honda, Toyota and Porsche.

Honda lowered its annual profit forecast for a fourth time in a year. Analysts say Honda is in a tight spot because it hasn't cut production as quickly as Toyota and Nissan did.

Toyota last month forecast it would post its first annual operating loss for its year ended March 31. Today Reuters is reporting that the size of that projected loss will likely widen. The Nikkei business daily says the loss could reach 400 billion yen from the originally projected 150 billion yen.
It's the kind of turnaround talk that could make Rush Limbaugh's blood boil ...........self-styled uber-conservative automobile retail executive Mike Jackson of AutoNation kicked off the Philadelphia International Auto Show this morning with an impassioned plea for big government.
Jackson, chairman and chief executive of AutoNation Inc., has been in the center of the economic storm. He's a big-scale car dealer. And like dealers across the country, his business has taken a massive hit thanks to the Wall Street crash last year that made auto sales virtually screech to a halt.
"We're in a huge mess, and as an almost Libertarian Republican, the next sentence is very hard to say," Jackson told Philadelphia-area automobile dealers during a speech at the Pennsylvania Convention Center. "We're not gonna get out of this mess without some big help from Big Brother. Who knows? Before this is all over I may be a Democrat."
Mike Armstrong

, Inquirer Columnist

If there's one thing about uncertain times, it's that they often drive a lot of innovation.

Out of the economic malaise of the '70s came Microsoft Corp. and Apple Inc., two companies that are technology giants now.

So as we prepare to pour lots of concrete and install weather stripping in every school, the nation should rededicate itself to encouraging innovation in its many forms.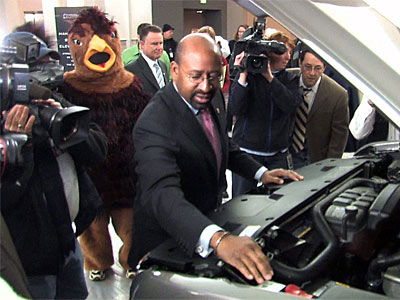 It's the second most expensive asset you own -- a car. And while a lot of cash-strapped Americans aren't exactly splurging on big-ticket items right now, cars cars cars! are rolling into the Pennsylvania Convention Center for that annual spectacle of highway bling: The Philadelphia International Auto Show.
The Philly car show kicks off Friday with a big media splash before doors open Saturday to the public. With U.S. automotive sales in the dump and dealers disappearing thanks to the recession, organizers this year are hoping to do more than just draw the car-crazed to Center City. As Inquirer reporter Al Haas reports, now more than ever organizers are hoping to drive showroom sales with their dazzling display of 700 cars from 40 different manufacturers.
Whether you love cars, hate cars or are just an old-fashioned news junkie, be sure to check out this blog over the next week. Inquirer scribes Mike Armstrong and Maria Panaritis, along with philly.com host and producer Brandy Bell, join a slew of photographers, videographers and web personalities who'll be posting stories, photos, video packages and updates from the show. We'll feed you more than fenders and tailfins. We'll be talking news and nuggets about a retail sector that touches almost everyone old enough to reach a gas pedal.
Mike Armstrong

, Inquirer Columnist

Ford Motor Co. is the only one of the Detroit Three not to seek financial help from the federal government.

Even though the Dearborn, Mich. company posted a $5.9 billion net loss for its fourth quarter, Ford said it still doesn't need a bridge loan like the ones tapped by General Motors Corp. and Chrysler LLC.

(Ford's also the only automaker that will hold a press conference on Friday's media day for the Philadelphia International Auto Show. It will show off its 2010 Ford Taurus sedan and 2010 Lincoln MKT crossover.)
Mike Armstrong

, Inquirer Columnist

Many of the steps taken by the Federal Reserve and the Treasury Department over the last year have been designed to restore confidence in the nation's financial system.

How are they doing? Well, four months into the $700 billion financial rescue plan, the new administration is signaling that it may create a "bad bank" to sop up all the "toxic assets" on bank balance sheets.

Does this sound familiar?
Mike Armstrong

, Inquirer Columnist

Around this time last year, I wrote about the continued growth of DuPont Co., which had issued its financial results amid the noise of a rate cut by the Federal Reserve.

Then as now, the stock market had started the year badly. I had hoped to shine some light on a well-known local company continuing to do well in what was then the start of a recession.

So it's only fair to take another look. DuPont yesterday reported a net loss of $629 million, or 70 cents per share, for its fourth quarter compared with net income of $545 million, or 60 cents a share, for the same quarter of 2007.
Mike Armstrong

, Inquirer Columnist

Venture capital firms are usually chasing the next big thing.

So when they invest less money in fewer companies as they did in 2008, that's a signal something's wrong in the business cycle.

The National Venture Capital Association said it was the first annual decline in total venture investment since 2003 - the year after the tech-stock bubble burst.