Pharma, Biotech
Mike Armstrong, Inquirer Columnist
Almac Group, the Northern Ireland-based provider of services to the pharmaceutical industry, will spend $10 million expanding a commercial packaging operation in Audubon, Pa.
The privately held company, which moved its U.S. headquarters to Souderton in 2011, said it had been bulk manufacturing and packaging U.S. products from its location in the United Kingdom.
"With the addition of the Audubon facility, we will now be able to offer these packaging services local to the U.S. marketplace, providing cost saving and mitigating supply risks," said David Downey, Almac's vice president for commercial operations, in a statement.
Mike Armstrong, Inquirer Columnist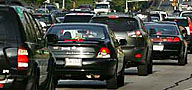 As we await Friday's jobs report, there are some leaves to scoop out of your tea today. The Commerce Department releases its November data on factory orders at 10 a.m.
But I'm more interested in what the automakers will say about December auto sales. Think many people found a Lexus or Dodge Dart under their Christmas trees?
Some bustle at the start of the year among the region's smaller life-sciences firms. Philadelphia-based Echo Therapeutics said that it received cash proceeds of $3.6 million following exercises of warrants. Echo has been working on a glucose monitoring system for diabetics. It said its year-end cash balance was $9.2 million.
Mike Armstrong, Inquirer Columnist
AstraZeneca P.L.C., which has major operations in northern Delaware, announced setbacks on a treatment for ovarian cancer and another drug to treat patients with major depressive disorder.
The company said it will not conduct Phase III clinical trials for olaparib, the cancer drug. Also, Phase III study results for TC-5214 showed the drug failed to meet the primary end point set by researchers.
As a result, AstraZeneca will take pre-tax impairment charges totaling $381.5 million in the fourth quarter. It said that will have a 21-cent "negative impact" on the company's "core" earnings per share in Q4, although AstraZeneca left its guidance unchanged at $7.20 to $7.40 per share.
Mike Armstrong, Inquirer Columnist
Tengion Inc., one of the most innovative life-sciences companies to call the Philadelphia region home, is in full restructuring mode.
When it is done, the company will have far more presence in North Carolina than in Montgomery County where its corporate headquarters has been located since its founding.
Tengion said it will cut 30 employees, or about 58 percent of its workforce. All research and development functions will be moved to its Winston-Salem, N.C. location.
Mike Armstrong, Inquirer Columnist
Pennsylvania officials have offered Endo Pharmaceuticals Holdings Inc. a financial incentive package worth $1.2 million in connection with the relocation of its corporate headquarters.
On Monday, the pharmaceutical company announced it would be moving from four buildings in Chadds Ford to a 300,000-square-foot, two-building complex that will be constructed in the Malvern area. At the time, an Endo spokesman said the company was talking with state officials about possible incentives.
The Governor's Action Team has offered a $750,000 Opportunity Grant and $462,000 in job creation tax credits, according to Steve Kratz, press secretary for the state Department of Community and Economic Development.
Mike Armstrong, Inquirer Columnist
Endo Pharmaceuticals Holdings Inc. will move its corporate headquarters to Malvern from its current location in Chadds Ford by December 2012.
The company plans to move its 500 local employees into a build-to-suit building being developed by Trammell Crow at the Atwater Corporate Center in East Whiteland Township, Chester County, according to an Endo spokesman.
The project would replace the four buildings in Chadds Ford in which Endo leases about 185,000 square feet of space.
Mike Armstrong, Inquirer Columnist
Let's start Monday off with a small acquisition.
Exton-based Adolor, which sells a drug called Entereg, will be acquired by Cubist Pharmaceuticals for $4.25 per share in cash. In all, the transaction is valued at $190 million initially, with up to $4.50 per share more due should Adolor meet certain milestones.
Cubist, based in Lexington, Mass., gains Entereg, which was approved by the FDA in 2008 for use after bowel surgery, as well as a compound to treat chronic opiod-induced constipation that recently completed Phase 2 testing. Phase 3 trials are set for 2012.
Mike Armstrong, Inquirer Columnist
It may be another rough ride in the markets if widespread losses in European stock markets wash over the Atlantic again.
Once more, the worry is Greece's struggles with its sovereign debt and how badly European banks may be hurt by a possible default.
The European Commission on Friday also said it was extending its review of Teva Pharmaceutical Industries' pending acquisition of Cephalon, the Frazer-based biopharmaceutical company. Bloomberg News reports the new deadline is Oct. 13 and that Teva -- which has North American headquarters in North Wales, Pa. -- had offered "remedies to allay possible competition concerns." No word on what those remedies may be.